Nightingale Hope and Love Pillows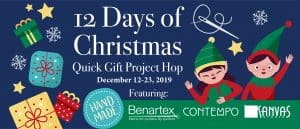 Click on the pic above and visit the Benartex FB page to see everyone. :) You can see all of the stops and the beautiful creations.
The Christmas countdown is on … and we are here to help you with
fun, festive and fast projects that you can finish before the
holidays! Join us on our Facebook page and Instagram account
December 12th through the 23rd for our "12 Days of Christmas –
Quick Gift Project Hop".
Each day we will share a project from a fabric and/or pattern
designer showcasing some of our most current collections – along
with where you can find the tutorial or pattern to create the
project. We hope you'll enjoy the inspiration and ideas, and that
they help you get in the holiday spirit (and maybe cross a few
names off your gift list too!).
Today I am part of a blog hop with Benartex Fabrics. I am so excited to be a part of a blog hop! I think this is my first one. :)
I have a pattern called Hope & Love Pillows. You can find that pattern here.
I originally designed them using solids. Pretty simple. So that you can dress them up as you want. For my "wreath" on Hope I added some sequins and a bow to make it little more festive.  These pillows are a quick and easy project. A friend of mine tested out the pattern to see and she said she is a slow stitcher and it was still a fast project for her….so it's tested and approved. :)
Benartex sent me this lovely bundle of fabric:
Isn't this amazing?!! This is some Nightingale by Amanda Murphy. I love the colors the textures and the birds….they just captured me. This is a new line that is shipping out soon.
I used that line and made the Hope & Love pillows in these beautiful fabrics. It changes the look completely. I really love the way they came together.
Look at those cute little chubby birds sitting in front of the pillows…aren't they adorable?
These pillows are 18×18. The pattern would be great for mini quilts too. You don't have to make them into pillows. I thought about making a few minis…..but the pillows were speaking to me. I am going to gift these. If you need a good gift idea….you can easily get these done. :) dress them up or down as the much as you'd like.
I hope you all have a wonderful holiday!
xoxox
Charisma