Nate & Tate Gnome Pillows
I released a new design. Nate & Tate
I just couldn't help myself. I had ordered these pillow forms from Fairfield World
And I wanted to use them. I know that's basically the opposite of anyone else. Usually, you make something and then buy the pillow forms. haha!
I also had scraps from my Mid Mod Quilt  
They are called Gridwork by Christa Watson for Benartex and they were sitting on my cutting table and calling to me…I just couldn't resist.
So I have a difficult time naming patterns sometimes. This was one of those times. So I thought about it and struggled through…..and I finally decided to pick a few names.
Nate Noel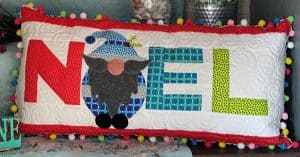 Nate is named after my brother, Nathan. I am the only one who actually calls him Nate. It's a habit from childhood. At some point when he became andadult he wanted everyone to call him "Nathan". That's also a a nickname because his given name is Nathaniel…so whatever.  But he loves me so much he lets me get away with calling him Nate. Anyway, My brother is crazy-cray about Christmas. He actually has a storage unit for all of his Christmas decorations. It is insane. I am a Grinch compared to him. Oddly enough my brother also has a beard and we are Scandinavian. So I am kind of questioning if he is actually a gnome now? I mean ….it could happen, right?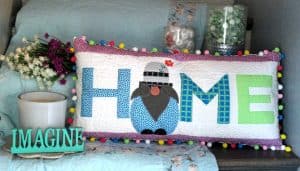 So Tate is just his Bestie. I mean in fantasy Gnome land because we don't actually know a Tate…it just rhymed and I thought it was cute.
This pattern is listed in my Etsy shop and a PDf or Paper. The blocks are pieced and the rest is applique & a little embroidery.
PLease share if you make them. I would love to see these.
I hope you have a wonderful season!
Charisma