Sweet Hospitality has been a fun design.  I am actually a part of a quilting group on FB and their symbol is the pineapple. About a year and a half ago I had posted or commented on something and I was asked by one of the members about designing a pineapple quilt.
I immediately came up with this design. I mocked it up digitally but I hadn't gotten around to actually releasing a pattern.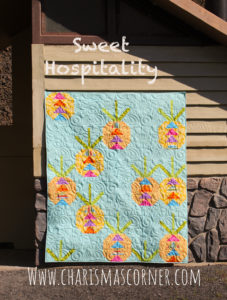 Well then came this fabulous line of fabrics by Michael Miller Fabrics:

Immediately, I thought of my cute pineapples….and how they would look great in this collection of fabric.
Now we have Sweet Hospitality!
The nice thing about this quilt is that it can be made in a weekend. The blocks are big. Each pineapple is 12×24. So it goes fast!
I hope you enjoy my sweet little quilt!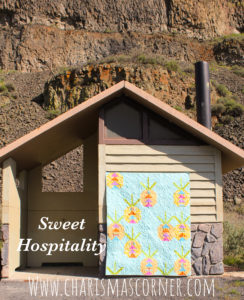 All of my patterns are listed in my ETSY shop. That link is here. 
I hope you all have a wonderfully sweet day!
xoxxo
Charisma