So I just want to share that I am featured on the Michael Miller blog along with all of the other ambassadors this month. That blog is here.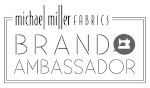 Today was the day that they featured moi! We don't know ahead of time …So it's just a pleasant surprise when your name pops up. YAY!
I am actually working on my February project now. I can't wait to share it with all of you. I also have a new pattern coming out soon.
I have been keeping up on my longarm work. It's usually slow for me in January. So if any of you have quilts to send along…now is the time. We have a quick turn around time. :) Just ask anyone. LOL!
I did manage to quilt one of my own:
I had been struggling to figure out how to finish this. A few years ago I went to England and walked the 80 miles of Hadrian's wall. I only had a back pack to haul my stuff to and from. I couldn't really buy much in the way of souvenirs because I didn't have much room in my pack. But also I didn't want the weight. As I used supplies each day I was happy my pack was getting lighter. LOL But I did come across this hand embroidered linen table cloth while I was at a flea market. I loved that flea market. There was so many awesome things. I had wished I could haul some of the furniture home. But I had to settle for this tablecloth. I knew I could bring it home and make it a quilted tablecloth. I love that somebody in England hand stitched this and  I brought it back to America. I added the pink linen border and I quilted it with my own talents. So this little piece tells a story that spans 2 countries and 2 people that have never met. I think, I picked it up for 5 pounds. I am pretty pleased with the finish.
But I will also share a few of the patterns here that I have released recently.  If you are interested in my patterns or kits my ETSY shop is listed here. 
This is Crossroads. Crossroads is an easy pattern using blocks we all know. But with a little color planning they look completely different. The black and white arrows face east and rest and the colorful arrows face north and south. This is great to use stash or to dig into those fabulous solids as I did.
This is Peppermint Frost. I love this one. I made a sample and screwed up my own sample. *sigh* it happens to everyone. But It's so fresh and yummy!
This is a FarmHouse Star. I love the simplicity of this one. This design loans it's self to AWESOME free motion quilting because of the simplicity. I chose to put it on the computer and I chose a really detailed design. I have learned that with my pattern design business that sometimes the fancy quilting detracts people from buying my patterns.  They say something to the affect of "Oh My quilt will never look like that"…and then they walk away. So sometimes it's just best to quilt a design that is accessible to everyone. I kind of hate that.
This is Cornerstones. I feel like the picture doesn't do this quilt justice. It's a great pattern that uses neutrals that we keep in our stash. Then you can use a focus fabric to bring it to life. It's offered in 2 sizes. So if you need a quick baby quilt this would be a great quilt to use.
I released a pattern a few months ago called "I see You"
It's listed in my Etsy Shop. I have a friend, Susan,  who made it using a different color way to show the diversity in the pattern:
It's a sweet little quilt that she is donating to an animal rescue for auction. Thanks so much Susan! I really appreciate it!
Thanks so much for following along!
xoxox
Charisma