Hi Everybody,
How are things? It's been a busy week (always) and I am making progress on the barn.  I am in that process of exhaustion, working on auto pilot but also excited for the results-so-pushing-through-until-the-end mode.
But it's not truly the end. I am close to being able to start moving into the barn but there is all of the outside stuff that has to be done still.
We will be working to get all of the outside stuff done for the BARN OPEN HOUSE <—–DETAILS HERE. 
I live in Deer Park, WA near Spokane. :)
We also got notice from our homeowners insurance that they will drop us if we don't finish the siding on the house. We bought it unfinished. It is our plan to finish it this summer. But I wish they would give a bit of notice. So we are trying to figure it all out. I have been watching videos on installing siding. Cause I don't have a million other things to be doing, right?
I wouldn't even be able to get this far if I didn't have help from my friends & family. Honestly, I couldn't possibly keep up. I don't know how we are doing it now.
One of the things about the barn is that I have been paying for the barn from my business funds. All of my quilting and design money go into the barn right now. I have had to make decisions based upon the funds (like most people do) but I also won't go into debt to make it happen. So when I save enough for the this or that I buy it. When I had enough for windows..I bought them, then we installed them. Same with sheet rock ect. I couldn't afford a bathroom because plumbing all of that in, tapping into our septic ect was beyond our skill and paygrade. I get to walk across the lawn to go to the restroom. I am fine with that. I never want my business to be a burden on the household. I have been finding free or inexpensive items on FB marketplace or through friends for the furnishings. I will paint them and fix them up. I have been collecting things all year.
I actually like that I am personalizing imperfect things that nobody cared about and making them my own. But it was also a way to save money and be responsible.
One of the areas that I had to save money was the flooring on the main floor. It's about 1300 square feet and getting all of the vinyl flooring would have been an expense and taken a long time to install. We did the whole upper level of our house and the upper level in the barn. So in order to save money we thought we would just paint the concrete. It's affordable and in our capabilities. There are a ton of colors to choose from as well. When I had decided that was the more affordable option I had decided I would also stencil them to add a bit of style to the floors. I didn't want the floors to take over. I did a tone one tone kind of a look.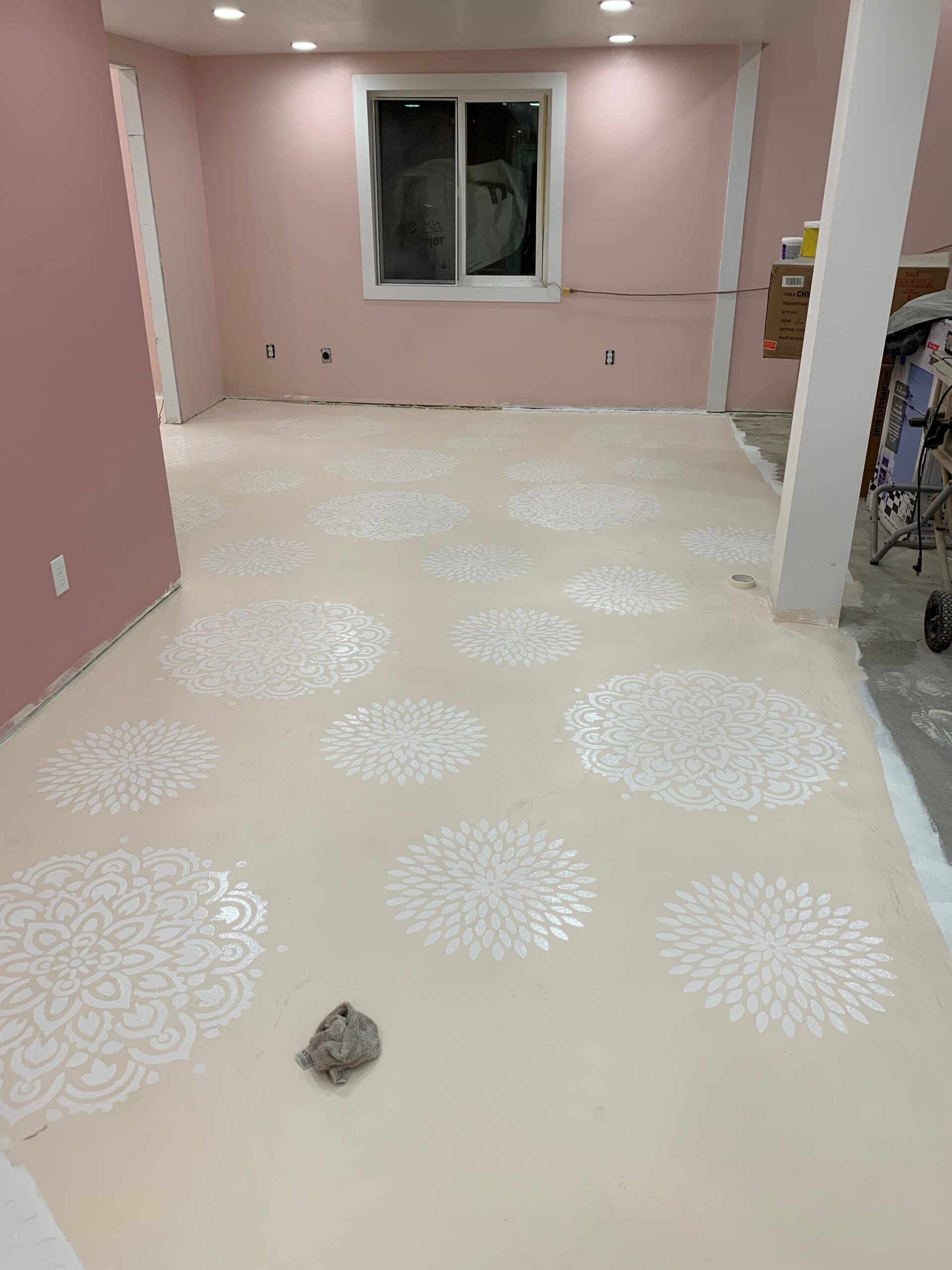 I started that process this week. We are painting the floor in sections so that we can still do other stuff in there while its curing.
I got the stencils from Stencil Revolution. 
(I don't have any affiliation with them) and I bought a stencil painting set from Amazon to get the paint on.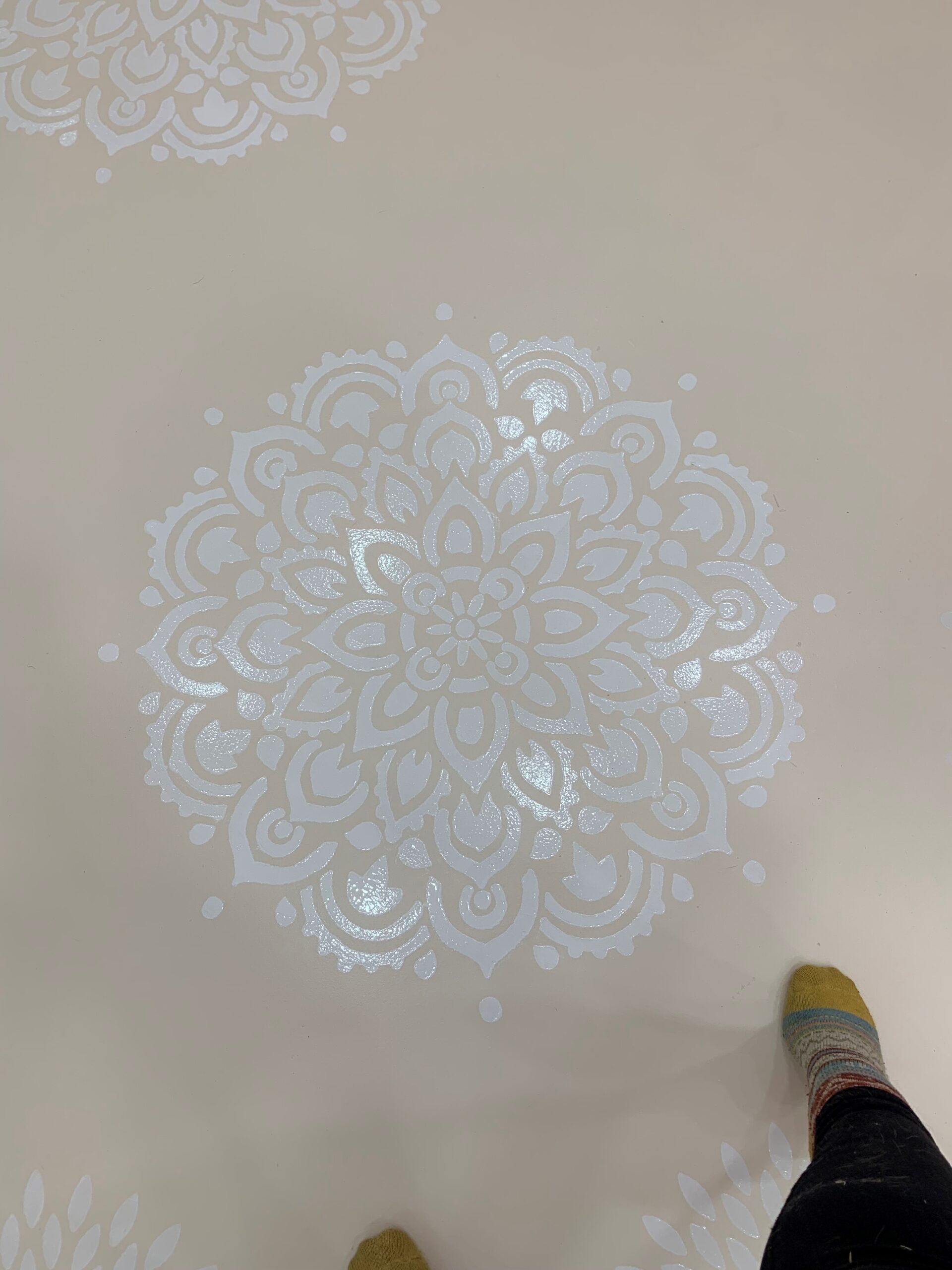 I used 2 different stencils. I was kind of wishing that I had bought 3 different ones after I had started. But I wasn't going to wait. I worked with what I had. I love that they look like lace doilies all over the floor. It just makes me feel happy.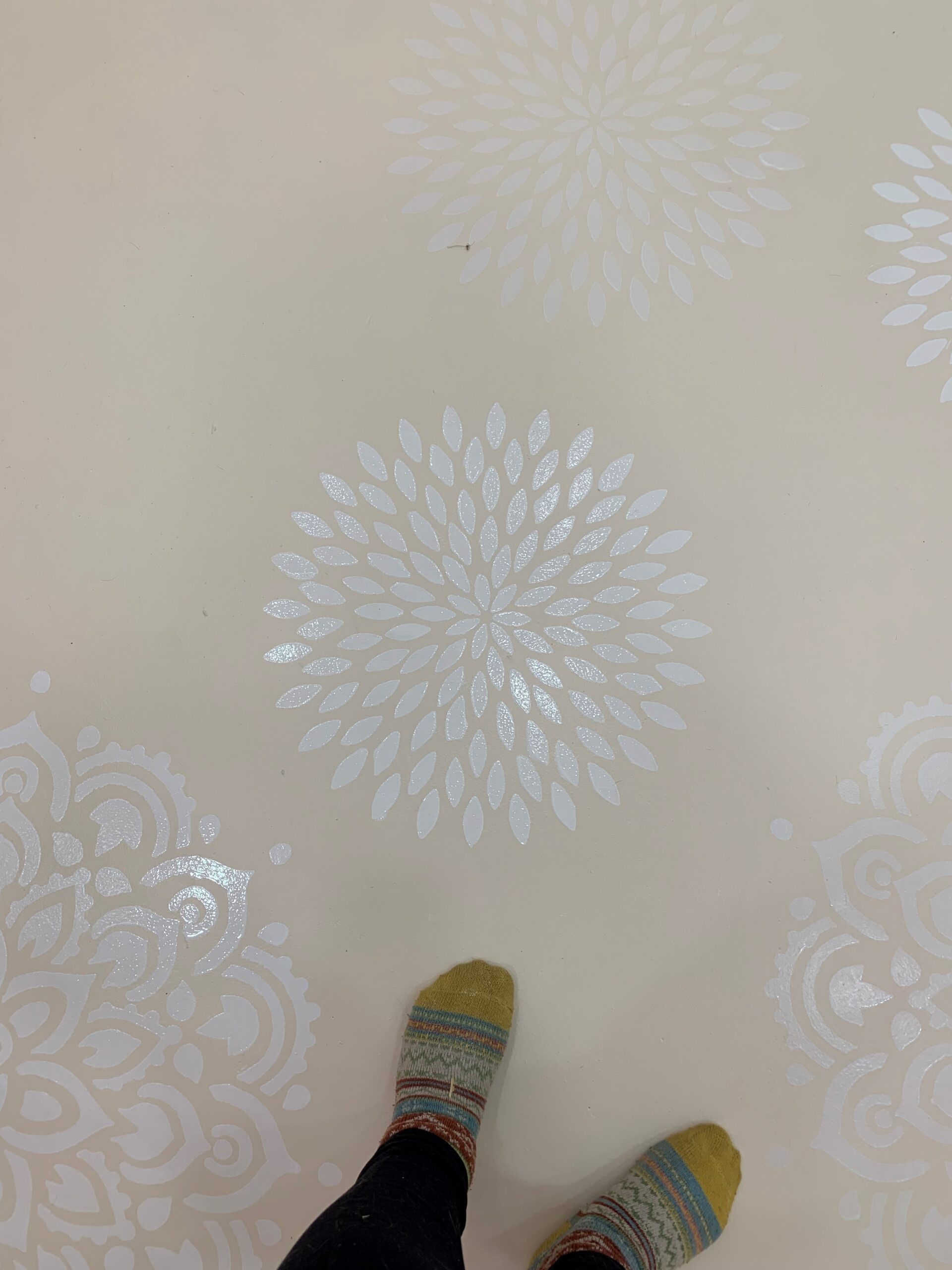 Those are obviously dirty work socks because I had been on my hands and knees for several hours stenciling. I can't wait for the trim to be put on and to start moving the furniture in so that I can see all of the pieces put together. This is actually one of those times when I feel like it was good that I had to be creative and put in more thought since I couldn't go with what I would have chosen had my budget been more, you know? I feel blessed that I have these options and the flooring was about a 1/4 of what the other option would have been. We still have a long way to go. But I am working and working to get the space that I need, debt free and feeling accomplished because it's blood, sweat, many tears and struggles along the way. But I get to say it's mine. When this is all over, I know I will be happy that I did it my way.
Can you hear Frank Sinatra right now?
I can.
hehe.
I am also excited that it is Easter weekend. I am a Christian so it's a special time for us. Living here, I am closer the majority of my adult children and everyone is coming here to celebrate. That is a blessing of moving here.
For those of you that don't know, I do have some free patterns and one of them is The Cross. It's a great one to remember this time of year.
You can fine that HERE.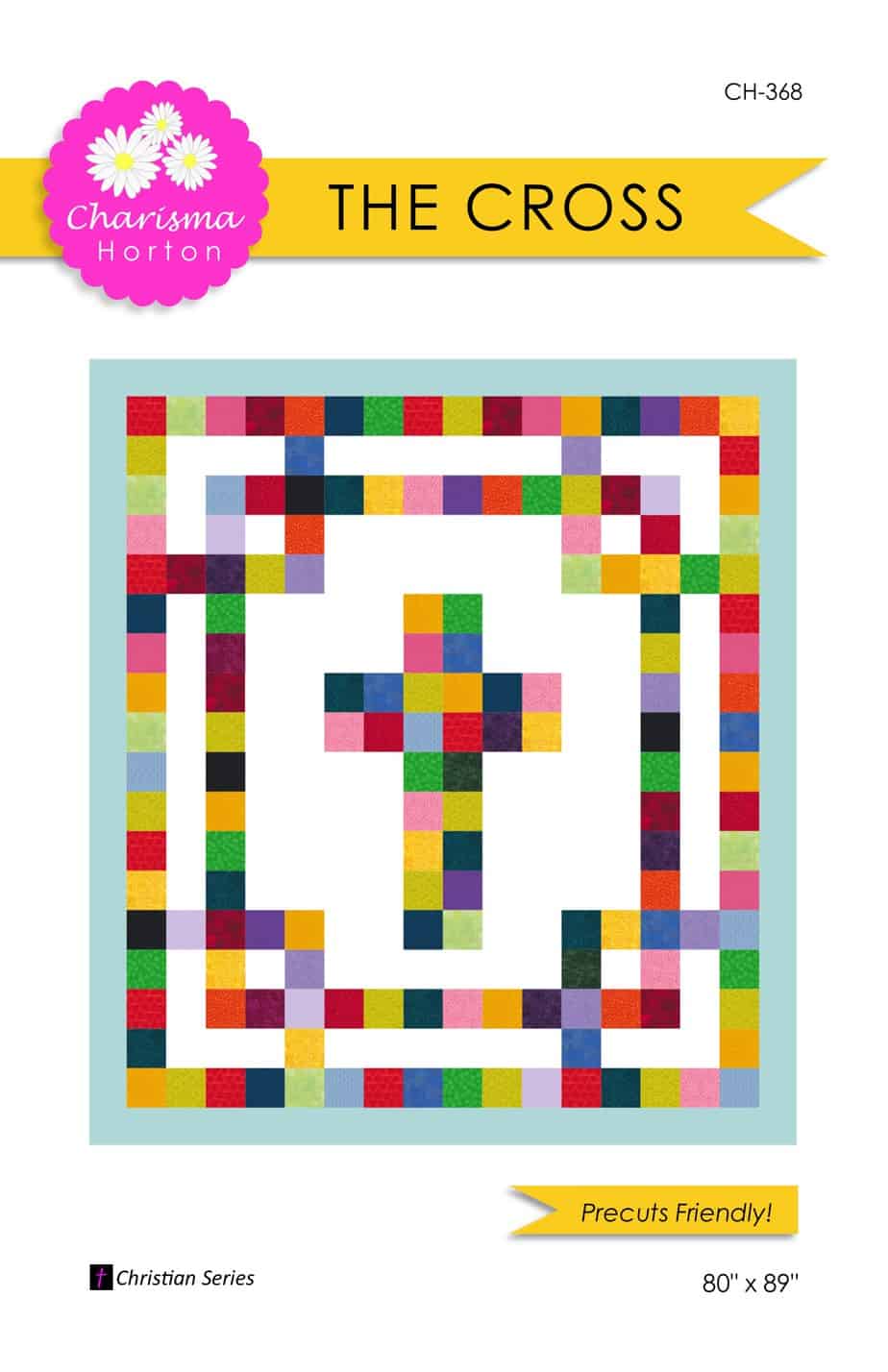 I hope you all have a blessed weekend.
Charisma