EEEKKKKK!! I am so excited!
Last week I was interviewed by Michelle at Maywood Studio on IG TV.
You can catch that interview here.
I designed 5 quilts for them that made it into the Spring/Summer 2020 catalog.
2 of them are designs using their basic colors called Shadow play.  Those quilts are Carousel and Starry Eyed: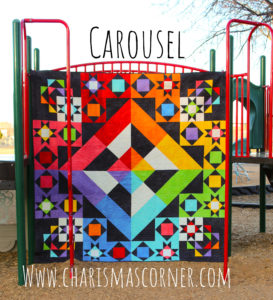 I was able to show those right away.
But then I was able to design 3 projects for 3 of their new lines.
Lexington is the name of this line and I designed a quilt called, Promenade.
ThereTh
There is also Sunlit Blooms I designed a quilt called Summer Waltz:
There is also this line called Sommerville. I designed a quilt called Midnight Garden.
All of these designs are included in their new catalog. And the exciting news about that is that I made the cover of the catalog. Midnight garden is on the front and Summer waltz is on the back.
I actually cried when I saw this.
I know it may not seem like a big deal. But the truth is that none of my designs have made the cover of anything….until now.
I also just can't tell you how hard I have been working. I work my tail off…trying to get into these companies and make a name for myself, to make a living with design and to be recognized so much the first time working with this company is so AWESOME!!
It honestly is a great honor and I hope I can continue working with them. They are an awesome group to work with…..and they make some pretty fabulous fabrics. :)
If you'd like to see the rest of the projects and lines they are all on the Maywood Site, here. 
All of my patterns are listed in my Etsy shop, Here. 
Thank you all for supporting me along the way! I truly appreciate it!
xoxox
Charisma