Maybe It Just Needs a Little Love
I designed this great little quilt. I shared it with you a little while ago. I have to say I am officially in love. Not just a little in love….a lot in love. LOL
I kind of feel like I would like to hang this all year long.
But this was designed for my love of Christmas, Tree Hunting, Christmas specials. You know the Christmas specials that aired in our youth. When we didn't get everything on demand and you could only watch them on network television and a specific time with commercials. Yes, I am that old.
I love the message. I love the colors, the positivity the season….pretty much everything! I think what is really crazy is that I love Christmas fabrics. I love Christmas patterns and I always make Christmas quilts. However, I didn't use any Christmas fabric in this quilt. hahaha!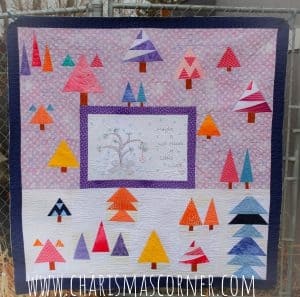 I made all of this with scraps from my stash. Except the purple background that was in my stash.
I was thinking about making a pattern for this but have since decided not to. It's mainly foundation pieced trees and there are a ton of inset seems. I think, I could switch some things around and make less inset seems. But I don't know…I think it's a hard sale. But I did draw out that center myself and I have digitized the drawing so I will post it here. If any of you are interested in the panel for embroidery. It would be a cute wall hanging or pillow with a cute ruffle.
Here is the PDF.
PLease share if you make it. I would love to see it!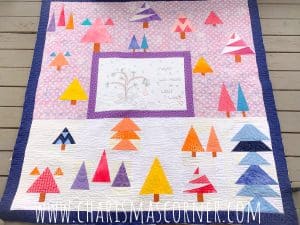 I hope you put on your love goggles and see the beauty in everyday!
Charisma