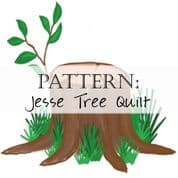 Hi Everybody!
I am so excited! I met Jen a couple of years ago in a FB group and she is a fellow Christian. Her site is called Faith & Fabric
She has designed the Jesse Tree Quilt.
I am taking her words:
Are you familiar with a Jesse Tree? Isaiah 11:1 tells us that "A shoot shall sprout from the stump of Jesse, and from his roots a bud shall blossom." As you continue reading Isaiah 11, it becomes clear who this sprout is: Christ, our redeemer.
Over the next few months, I invite you to journey with me as we explore, and sew, our salvation history. Together, we will travel from Genesis to Bethlehem, block by block through 25 blocks, first sewing the story piece by piece, and then – come Advent – studying each of our stops as we dive into scripture through devotions and personal reflection. Here is my friend, Jen: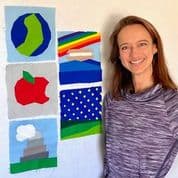 She is showing some of the blocks here. I will be making four of the blocks and posting about the blocks through out the journey/ blog hop. I believe in the message. I am excited about the bright colors. I will be honest and say I try not to over commit myself with projects that aren't my own. But I truly love this quilt, the theme and I really want to support Jen. she does a lot for everyone in the community and I love the message. This is the perfect time of year to focus on something good. Not to mention I kind of need something like this in 2020. If you like foundation piecing this is the project for you!
Here is the schedule, I pulled this from her blog:
OUR SHARED JOURNEY
What makes this so much more than just a quilt-along is what follows once the quilt is done. That's because the journey doesn't end on November 28th when we finish the last block. Instead, we shift our focus from a time of work to a time of waiting; the word Advent means "coming", and is derived from the Latin word adventus. As we wait for the coming of Jesus' birth on December 25th, we'll spend each day of Advent taking the time to prepare our hearts and minds. Each day, from November 29 to December 25, you'll receive a short devotion, reflection, and prayer. We'll be looking in a new way at the blocks we created, focusing this time on the salvations story behind each and finding Christ each and every step of the way. Like dates? I do, too. Here's the quilt along schedule…with devotions beginning on November 29th as we begin the advent season.
October 26: The Journey Begins as we sew blocks 1-5
November 1: We celebrate All Saints Day as we sew blocks 6-10
November 8: We cross the half-way mark as we sew blocks 11-15
November 15: We move into the New Testament as we sew blocks 16-20
November 22: We finish the sewing part of the journey as we sew blocks 21-25
November 29: We begin the season of Advent as our daily Devotions and Reflections begin, arriving each morning in your inbox from November 29th through December 25th
THE NITTY GRITTY
Together, we'll be making 25 individually foundation paper pieced blocks that finish at 8″x8″. Each block corresponds (nearly) identically to the designs in Our Family's Jesse Tree, making the book an invaluable tool if you already have it. If you don't, no worries – you don't need it as you'll automatically be enrolled in both the quilt-along and the Advent Devotions upon purchase of the pattern. 
Each of the blocks will be available just before we begin that week's sewing, giving you a chance to jump in if you're anticipating a busy week and want to get ahead. Each block is individually available for download, letting you work at your own pace if that better suits your style.
As each block finishes at 8″x8″, you'll be able to assemble them in any way you desire. The final quilt suggestion is to create a 5×5 block grid, using 1″ sashing and border, but you can rearrange the blocks any way you like depending on how many you choose to make.
If you'd like to join us you can purchase her pattern here: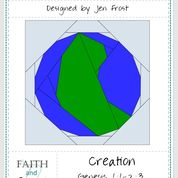 I hope you will join along on the journey.
Thanks so much!