Hello Everyone!
I am so excited to share this project! whoop! Whoop!
I am an ambassador for Michael Miller fabrics *pinch me* I love working for them!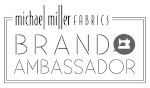 As an ambassador we get to see new lines that are being released…so fun! There are so many cool things coming out. We also get to choose from new lines that are just arriving at stores. So for my March project I chose a line called "Super Fred"
These guys are so adorable!
You can find the link to the swatches here
I designed a quilt called Far, Far Away. It measure 60×69. So it's a great baby quilt or lap quilt size.
I really designed this quilt to showcase this novelty type of fabric. It will work for any theme or color way. There are several things I like when I design a quilt. different scales, shapes, movement ect. This was so fun and easy to put together.
You can find all of my patterns in my Etsy shop here. 
Rob and I went all over the place trying to get decent photos…haha! This quilt has been all over the place.
I love that I am being challenged to design quilts using fun fabrics. It makes me think outside of my box….and I am usually happy with the results. :)
I hope you all have a wonderful day!
xoxox
Charisma