Hi Everybody!
I wanted to share a series that I have been working on.
Every now and again I find a recipe for a design series and I just love it so much I make them all.
It started with Christmas Cottage:
See that Cottage…..I just love it! You all know how I love me some trees. I dream of having my little cottage in the woods.
My next design in the series is Rose Cottage Retreat: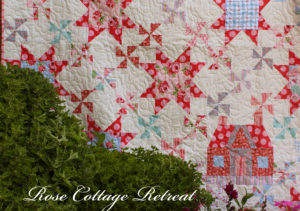 Doesn't this look sweet? A little English cottage. I can imagine eating my scones with clotted cream and drinking my tea.
A few days ago I just released Love Thy Neighbor:
I wanted to use a name that used "cottage" in the title but it just didn't work. Love thy Neighbor just had to be the name. I kicked around a few other names to keep the cottage name….but while I was working on this quilt I posted a sneak peak into my FB group, HERE. 
The first comment that someone posted was how she thought it would be a good quilt to make for her neighbor who is moving away. I knew  right then that Love Thy Neighbor had to be the name. The quilt decided that. haha! You know they talk to us.
So I have another one being tested/made right now: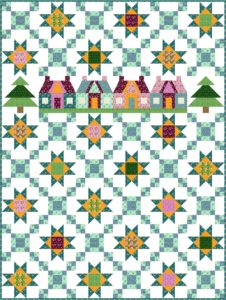 This is Cottage Row.
Aren't they sweet? I am so excited for this series.
I may have a few more for this series as well. But I have so many samples to get made for deadlines. :)
You can find all of my patterns in my ETSY shop, HERE. 
All of my patters are available as digital downloads or Hard copies that I ship.
Have a wonderful day!
blessings
Charisma