All In ~ New Quilt Pattern
Helllllooooooo! It Michael Miller Ambassador day! whoop! Whoop!
So of course I have a new project to share with you! This is ALL IN. I made it with Cotton Courture Solids by Michael Miller. There are 200+ colors and they are fabulous to work with.
As many of you know I have  variety of designs from folksy embroidery  designs, wool applique, traditional and then I have these bold, beautiful, colorful more modern designs.
I tend to give my modern designs meaningful names.
Several months ago a friend of mine said you should design a quilt around the title of "All In"
Within a week I had this design.
There is so much to say about the phrase "All In" right now we hear it on every ad…."We are all in this together"
But I actually prefer to think of it as  taking that leap of Faith. All or nothing, sink or swim….I am jumping in with 2 feet and I am going to see where this takes me.
Those are the scariest times in life, right?  Taking that gamble, not knowing how it's going to end.
But how does that saying go? No risk, No reward.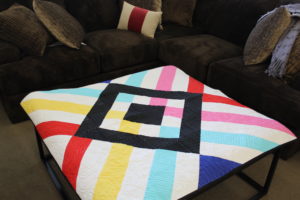 Not every leap of faith ends the way that we want it too….but we learn valuable lessons along the way, either way, right? But when IT does end in a good and rewarding way….it just seems to put pep in our steps and helps keep us afloat until the next hard lesson.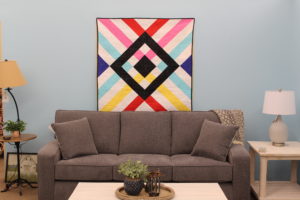 I was talking with my family not to long ago, sharing birth stories…..My first couple of babies I went natural and refused pain meds…..( what was I thinking?) and I remember half way through pushing my first son..I just stopped and said "I am done, I don't want to have a baby anymore." I was serious. I had decided the pain was too great.  The look of panic on the faces around me. LOL. It makes me laugh now. But I was so serious. As if I could just decide in that moment that I had changed my mind? But somehow I was talked into pushing…it was probably the next contraction.  But when we take a leap of faith…there is no turning back. We don't get to change our minds halfway thorough…we decide that we are All IN and there is no turning back.
This is an easy quilt to construct. The pattern offers 2 sizes. 96×96 or 48×48. You can find it in my Etsy Shop, HERE.
I hope you all have a wonderful day! I am ALL IN for that!
Charisma