Zinnia and Rose Cottage Retreat & Design talk.
HI All!
I have a whole slew of  *NEW* patterns listed in my Etsy shop.
I have been working on so many new patterns that I can't show …secret sewing. I have so many in the works…and I am always working so far ahead. It's always hurry up and wait when you are in the design business.
When working with magazines you are working 8+ months ahead. I have been picked up by several fabric companies and there is always a mad dash to submit designs, they the choose the designs and then if you have any accepted …depending on the company you have to make the samples, get the patterns ready if they aren't already published and it becomes "deadline" city. LOL
So the good part of that is that I get all of the inside info and peaks into the new lines coming out ….before everyone else. Bad part—can't show anyone any of that magic until they are released. By the time you get to release them…guess what? The next lines start coming out. I am realizing that there's a definite cycle…I actually really love it. I have never been an athlete or this uber competitive person. I still wouldn't say that I am. But I love when I get a line of fabric and I can find the perfect design to use….Just because I think it's great doesn't mean it gets chosen. But i love when things get chosen….it makes my heart swell.
But in the midst of the 20+ patterns that I have been working on between all of the lines I have managed to get a few designs in my etsy shop….2 of them are here.
Zinnia:
I love this quilt because it is so versatile. I made it with American Made Brand Solids. It's fresh, vibrant and it's just plain happy. It comes off as modern. However, if you are a traditional quilter…this would look great in florals, browns and beiges…. it would look very traditional as well. Those are some of my favorite quilts.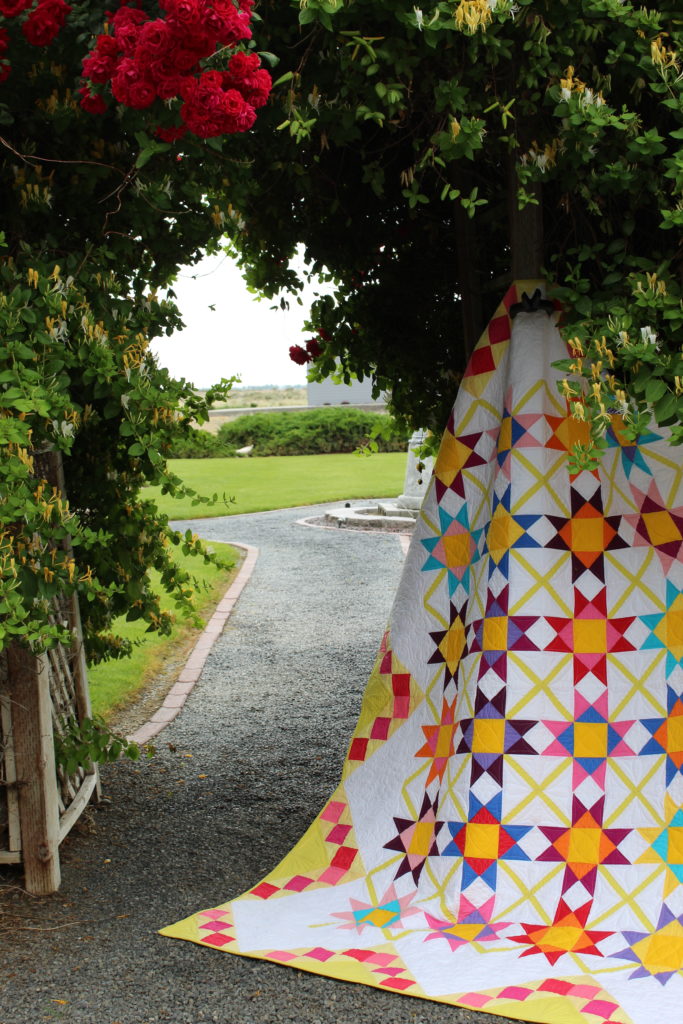 I love this photo..it looks like you are stepping through the quilt door to get to the lovely garden.
I also released Rose Cottage Retreat:
Rose Cottage retreat is part of a series. I release Christmas Cottage and I have 2-3 more coming out in this series. I am really excited for it.
I made Rose Cottage with a line of fabric by a company called Poppie Cotton. This line is called Dots & Posies. You can find their fabrics here. 
So if you'd like the same fabrics you can purchase them on the site.:) They are lovely fabrics and such a nice company. I am getting ready to work on another project with their fabrics. Details later.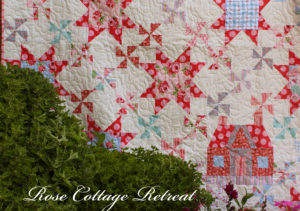 I hope you all have a wonderful Sunday!
Rose Cottage Retreat reminds us to take the time to smell the roses every once in awhile. I need to remember that.
xoxox
Charisma