HI Everyone,
Well we added a new family member. I needed to add a little more responsibility to my list right now (good grief!). It seems like poor timing. But I think it's all going to work out just fine.
A little back story.
Several years ago Rob and I adopted a huge 190 pound English Mastiff from a rescue. We were totally naive to what we had gotten into. I was embarrassed and ashamed ( after the fact).  I felt so terrible for this dog that I had sworn off ever getting a rescue dog again. They had used this poor dog for fighting. Mastiffs aren't generally fighters. So when I had asked about all of his scars, his missing eye and broken tail….I had no clue what I was looking at. I feel so dumb admitting that. I guess I just couldn't imagine it.  I was just trying to rescue a dog. At that time in my life I had only ever adopted dogs from shelters ect except for Gracie. It had never occurred to me from a young age that I would just go buy a dog. I had only visited the humane society ect. Took in strays ect. I found out that this rescue abuses dogs, aquires them and just keeps reselling the same dogs and demands they be returned if there are issues and our state laws protect them. But I didn't find that out until later.
But after we got this dog. We started noticing some issues and long story short he killed any and all small animals that came in his path. It was horrifying. Our cat spent a week in the hospital and he killed our neighbors dog. I was absolutely heartbroken. He was very good with humans. Which was good. However, after doing a little research I found out that this rescue was actually a HUGE scam and they abused animals. I was so upset. I couldn't imagine the horror for these dogs. Not only that but I had given them donations and quilts to raffle off ect. Like I was all in to help a semi-local rescue. I had paid all of these vet bills to get him back to health. We made him special food, got him medications and nursed him back to health.
After this whole experience I had sworn off adopting dogs. I only wanted puppies. So the 3 dogs we now have I got them as puppies and it's been great. Obviously.
Years ago I started following a Mastiff Rescue group. There is something in my soul that still hoped there were good rescues that weren't recycling & selling & abusing dogs. I found one that I think is good. I have been sharing their posts and pleading with my contacts to adopt dogs if they fit in with their lives, of course. But how is that not hypocritical of me?
I am by no means a dog trainer. I am probably the least effective pack leader in our house. But our dogs absolutely know they are loved, they are safe and comfortable. I give them fresh vegetables, take them on walks, I cook them meals and they get loved like nobody's business. I can't imagine life without a dog. They provide such unconditional love.
I have had 2 dogs in my life that have a bigger piece of my heart than any others. Gracie is one of them. I will never replace her. I know this. She loved me so much. She would have laid down her life for me. She was such a fierce protector of me. I couldn't take her in crowds of people because it would set her anxiety off. She was just sure all of those strangers were a threat to me. except kids. Wow! She loved kids. She could somehow distinguish kids from adults even if it was a 6 foot 5– 17 year old basketball player on my son's team. She would let them in the house but not any unknown adult. It was funny how she just knew. As a person who grew up in a house of abusers with nobody who protected her. To have a dog that was so loyal, loving and protective…well it was very healing and I felt safe having her with me. I knew, no matter what that I would have a shield.  Carl ( my middle son) even had his senior picture taken with Gracie. She was absolutely just a part of our family.
I lost Gracie ( she was an English Mastiff) the last week of Feb in 2020. I lost her, then I had to pack up and travel to a quilt show. At that quilt show the 2 first covid deaths happened in WA state ( and the USA) in the area that I had the show. I came back from the show  to empty grocery stores and a new life. That very day Kali was sick and she went to sleep in the far corner of the yard. My dogs have never slept outside a day in their lives. So I took her to the vet right away. She spent a week in the hospital and we found out she has diabetes. This was just few months after she had major surgeries on her legs ect. I had almost lost 2 dogs in a span of a week. It was horrifying. Thankfully Kali is still here. The diabetes has now taken her eyesight. But she is still the sweetest and kindest soul around.
We all know how 2020 was for everyone. During that time a few of my friends and family were diagnosed with cancer. at some point we all got covid and life has been turned upside down. Then in Jan 2021 my dad died due to terrible covid policies. A few weeks after that my beloved grandmother died. Within those 12 months we were hit with so many things. Then Clarissa graduated and left for college causing a huge transition to being an empty nester. If that wasn't enough my husband decided to take a job and relocate us. We have been going through a roller coaster for so long….and it's all starting to come together that we will be moving to a farmhouse on 5 acres. Changing our whole lives but also Rob will be home WAY more than he has ever been home because the new job is a normal job. So for this first time in our lives together we will have weekends off ..just he and I and the dogs.
So what do we do?
We adopted another dog.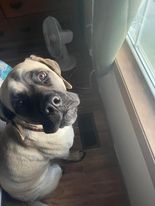 I have been following this rescue and I feel comfortable enough to give this a try after 10 years. Vegas will be one year old on 4/30/2022. She is a Fawn colored English mastiff. She hasn't been treated well in her life. She was crated most of her life. Kids poked her with sticks ect. I just don't understand this at all? Whoever originally got her probably paid a lot of money for a purebred mastiff with such a pedigree. Why crate her that way? Not only that who lets children torture an animal?  I am never going to understand it.  All of my kids love animals. They are all adults and they all love animals and there have been issues that have come up in their lives where they have had to sacrifice for their animals and I am proud of that. If they make the choice to own pets they have to take care of them.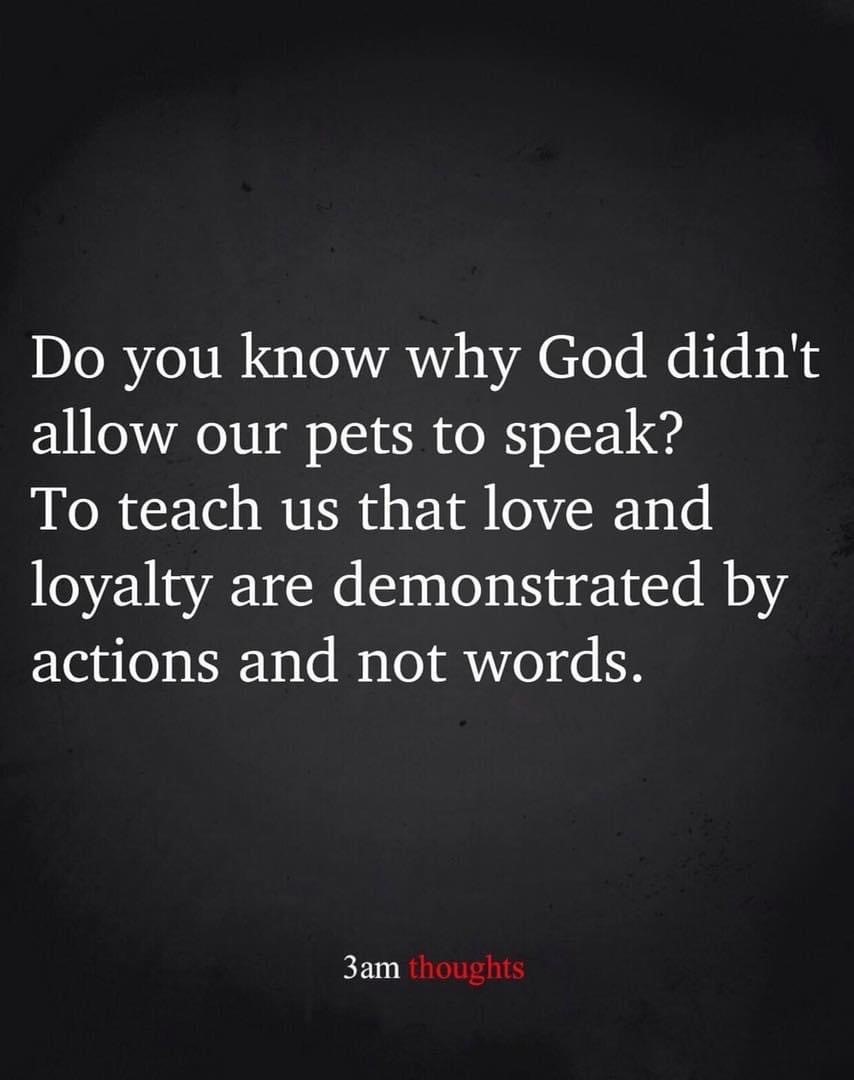 I saw this meme on FB and had to share it. It's so true.
Vegas has been in the rescue for 2 months. They said she is very sweet, loving and likes to be with her people. Of course that is a trait for mastiffs.
Vegas is coming into a spoiled pack that has never had a bad day in their lives. haha! She is going to be living her best life with people that will spoil her and love her for life.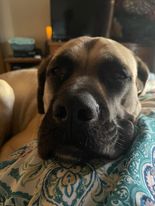 I am thinking of changing her name to Venus. It is close enough that she will recognize but still different. I am not excited about the name Vegas …for many reasons. But I also don't want to honor a name that her original owners gave her because they didn't treat her well.  But I am going to wait to see how she responds.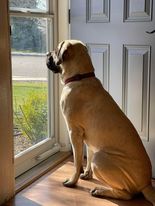 All of these pictures are of her at the foster home of the rescue.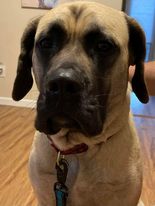 Stay Tuned for some pictures of her with her new pack!
There are some advantages to buying a farmhouse in the country, right? Having a few big dogs is one of them.
So far she is very sweet. She has some food aggression issues. She has some bad manners such as darting for the door and jumping on people when she meets them. She also doesn't understand human meal times verses her mealtimes. LOL! She thinks they are all for her.  We will be working on those things. She is potty trained and so far she loves that she can go in and out of the house at her leisure. She needs to know where I am at all times. So if she goes outside and I have changed locations when she comes back in she will whine really loudly so I will announce where I am.
She gets along with the other dogs fine. But I think her and Red have to work out some stuff a little more. She is a little more nervous around him and he doesn't mind her so much. She stole his bone from him and he didn't do anything. But he doesn't like it when she tries to take attention from him when I am loving on him.
But I am working and she seems to be handling it fine.
xoxox
Charisma