The LPB Open House Event Notes
Hi Everybody!
We had the big open house event and it was a SMASHING success!
I had a few friends that heard my bat call and arrived a few days before the event to help us.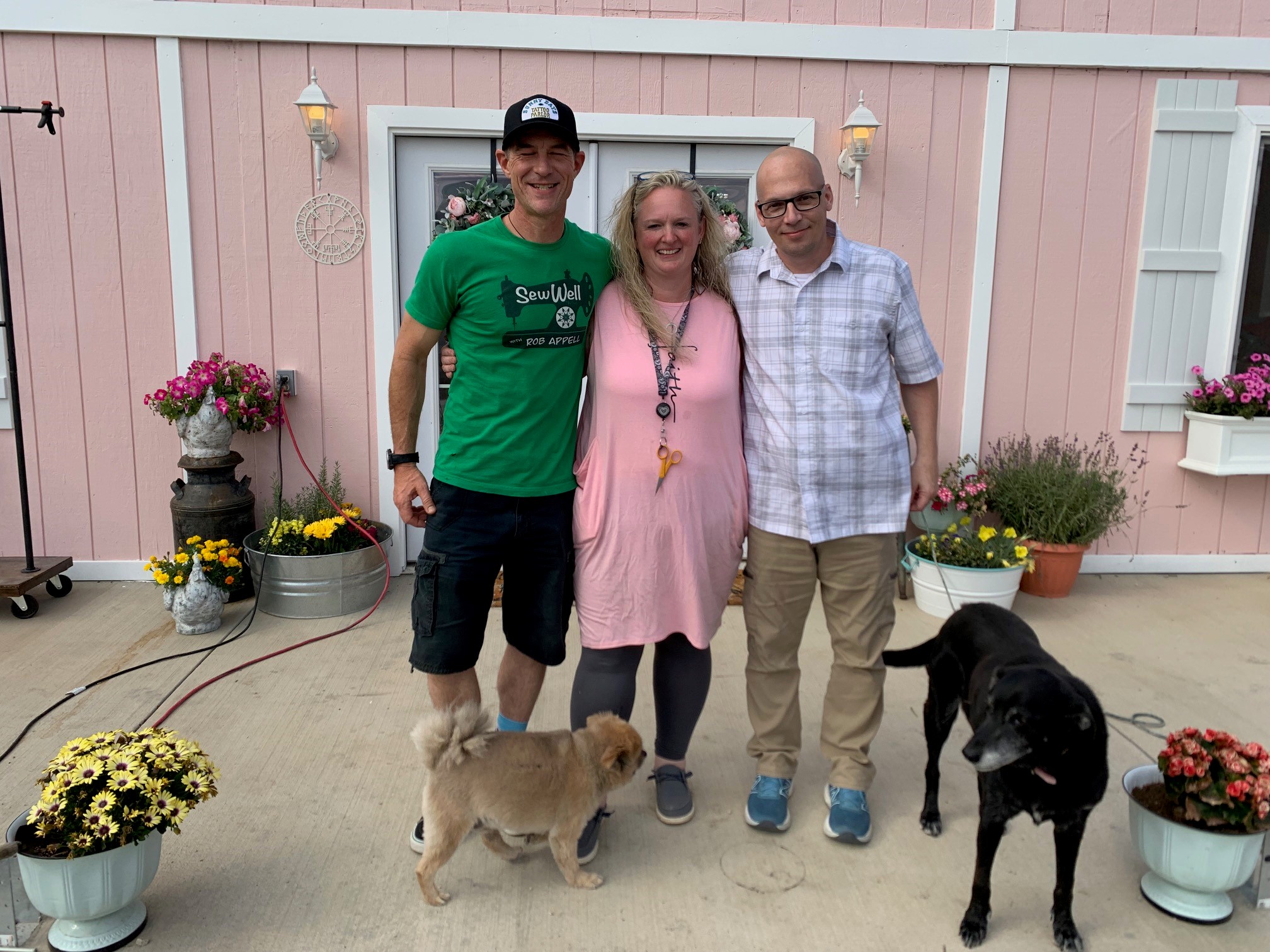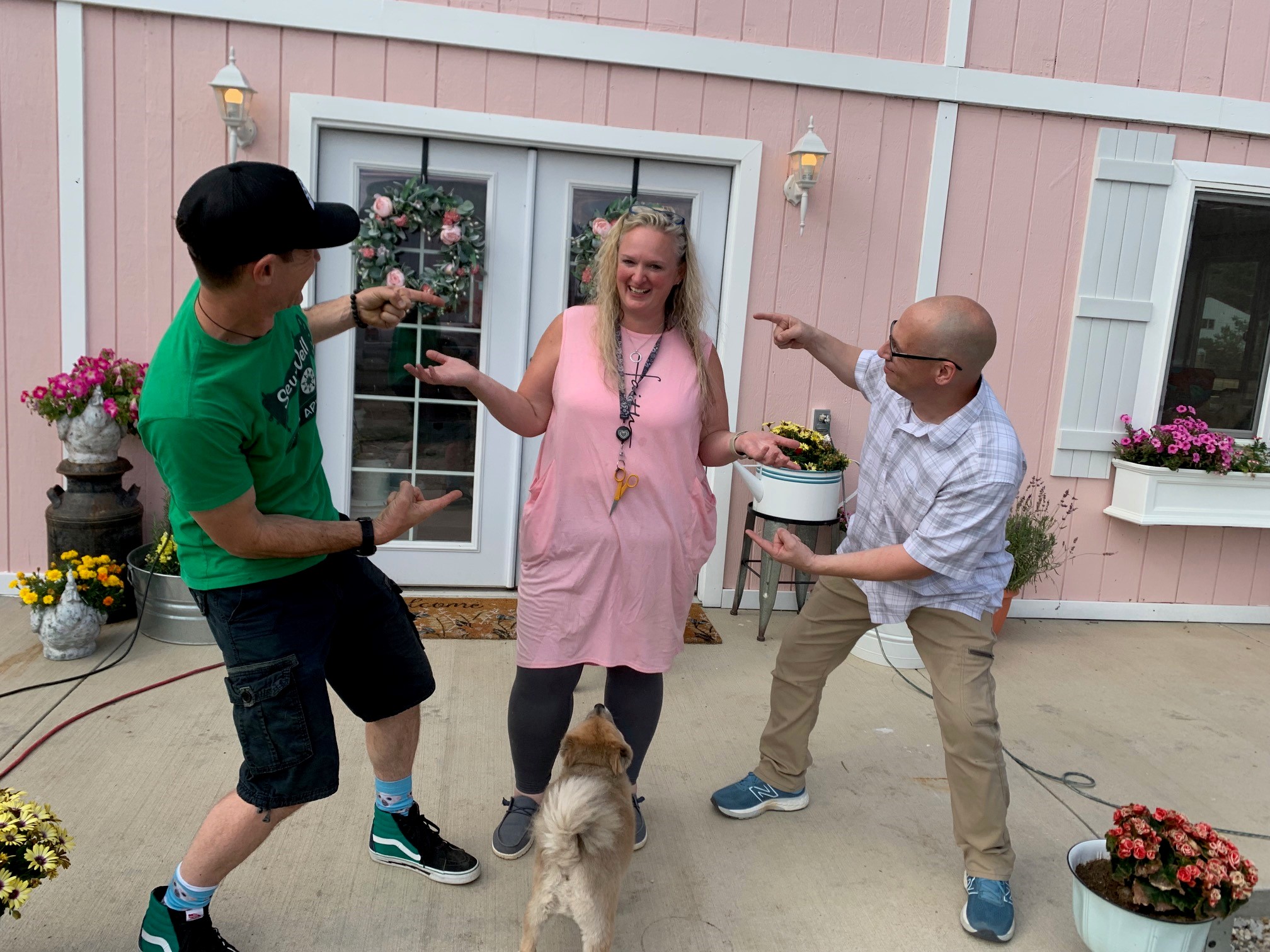 They actually had it planned before hand but booked flights a day early after I put out an IG post stating I was tried, everything hurt and I had no idea how we would get everything done. Everyone was in on the surprise except for me. But I am so thankful that Rob Appell and Andrew Lee showed up because they did in fact go to work right away. They worked for 2 solid days and we wouldn't have gotten everything done.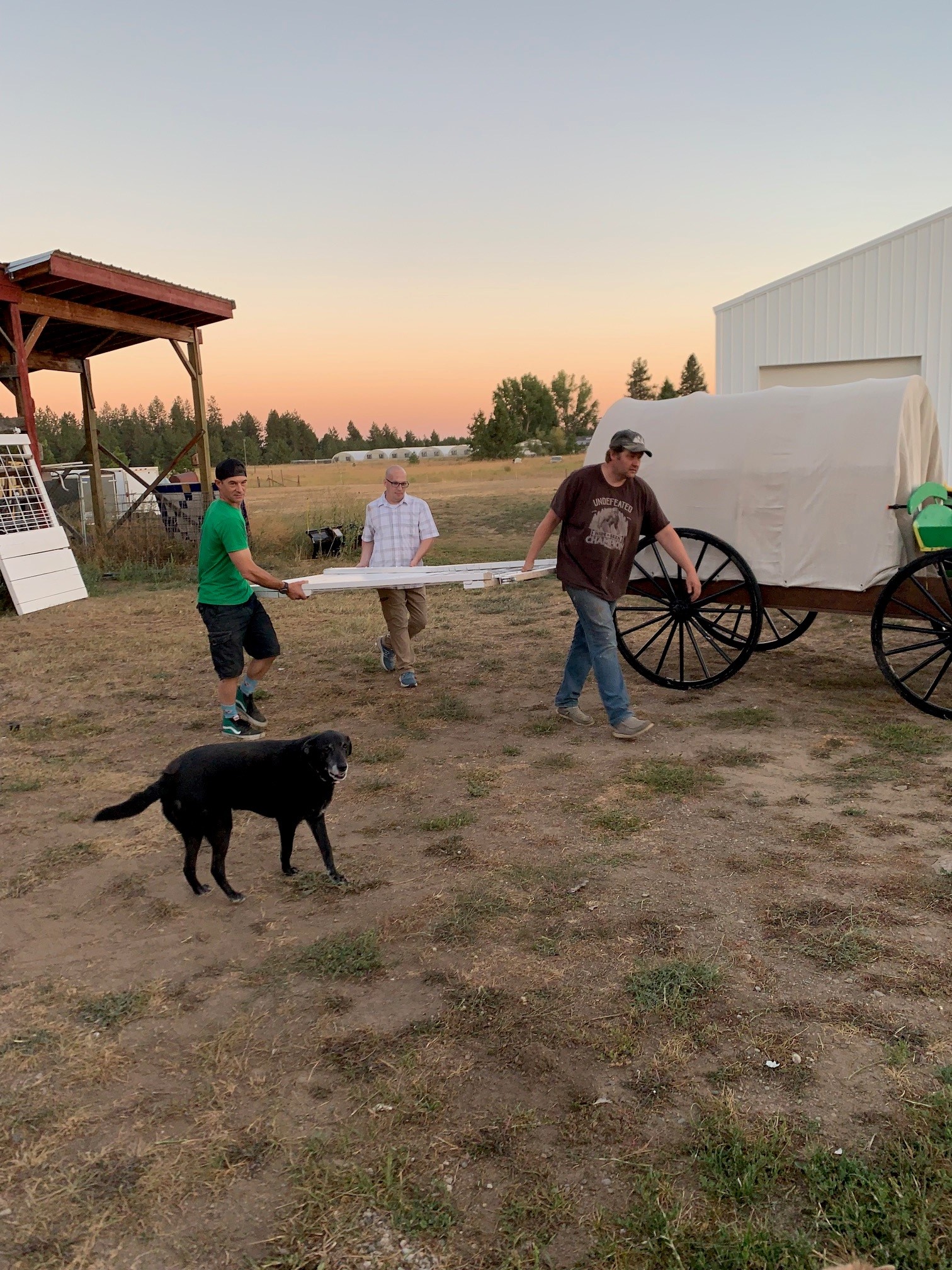 The truth is that I had hit a wall by Tuesday and I don't remember a whole lot about anything. :)
We had a great plan of action but all of those plans changed because we kept running into issues. Mainly quilt hanging.
Rob and my FIL got the infrastructure up to hang the 160 quilts in our old horse pin for the "quilt show." Which consisted of 160 of my own quilts that I was selling. We had planned on hanging a few different displays on the side of the shop with magnets. Apparently, aluminum siding doesn't work well with magnets. ugh! So we had to go to a few different plans. They all worked out.
We set up a booth for shopping in my husband's new shop across from the barn: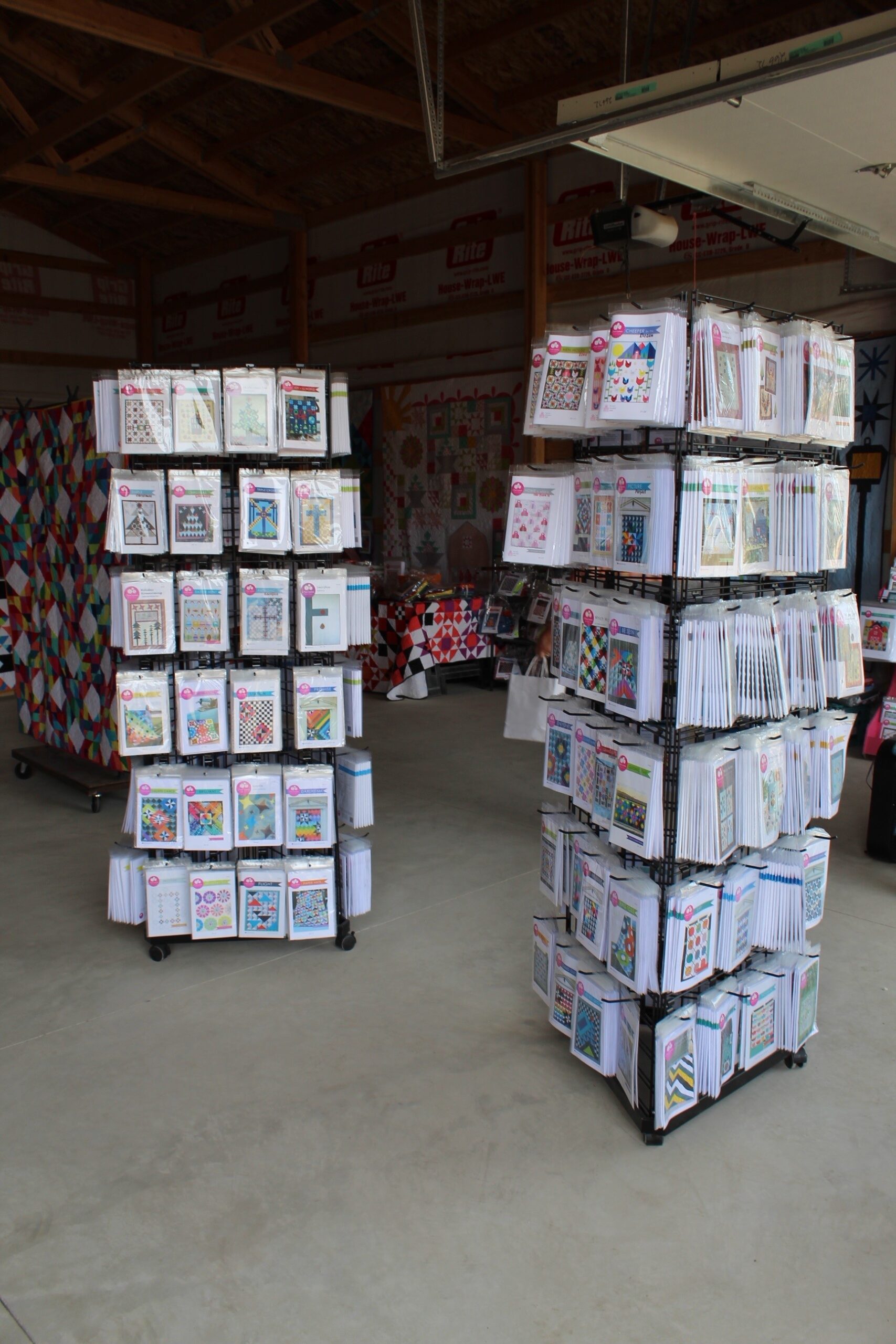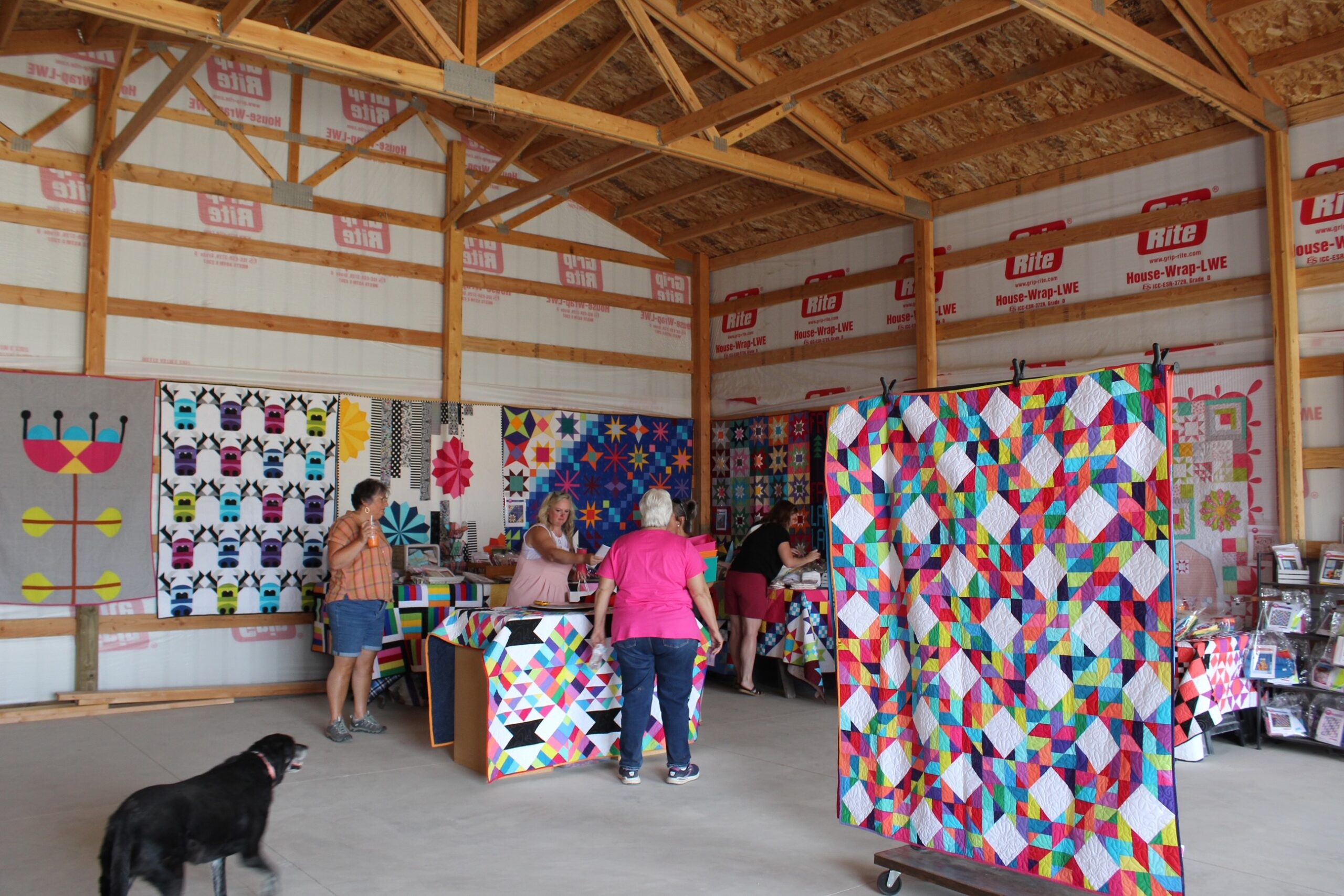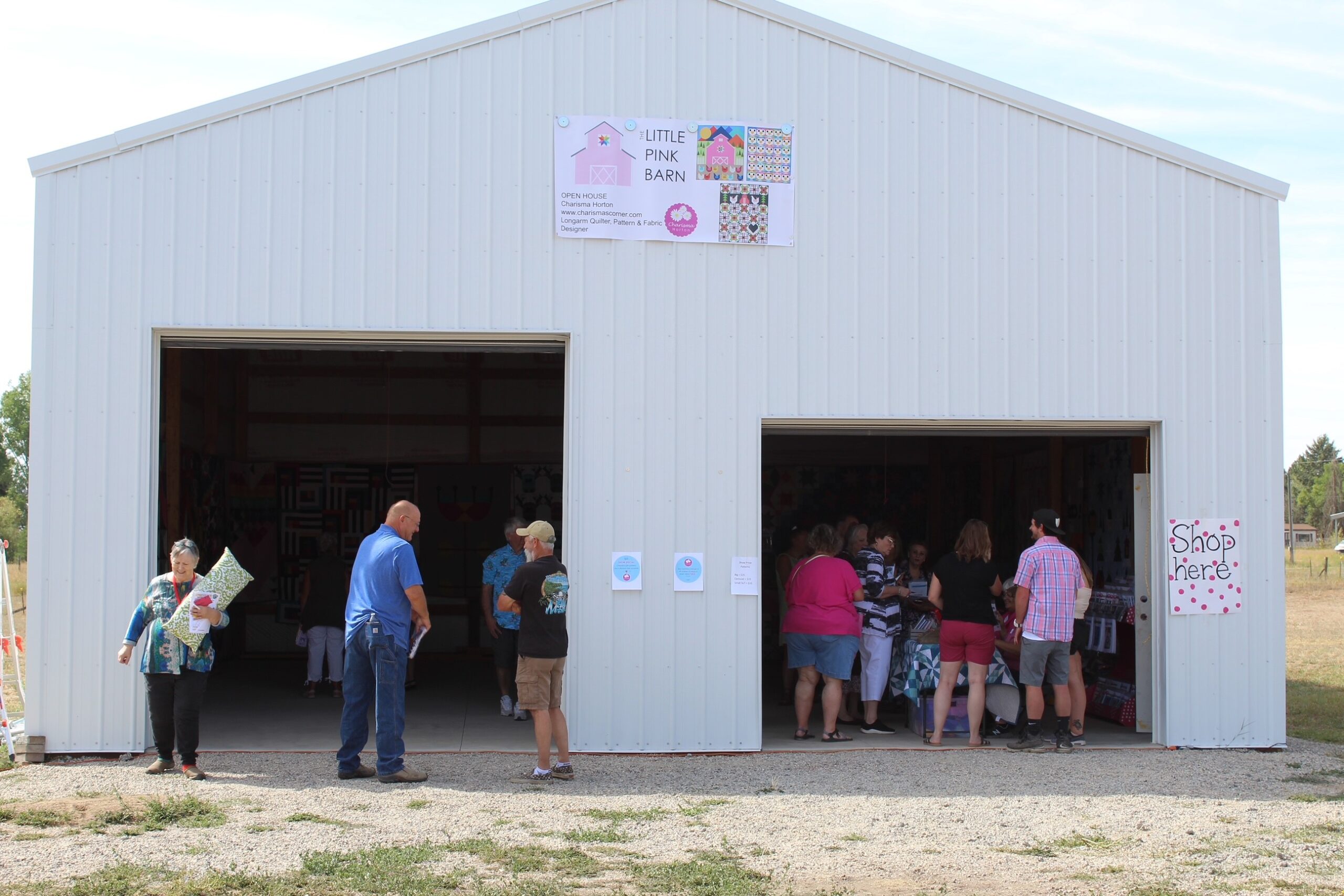 Here are a few shots of the Quilt Show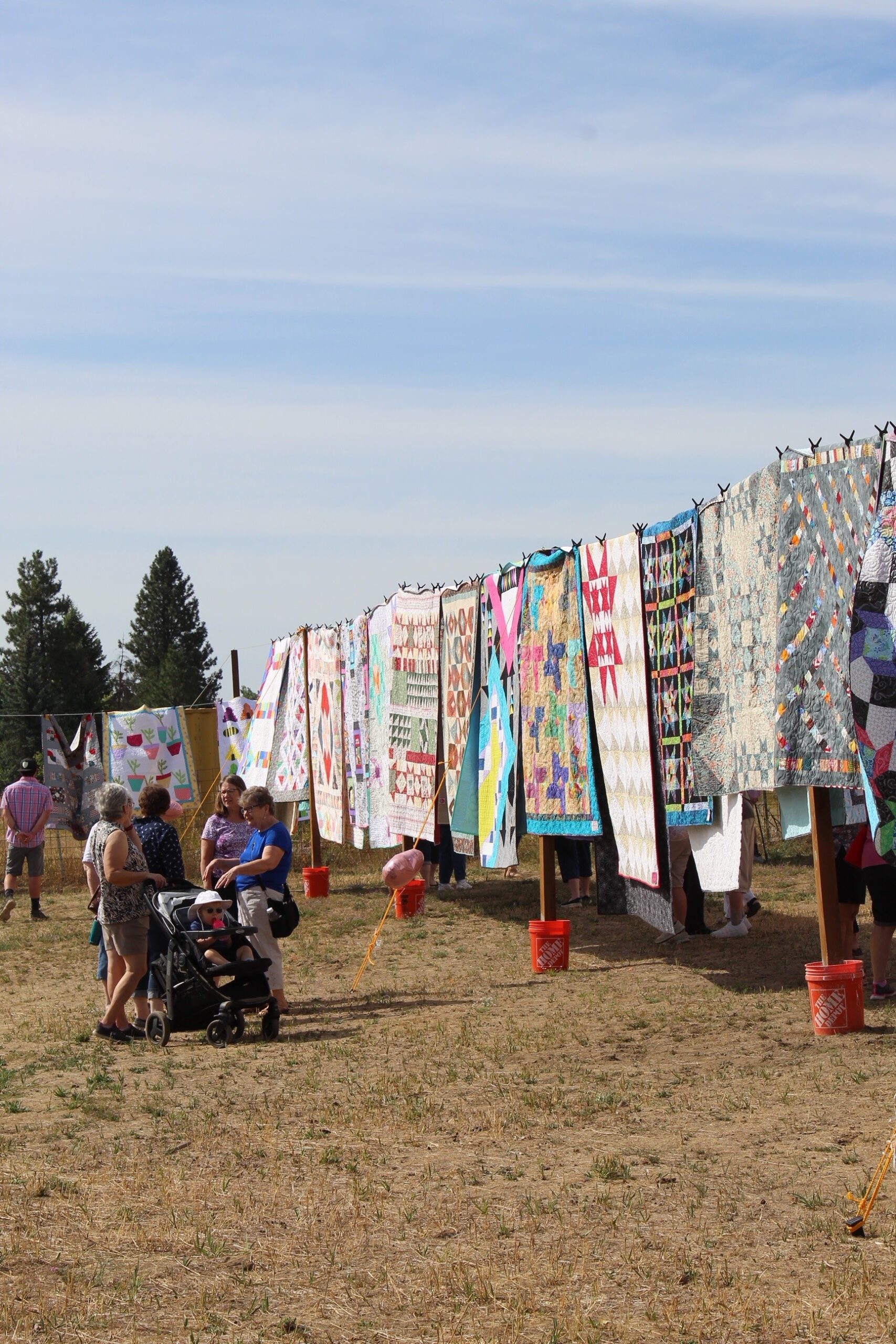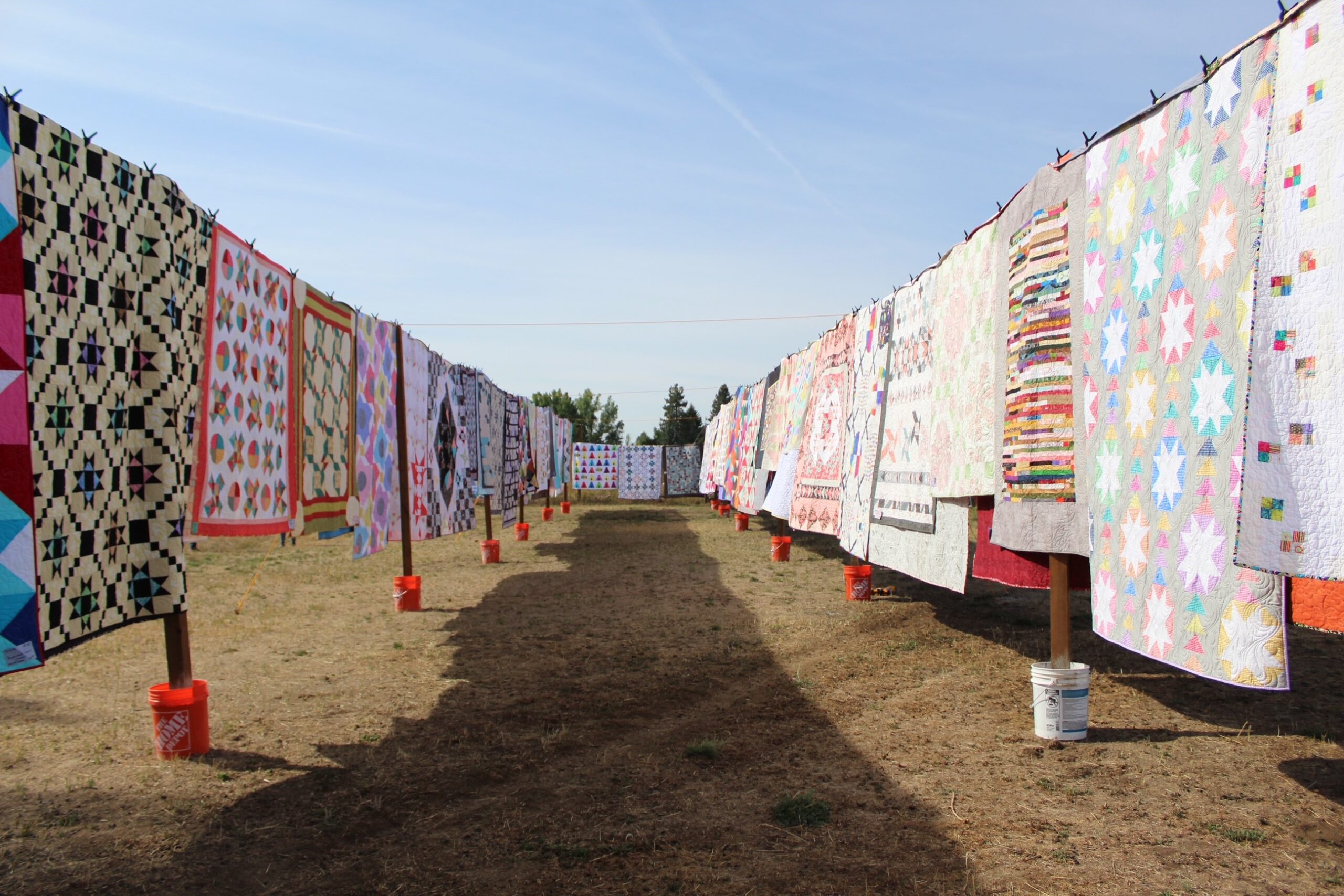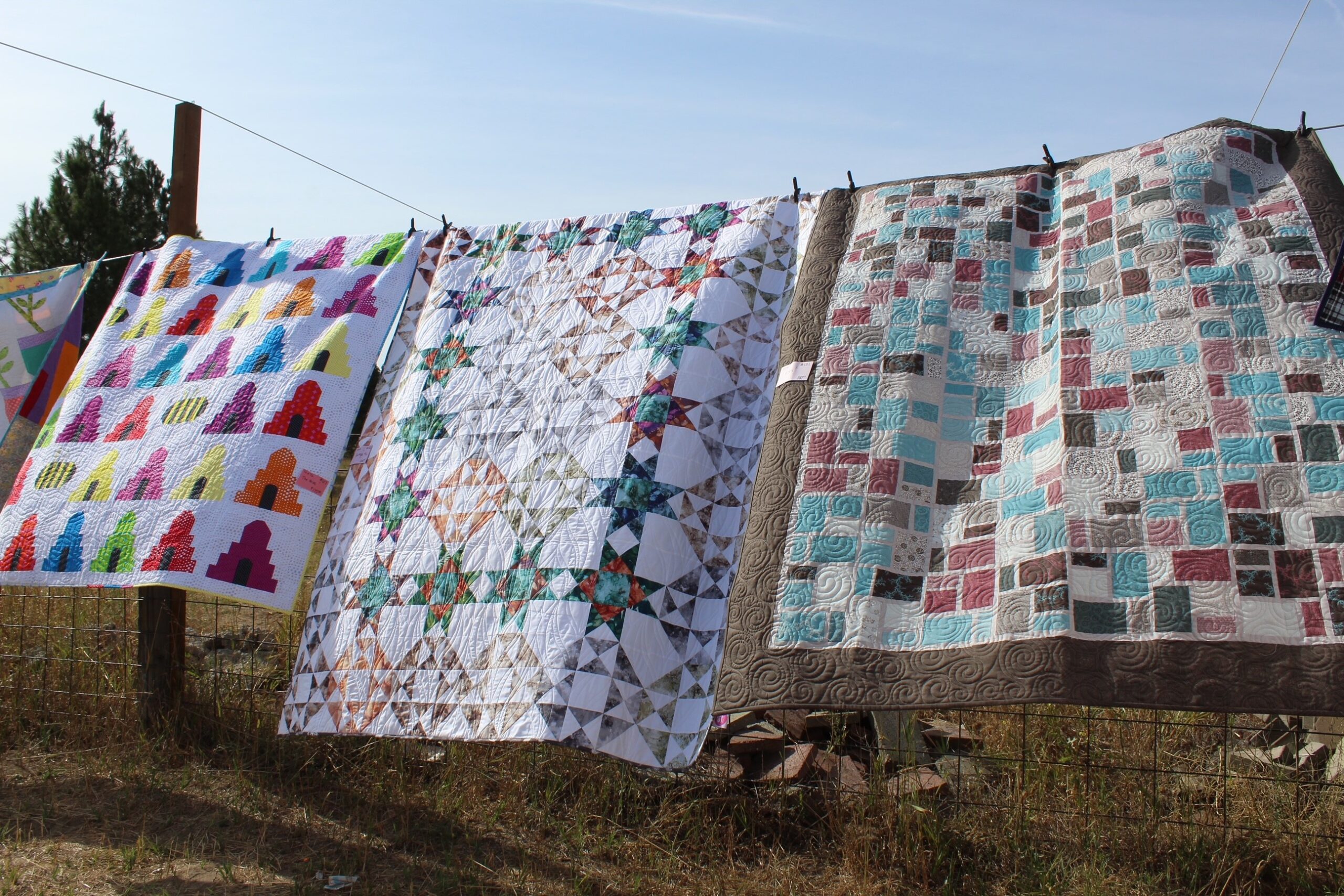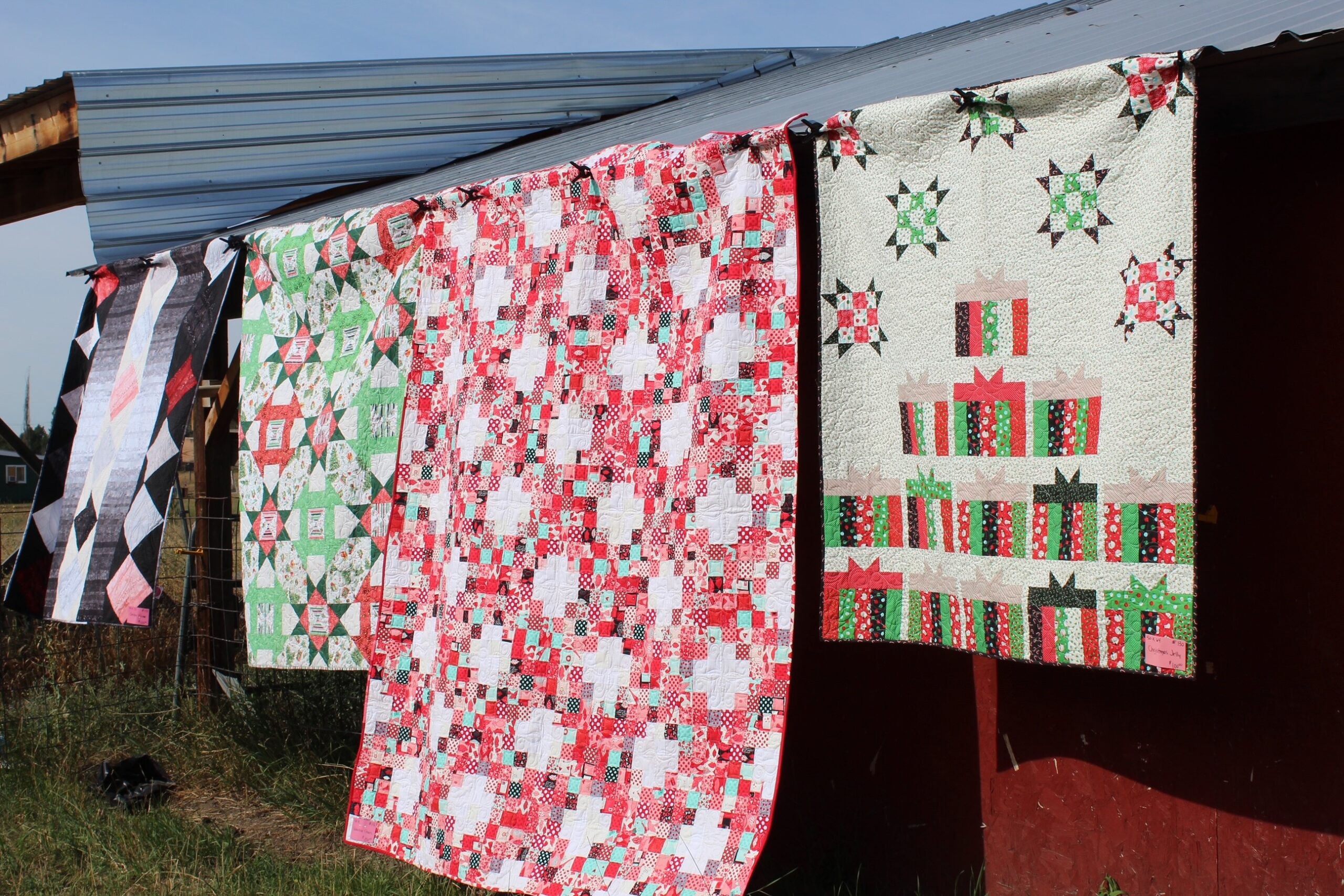 we had a 2.5 acre section of our land to use for parking. I heard that at one point during the day it was full: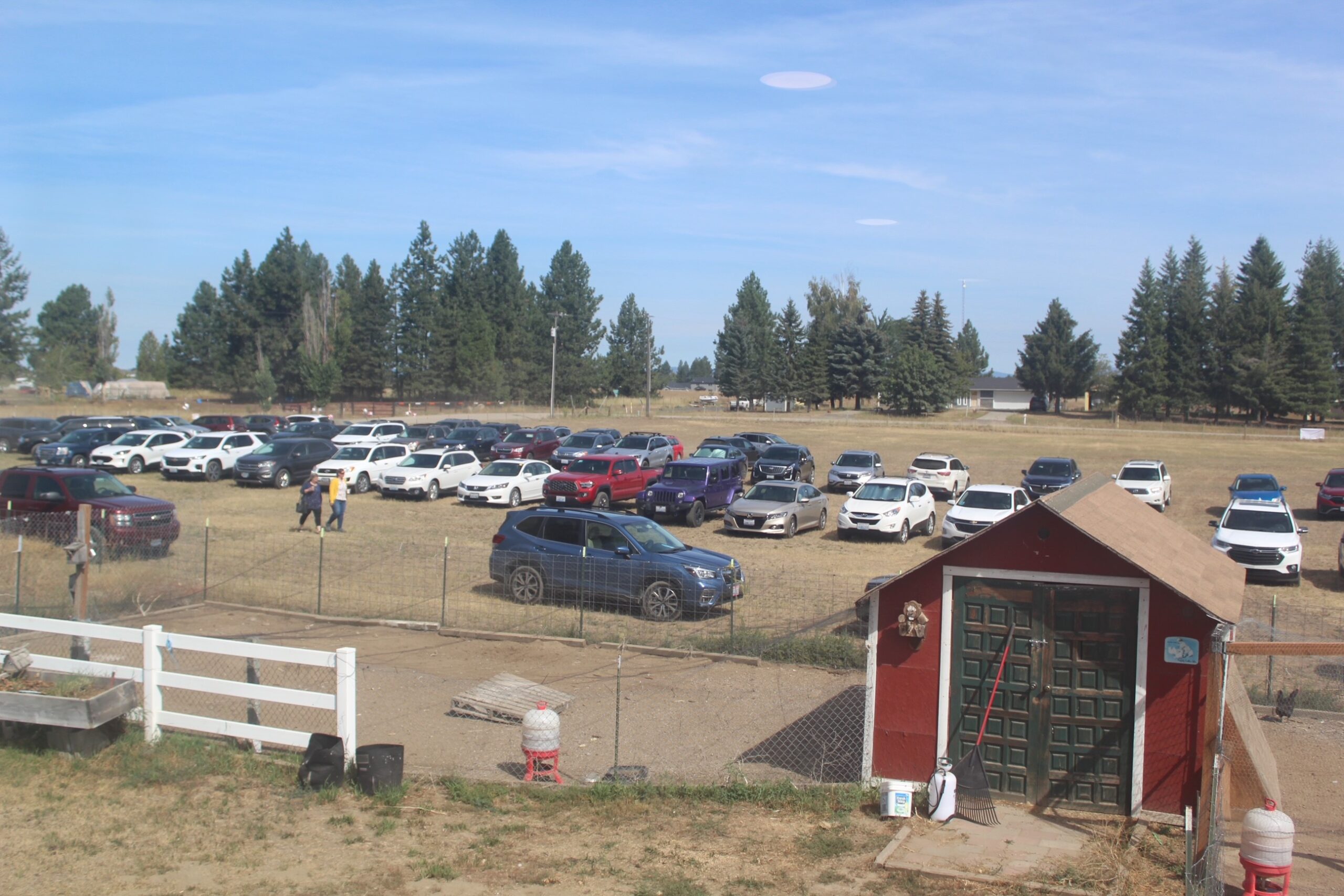 We had over 200 gift bags and several door prize drawings. They were all donations from designers, fabric companies and local quilt shops: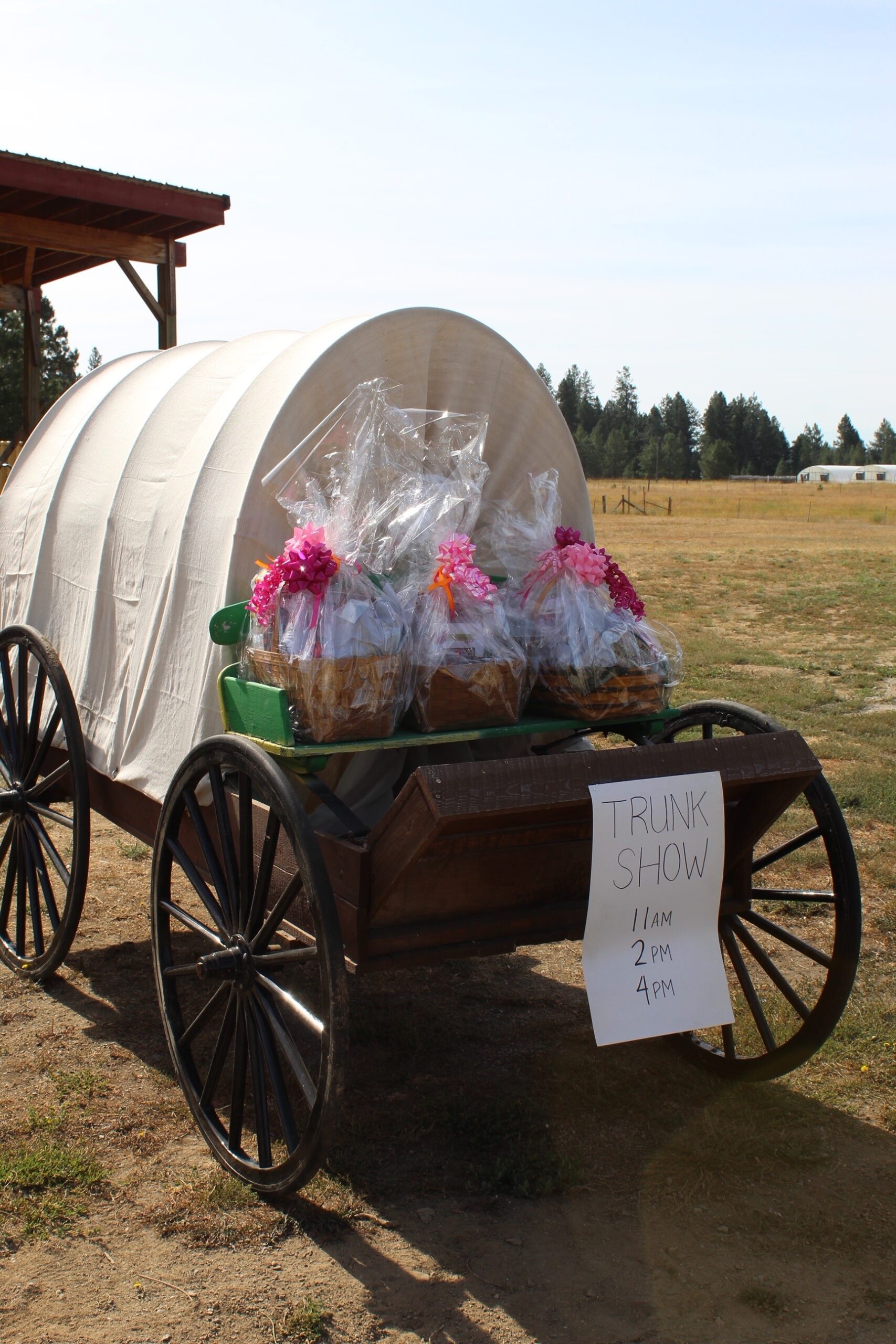 I gave 3 trunk shows through out the day: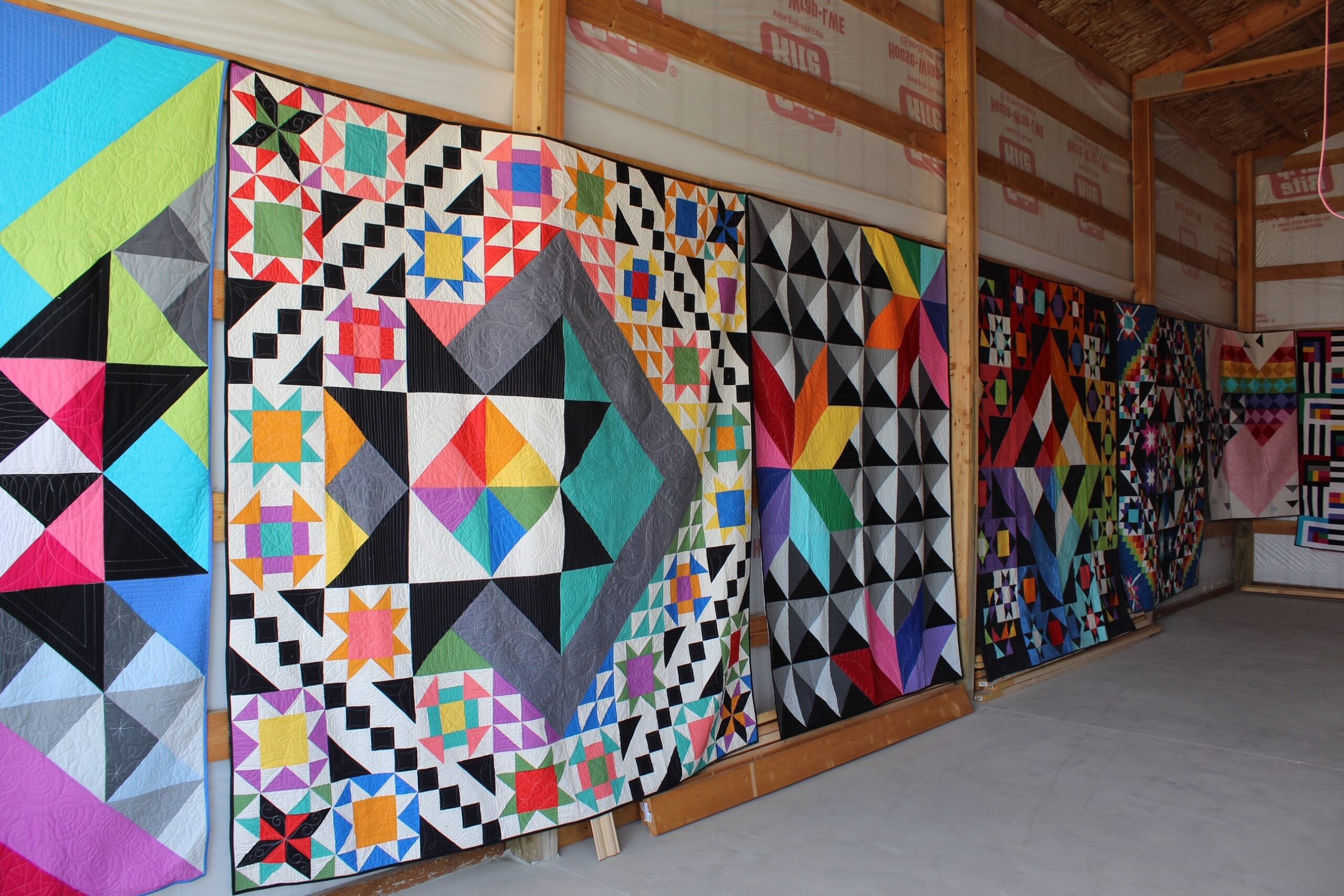 We did that in the other half of the shop. That way people could sit as well.
We also had tables and canopies set up in my yard for the lunch that was served by my church family. The proceeds of the lunch was donated to the church for our building fund. We had significant damage to the building last year with the snow.
Of course we had LPB tours: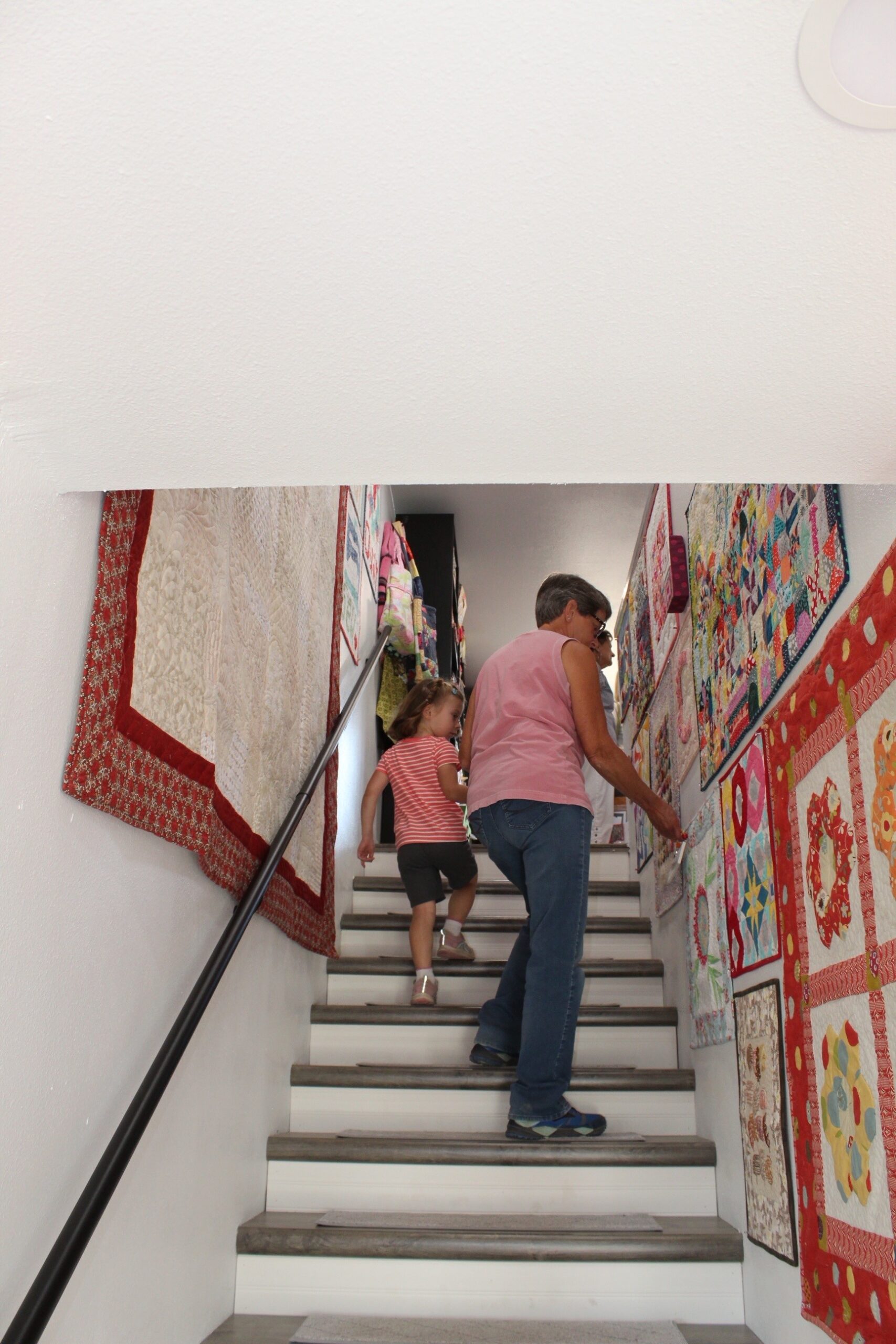 We had big plans. It was all laid out very well. The biggest challenge by far was hanging the quilts. when you think you have it figured out there is always another wrench thrown in. But it all came together.
I was worried that I would have gone to all of this work and had 25 people to visit.
I say that because this was supposed to be just a little event to show all of my people in Central, WA (where I had moved from) what I had been working on. Then it turned into something bigger. But I realized 4 months after I had booked the event that I booked on the same date as the Central WA quilt show. The first one they have had since covid. So I lost all of my people. sad. Then I discovered that there was another quilt show in Sandpoint, ID. I am far enough away from both of these events that people had to choose those events or mine. yikes!!
I was really worried. I haven't made a lot of contacts here. I go to bible study, church and I work. That is it. Honestly. I talk with a neighbor. not many quilters. :)
But the gates were opened at 9:45 and the cars started rolling in. All 200 gifts bags were gone by 11:30. I didn't have time to talk to anyone one for any length of time. I was giving tours the whole day long. We had more than 500 people show up and we sold a third of the quilts. WOWZA!!
That was AMAZING!!!
There were people everywhere!
I couldn't have imagined such a turn out! I pretty much cried for 3 days straight. happy tears.
This was a one time event to see the inside of my working studio called the Little Pink Barn.
At the end of the day all of my village (friends and family) were ready to book this event for next year. I have also received many messages and emails asking for an annual event.
I am very flattered that so many people had such a good time and that they think this is worthy of an annual event.
However, the amount of work that goes into this type of event is tremendous!
I had people in my circle volunteering their time and some even took vacation time to help me. That is asking a lot. They do all of that for free. they love me and wanted to do that. But I can't ask that every year. They would do it but at some point, I think they would need to be paid. I didn't make enough to hire a full staff.
I don't have parking to accommodate any more people than what we had. We would need to change things. I also don't know if I have the energy within me to go about all of this again, honestly. It's a lot. Things would be different because we wouldn't be building everything from scratch again. It all became a blur to me. I was so exhausted and tired. I couldn't make decisions anymore. Thankfully I was surrounded by great people who could fill in the gaps for me because I was at my limit. I still feel tired a week later, honestly.
I learned:
Hanging quilts will need checked fully several times before a plan is formed. No matter how strong you think something is….you have to test it in several conditions
security. You can never have too much security
you need more than one credit card reader
we need walkie talkies and golf carts for easier communication & transport and access for different needs
we needed a better system for selling quilts. We figured out a better system after the fact
There were many things that truly touched my heart and left me feeling so proud.
My boys. 3 of my boys showed up (along with 2 wives) to help me. They hung quilts before the event and helped get things set up. My boys helped all during the event with anything that needed them. Mostly they were quilt pullers, security and all around good guys. Generically they know that I am a quilter. I have been a quilter for half of their lives. They know more about quilting than the average bear. But they had no idea that their mom was "famous" to put it in their terms (I am not famous….maybe well known in some circles). They were so proud of me. They were excited to be a part of such a special thing and they were excited to share in all of the good things with other people & me. I don't  think they truly understood what I have been building until that day. I was so proud of them.
My Husband got his day as well. He has worked so hard to make the studio of my dreams despite the hiccups we have had along the way. He has done most of the work. He has gone along with all of my ideas even when he didn't want to and he has figured out the way. This has been the biggest project that he has ever conquered. He has so many more to make this place work for us and our needs but having this piece done is a huge relief. Having so many people coming in and seeing what he has built was a great day for him.
My friends. I had friends cleaning, weed whacking, setting up booths, hanging quilts, cooking, handing me water when I couldn't get away, praying and taking charge in situations when I wasn't available. People I can fully 100% trust. I have such a good circle.
The support from my fellow quilters! WOW!! you all showed up in a HUGE way! I can't even describe the feeling. I am so thankful that you all took time out of your lives to come spend a day at Fawn Acres with me. What a HUGE blessing! THANK YOU!!
My hope is that everyone left here feeling inspired. That anyone can build their dream and create their own story. I have and I will continue to do that.
Many Blessings!
Charisma