The Little Pink Barn Update
Hi Everybody!
I have been crazy busy! We don't like to use the term "Chicken with it's ……" but you get the idea! LOL
The Barn is actually pink now. It's so dreamy! I took this picture on Sunday night. Rob added the windmill and I have been slowly adding flowers and containers for the last few months. It's been a construction site for a year. It felt good to see this.
The OPEN HOUSE for The Little Pink Barn is August 12. 10-5. I live in Deer Park, WA ( north of Spokane)
I have door prizes, I am hanging a bunch of quilts to sell and putting out all of my merchandise as well. Kits, patterns etc.
My church family is going to serve lunch from 12-2 for a reasonable fee. All of the proceeds from the lunch will go to the church building fund. We had significant damage from the snow last year.
It's actually not finished yet. Rob is going to add a porch overhang after our open house. We ran out of time so it will be added after the event.
I have been posting the progress of everything on social media. That seems to be a bit easier for me at this time because I am managing so many things. But I am very excited because once this is finally finished a big piece of my world will be put together and I already feel some peace. We still have a mile long list of stuff that has to be done but we are working through them. Having my home and work life be in chaos at the same isn't good for me. When my work life is settled I can face home renovations a little easier.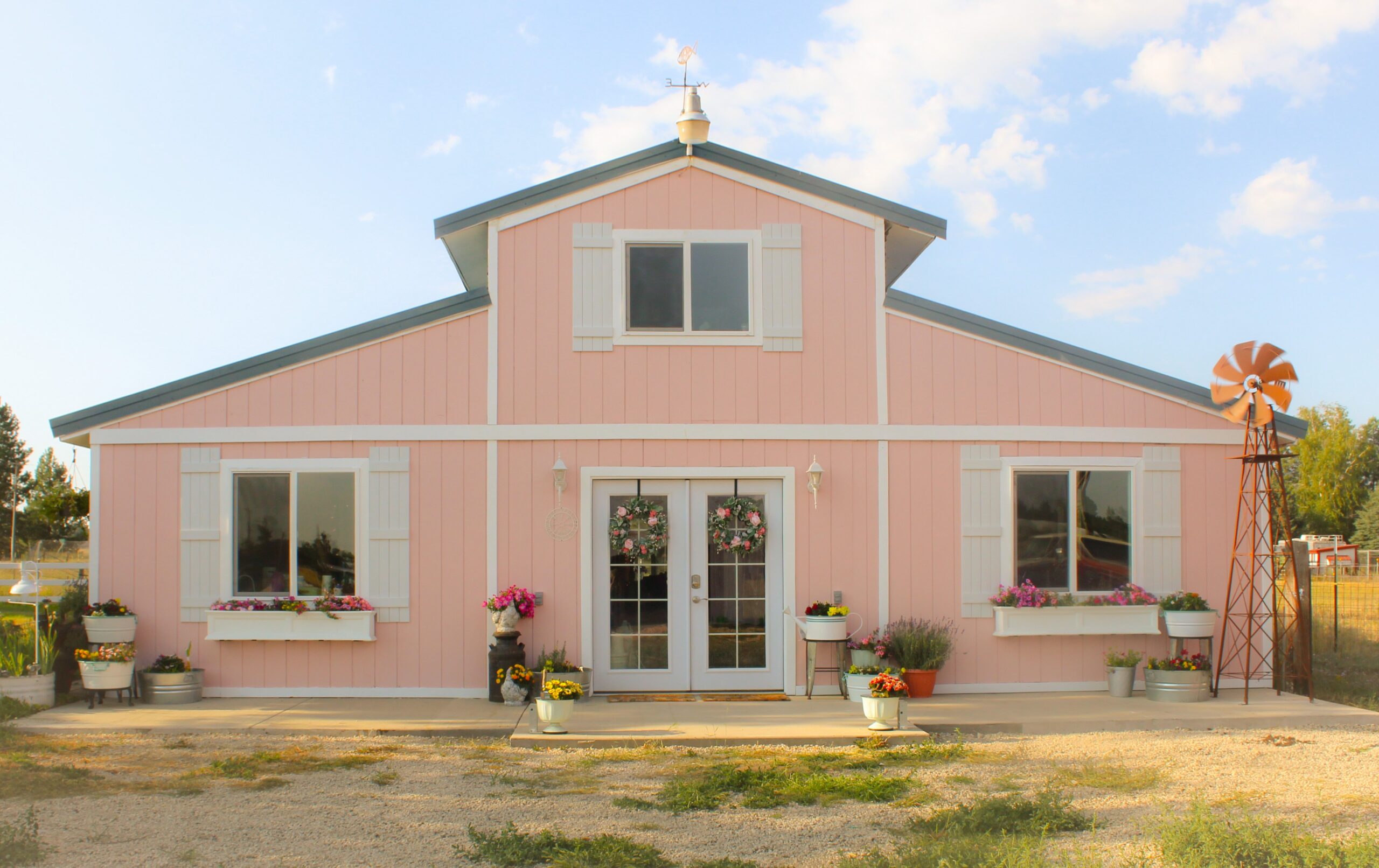 Isn't she so pretty?!
I am pretty proud of us. Rob and I have never tackled a project like this before. We had help. My father in law spent every Saturday here from August through Thanksgiving last year helping with the foundation of everything. We had hired some kids (now family friends) to help several days a week during the fall and some weeks in the winter. Our kids jumped in when we needed them and we hired certain parts out. Concrete, drywall and exterior painting. The rest has been us and YouTube. Honesty, I don't know how we all did anything before YouTube.
There were times during the process that I didn't think I would ever be working in this space. All of the ups and downs of renovating. All the discord I received when I said I was going to paint my barn pink…LOL! Now I think I have convinced a few that it's not a bad idea and it's not as bad as they thought it would be…:)
All of the ups and downs of life.
But there was one thing that I stuck with through this process and that was that my business was going to pay for this barn. I didn't want any of Rob's money (we don't define things like that…we have joint accounts) to pay for it. I wanted it to be something that I earned. I just had to do that for myself and for sound of mind. It was difficult because I haven't been able to contribute to the household. Rob had to carry that load. I would just save and pay for supplies and services as the funds came in. We would have liked to have more help along the way but we just couldn't afford it. We did the majority of it ourselves because that was the budget we had. I had to make decisions based off budget (like most people) and sacrifice a few things. I don't have a bathroom or plumbing in there. I knew I wouldn't have the budget for all of that and I would have rather had the space. I couldn't afford all of the flooring for the whole square footage so I opted to paint the floors and I stenciled a design on them to make it pretty. I was glad I was able to do that because I like it better anyway. But we did put in it's own electrical and breaker box. I added a ton of lighting and outlets. The guys were kind of giving me a hassle about it in the beginning, but I am so glad I stuck with it. We can never have too many of those.
I also looked for vintage finds on FB marketplace that I could rehab and fix up myself for the furniture. It was more work and honestly I am sick of painting! LOL! But I wanted my space to be personal and reflect me, the barn, just a mix of old and new. I could have gone to IKEA and bought all the custom stuff but I wanted to make it my own. I am very happy that I put all of that extra time in. I love the stories from the pieces. The journey we took together. I would start out with one plan and then change it and end up with something different. As I walk into each space of my barn I feel connected in some way. All of the hard work and intentionality.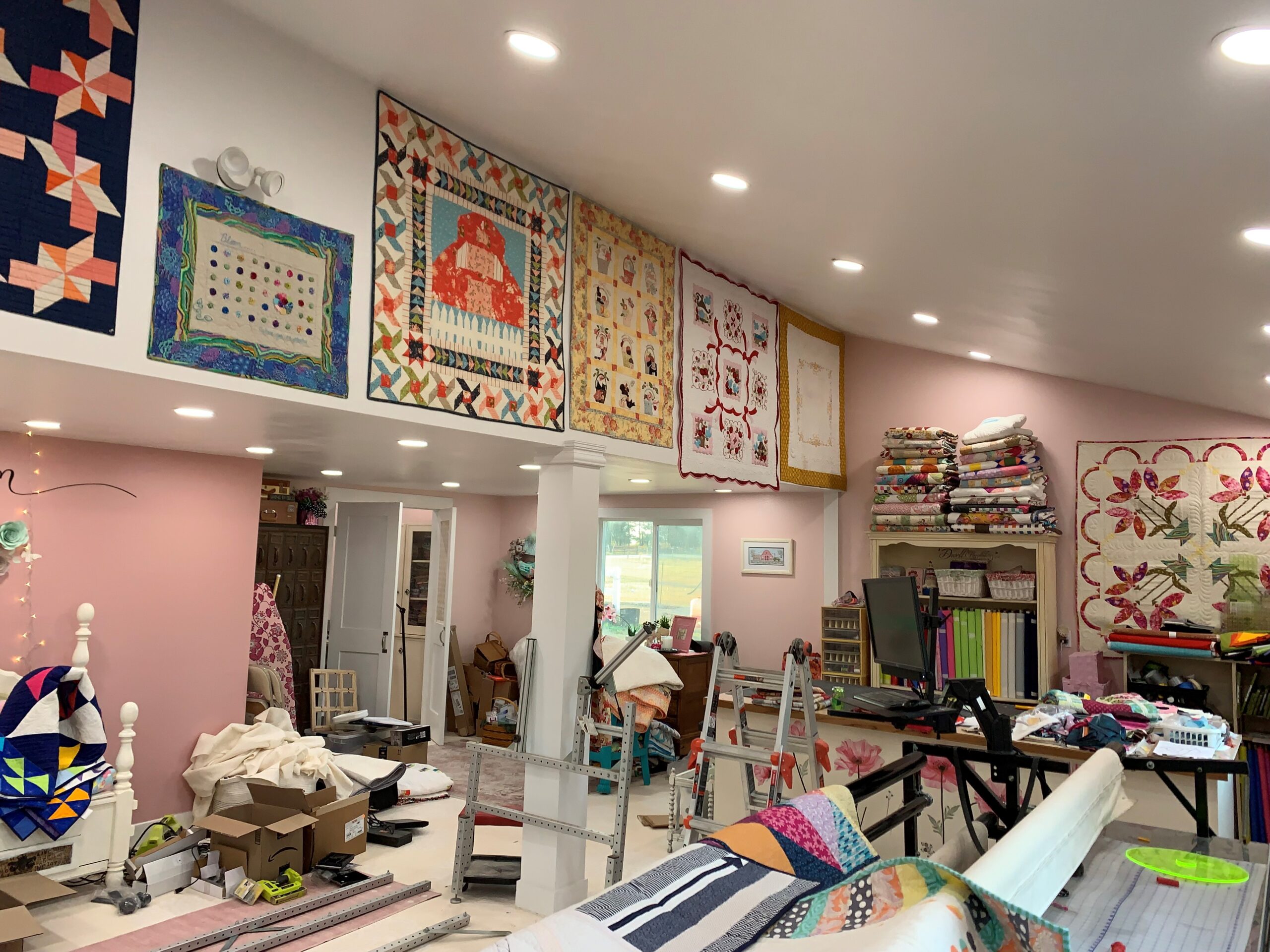 It is obviously still a wreck on the inside. I am still unpacking and organizing. But we started hanging quilts on the walls. All of the longarms are set up and we are working out the kinks.  August 12 will be the magical day!
I took this beautiful picture of Venus: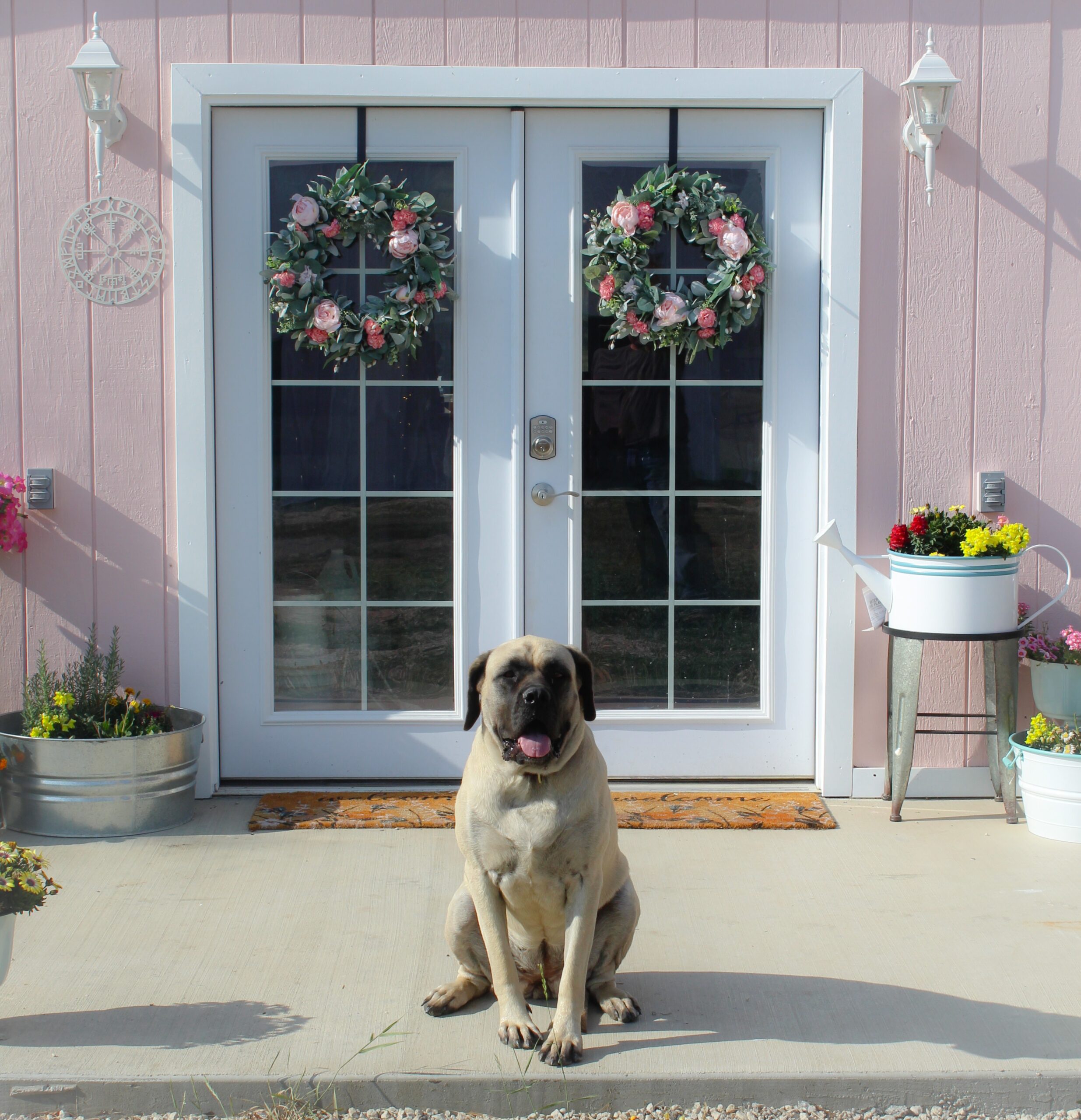 Some of you may remember that we adopted her right before we moved here. She is starting to calm down a little (thankfully) and she is just a big sweetheart. She likes to become one with me and try to mold herself to my body. LOL! She makes me laugh. She causes lots of trouble but it's all innocent trouble.
I just wanted to let you all know that the Pink Barn is almost ready!
I am beyond ready for it to be ready!
Charisma