Hi Everyone!
It's been a crazy few weeks. I don't even really know where to begin. It has been a difficult time. We almost lost the deal with our house because of technical difficulties. LOL! I don't know. We didn't know until 24 hours within closing if we were going to get our house. I had stopped packing and starting thinking about how I was going to remodel the old house. But my father in law called me and gave me a pep talk and I drove down to the office of the lender of my buyer and made contact with him to get the info for my lender that my selling agent couldn't get for whatever reason. I felt this huge amount of pressure because 3 families were going to suffer because somebody was dropping the ball. It is so difficult to be vulnerable to the process of buying and selling. You pay all of these people a tremendous amount of money and then you TRUST them to follow through and make things happen. I have learned that that isn't always the case and I am not a fan of being in that position.
Anyhow. It took us a few weekends to move and 4 Uhauls later. We still have one storage unit that is in town here. We still aren't moved in. We decided to update the upper floor. The upper floor has 3 bedrooms, the master bath and a laundry closet. The laundry closet is a nice addition by the last owners (I think) it's is unfinished. So we have to finish it to make it look nice. It needs sheet rock and finished. But I have learned from living here that the stairs are kind of long and steep. Dragging laundry up and down stairs would not be fun when pretty much all of the laundry stays upstairs. So I am happy to do the finishing work.
All 3 bedrooms had wallpaper. There was also carpet on the stairs and the whole upper floor. I hate carpet. It's difficult to keep clean. We don't live a life that includes carpet. I learned that 6 kids and many dogs ago. We knew we would be taking that out.  I spent a considerable amount of time removing wallpaper. I will say that I have learned the secret recipe. A steamer from Home Depot and a spray bottle that contains a mixture of Fabric Softener and water. I tried some things on the market and they were a waste of money. I spent 3 days working with my sons removing wallpaper out of the first room and if I had known what I was doing, I could have gotten all 3 rooms done in 2 days by myself. That first room was terrible and both of my boys have decided they don't ever want to remove wallpaper again. LOL! I managed to get all of the rooms painted and I need to work on the molding. I am trying to use as much of the old molding as possible. We will have to buy some replacement pieces and some additional pieces because there was carpet ect. I am leaving the upstairs bathroom as is. I can't say it's a color or theme that I am in love with but it's not so terrible that I can't live with it. Basically it's not something I feel that I need to tackle right now. I will say that I appreciate the jetted tub. My last house had a hottub and I used that every night. Not having one is an adjustment. One day I will get another for this house. But that is a ways out.
Here is a picture of my besties during that time: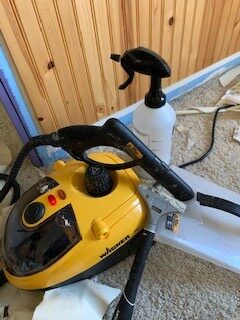 I took a picture after the first layer of wallpaper was off in one room. 2 of the rooms only had wallpaper on half of the wall because there is wainscotting on the lower half.
This particular bedroom is a discussion for everyone. None of my kids like the wood wainscotting. They are all making fun of me for keeping it. They think it's hideously ugly. The boys especially hate that the new laminate flooring that is oak colored doesn't match it. Like I can possibly match this wainscotting perfectly? I am also not going to sand it and refinish it when it's perfectly fine. the upper floor also has popcorn ceilings. I had contemplated scraping them. But honestly the wallpaper was enough and I really can't spend another month working on this. I have a business to get back too…and I would have to learn how to texture a ceiling. I would also like to quit sleeping on an air mattress. I had to make a call. I have been living with popcorn ceilings in my WHOLE house for 20 years. Living with some more popcorn in the bedrooms only….Because it's not on the main floor or the basement….I can deal with it. The carpet and wallpaper were the priority. But this one room with wood colored wainscotting is getting quite the reaction from my whole family. I  don't care. I think it looks nice with the new color that I have painted the room and I am the one who has to live with it. It's a guest room. I am pretty sure my friends won't care. LOL!
We are on a budget because we invested everything we had to buy the house. I have to save for my studio conversion. I am trying to use as much of the stuff we have here as possible. We did buy new laminate flooring for the upper level.  Rob is installing that. Preston also came to help on his day off as well.  I think this weekend the flooring will be complete. Which is exciting because then I can start putting in the molding and actually moving into the upper level. We have been sleeping on an air mattress and we still don't have furniture other than our dining room table. It's been rough. Not having a place of comfort…to sit or sleep. …but it's temporary. I keep saying that to myself.
I am also going to experiment with fabric dye. I am going to try and dye the curtains that came with the house to see if I can get results to match the new color schemes rather than buying new ones. 8$ seems pretty affordable. I will keep you updated.
We did have to buy a riding lawn mower. We have 5 acres. That has to be maintained. Boy howdy! I spent a good portion of my day mowing yesterday. I only did 2 acres. That is a JOB! thankfully a neighbor wants to rent our one of our fields for her sheep. I told her I wouldn't charge her because she is saving me from having to mow it. It just seems like we are helping each other out and I am happy to be neighborly.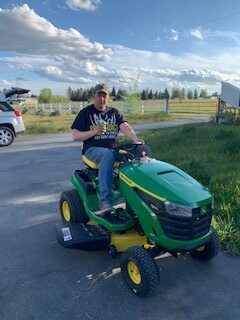 Rob is so happy that his John Deer lawn mower has a cup holder for his Mt. Dew. *eye-roll*
I am trying to discover all the great things in my yard. all of the different plants and the fun things left behind from previous owners. My future daughter in law and I spent a few hours one evening putting all of my yard stuff out. We wanted to spread it out and find nice places to compliment, what was already here. maybe fill some gaps. Oh the stories a house can tell, right? It was nice getting to spend time with her and my son that day.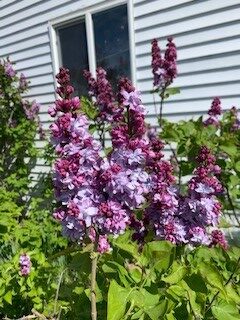 I have lilac bushes which I love. I think a choke cheery tree, some weeping elms, pine trees, Crabapple tree and the last owner had started planting some raspberry bush starts from a neighbor down the street. I am nurturing those and I have added some more berry bushes. She planted 5 fruit trees but only 2 made it through the winter. She doesn't know what they are ..either apple or pear. or 1 of each. So I added a peach and a pear tree. I wanted to add some fruit cocktail trees but they sold out before I could get any. I took a bunch of plants from my last house to transplant here. So I am working on getting those planted. I am also starting an herb garden here to go next to the smaller garden the last owner started.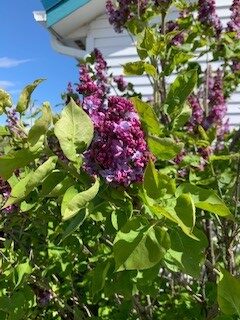 We had a rough first week with the chickens and dogs. Elvis the Pomeranian is a chicken killer. Venus the new rescue is his accomplice. She doesn't actively search them out but she wants to play and when Elvis gets excited she follows along. Elvis however is actively hunting. So now the ladies are secure and the coop and chicken yard are Elvis proof. The ladies have finally adapted. I like watching them. I like hearing them. I like to take them fresh fruits and veggies. They are laying lots of eggs again..there were a few days of trauma ( for all of us except Elvis)  that slowed them down and now they are good again. Which makes me happy. I honestly felt so terrible. Elvis got 2 of them. We started with 10…now 8. I have visions of building them a mega shabby chic coop. But not now…I have too much on my plate.
But my favorite place to sit in my home right now is at this window with my tea. Watching the chickens. I put my computer here as well to work during the day. It's been a rough go since we got here too…my laptop died with all of my design work. UGH! my car died. LOL! as if I didn't have enough on my plate. but one day at a time, Right?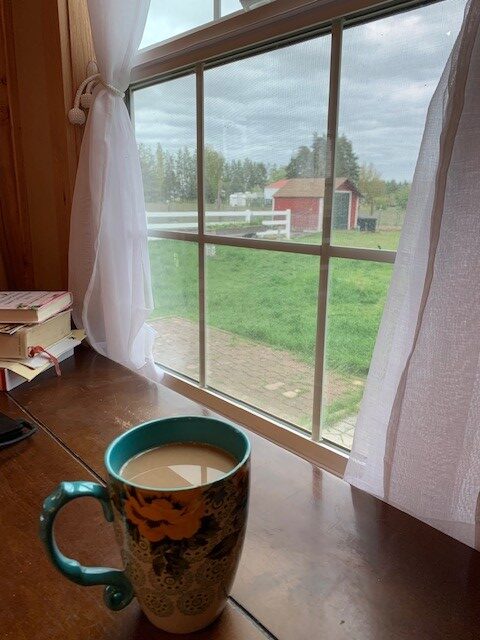 Rob and I have never had a beautiful bedroom. It was always just a catch all for everything. It was always small and we just never had a nice room to relax. We had an open door policy while raising our kids.  Even if the teens came home late from an event or night out they would make their way into our room. Maybe lay beside one of us if we were watching Tv or something. I decided that I would take a bit of extra time making our new room a little bit special. It has 3 windows that look out over our yard. The first thing you see in the morning is the big weeping bark tree in the yard. I absolutely love waking up to that. So I did spend a little more time planning a decorative wall, I spent a little more money on the closet doors ( even though I kind of wanted to build our own doors from the wood left on the property here….but there weren't any bigger pieces).  I am going to paint our existing headboard because I can't afford a new one. Our old bedroom set won't fit in the new room. But we have double closets so we don't really need much in the way of dressers anyway. I have a small antique one that I love and we will find a small one for Rob.  I will be sharing before and after pics when it's finished. Once I finish the upstairs my next project will be the bathroom on the main floor. It has never been finished. There is no molding, everything is terribly worn and it needs to be finished. It will take me a weekend to get it all done. But I am laser focused on the upper floor for now and the yard.
But one treasure that I did find was that the stairs are actual wood underneath the carpet. I was fully expecting to see particle board. One of the steps is actual particle board but it is going to be way easier to make on step rather than 14.  I think the stairs will be my winter project. I am not going to worry about them now. But I have been watching YouTube videos on how to refinish steps. Rob and I did this with the last house but those were a uniform size so we could buy manufactured steps and risers. These are not.  But I think it's going to be WAY better than what I was thinking ..which is a blessing.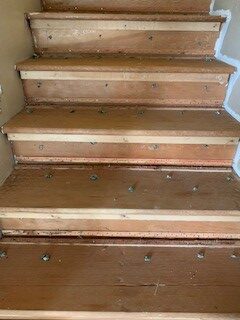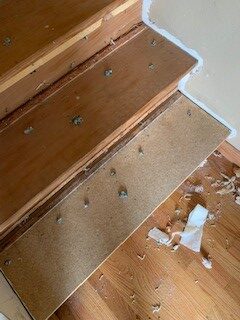 That is a fraction of everything that has been happening. I will share some of the emotional side of things and getting adjusted to a new home, hometown and everything else in a few days.
But I wanted to give an update on what has been happening here. A lot of home stuff. trips to the dump and learning new skills.
I hope you all have a great weekend!
Blessings
Charisma