Stand Out!! We are Finished~
Hi Everybody! Today is the last post for the Stand Out Quilt along!! I am so sad to see it end!
I love this quilt. I love what it represents. I love that it was my first sew along. I especially love that all of you joined along! It made the experience so great!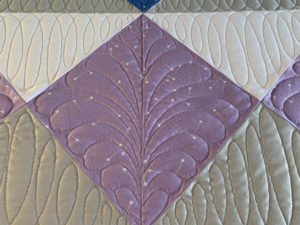 This last row is the purple row ….swoon. I quilted it with feathers.
Here are a few things about the Sew Along:
You can get the pattern, here. You can join anytime. We would love to have you.  The pattern offers 2 sizes. The pattern is offered as a regular pattern or a digital download.
The fabrics that I used in my sample are called Pin Drop Basics and Confetti Cottons by Riley Blake Designs.  By Christopher Thompson
We are working on one row at a time. These are easy blocks. Feel free to work at your own pace as well.
Here is the finished quilt from Janice:
She has been such a trooper posting every week and keeping up! I love that!
I posted several quilts from several of you along the way! I would love to see some photos …even if you aren't finished. The best part of taking a class or doing a sew along the the fellowship and seeing the different quilts. :)
I want to say a BIG THANKS  to Riley Blake designs! They are an AMAZING company who has really supported me in this new business of mine. I am honestly grateful. I love their products, their staff and their open-ness to work with a new designer. Honestly it makes my heart swell. So for those of you who followed along….please show them some love by supporting their company.
I hope you all STAND OUT! IN the best ways possible. I shared 8 quotes through out the weeks and I honestly try to stand in my Faith, my Truth and believe in myself and fellow humans. Even when it's hard.
I am getting ready to host another sew along. Details to come. Think Scrappy….*hint-hint**
Many Blessings
Charisma