So my friend Sally told me about this great series. She said it was so great she got all caught up in the characters ect.
She said there was subtitles as this series was actually made in Jerusalem. It's based on an Orthodox Jewish family in a small community and how they handle everyday life struggles.
Sally talked about this at our weekly breakfast meeting. And we all thought "Oh that's great Sally…I am so glad you found a series that you like" I was interested because I like seeing how other cultures live. But Honestly I "Listen" to a lot of TV I don't actually watch a lot of TV. So Sally checked in with me and asked if I had actually started watching Shtisel. I said…no….But I would.
Well one Sunday after all of my less than stellar ( I'm too embarrassed to admit what kind of garbage tv I actually "listen" to on a regular basis) I started this series.
OMGoodness! I was completely hooked. I cannot tell you….I was mesmerized. I couldn't even go to another room or use the rest room. I was staying up late each night glued to my TV. Since I had to read all of the subtitles I couldn't stitch or do anything..I was completely glued.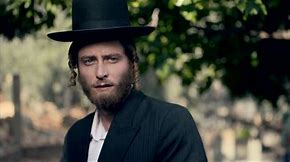 You can find this series on Netflix. It is only 2 seasons. It ended several years ago…but once Netflix picked it up it has caught so much fire that the actors are actually in America doing a tour and there is now a 3rd season in the making. Netflix is doing a re-boot. I pray it is just as good as the original. You just never know. But they have gotten the original actors ect.
I honestly can't tell you exactly what caught me….but I can tell you that I understood why Sally wanted to share…you just want to talk about it and share what you felt after each episode. I think about the characters after each episode. I finished it a few weeks ago and I still think about them. The brothers that each chose different paths. One made all of the "right " choices and gave up his talent to do the right thing and he is unhappy & unfulfilled. The younger brother who doesn't choose the "right" path and he is also unhappy and unfulfilled. The prideful father who will do anything to protect their name and reputation within the community. Happiness and fulfillment aren't even a factor in his decisions. The daughter who probably takes more after her father …who also followed her heart and got married and is still unhappy and unfulfilled in her life. All of this and how they handle everyday life situations that you think maybe a small religious community wouldn't have to face. It's very captivating.
What I really love too is that all of the scenes are clearly "real" Nothing is Hollywood. It's dirty and vintage and real. I had to look up several things. Cultural meanings, terms, and recipes. I want to try a few traditional Jewish recipes. It looks like they eat lots of soup..which is right up my alley.
I just wanted to share because like Sally ….I just want to talk about these people!
** Note to self. These characters are fictional**
But you can bet I will be glues to the TV for a week when season 3 is released. FOR SURE!