Say What?! My Feb Michael Miller Project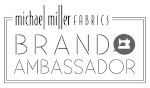 I am a Michael Miller Brand Ambassador.  I get to "Say THAT" out loud …again. Pinch me. That is still so exciting!! I have been learning so much along the way. I didn't truly know what that meant when I got accepted. But it's so much more. We get so many perks and behind the scenes opportunities. I really feel so honored that I was chosen to represent this company.
In December we received these fabulous goodie boxes with several cuts of fabrics and we were asked to design or create a project using something in the box. I received several fabulous bundles of fabrics. One of the bundles was Fairy Frost!! YAHOO! I love me some Fairy Frost. I love glitter, sparkly anything and I love the quote from Dolly Parton that "More is More" ..no matter how old I get I will be wearing the glitter and sequins….it's just a part of me!
While I was trying to decide how I was going to use this wonderful bundle of everything beautiful and sparkly, I decided that I needed some Cotton Couture to bring it all together…you know those yummy solids that I have been using lately?
Michael Miller's solid line is called Cotton Couture and there are a WHOPPING 214 colors of yumminess.
I came up with a design called "Say What?!"
When I was designing this I decided those black boxes looked like those text boxes in comic strips. haha! It is difficult naming quilts…just ask any designer! hehe.
I used several yummy colors and brought this to life with custom quilting:
The pattern is available in my Etsy Shop, Here.  
I sell all of my patterns in print or PDF form.
I was out trying to get photos for my Say What?! quilt and it was FREEZING!!
I will be sharing a few more photos on social media.
All of us ambassadors are also hosting a BOM on the Making it Fun Blog. 
Join in on the fun! Each month you will get a new block and meet a new designer/ Ambassador.
This is going to be an exciting year! I can't wait to share some more of my Michael Miller projects with all of you. I have several in the works. :)
Blessings
xoxox
Charisma