Hi Everybody!
In the spirit of the New Year, my Anniversary and the fact that my oldest son is getting married this year..:)
I can also say officially that I have been a pattern designer for 2 years now. I released my first pattern in Dec 2018 and my first magazine publication came out Jan 2019. It's been crazy learning experience. I am still learning new stuff. Putting myself out there and figuring it out.
With all of that said….
I thought I would offer a discount on my Entwine Quilt Kit.
Entwine was my version of a modern wedding quilt.
You can get the KIT HERE. 
No codes or coupons necessary.  The sale ends Saturday the 9th.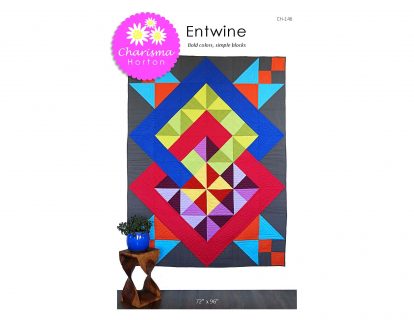 What is funny about this design is that when I designed it, I loved it. I thought of a wedding quilt but it sat in my files because I wasn't sure anyone else would like it. But I had a spare moment (LOL!) I just decided to put it "out there" and it received some attention. I then started designing a bunch of quilts in the spirit of this design and they just flowed out of me. Now it's these types of designs that I am probably most recognized for…which is funny because at the time my main focus was hand embroidery.
I have always been someone who liked many styles and I can't just choose one. I will continue just releasing what my heart creates. You just never know where the journey will take you. But I am open to possibilities.
I hope you all have a wonderful Sunday!