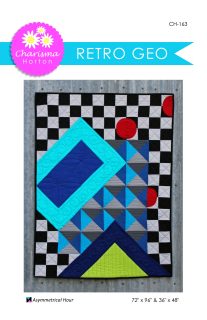 Retro geo is a part of my new series called Asymmetrical Hour. when I am trying to name quilts, I sometimes struggle. Well I was trying to come up with a name for this series and my friend, Sally's husband came up with the name Retro Geo. I used it to name this quilt. Dan wants royalties for the use of his idea. *hahahahaha* I told them that a lunch at Mcdonald's should do it. LOL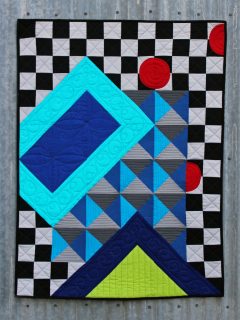 I had mocked this quilt up at least 12 times in different color ways and changed a few things….so this was the final result that I landed on. I like the variety of blocks and textures that it all creates.
This first quilt I designed in the series is called "Coupled"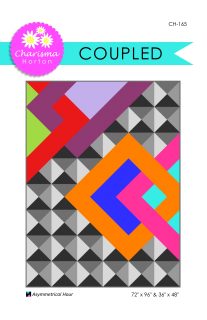 I showed this and Sally loved it! So I gave her enough fabric to make 2 samples. One for her and one for me. So pretty soon I will be quilting this sample and I will get an actual picture on the cover. :)
I actually have 2 more quilts to add to this series. I just have to finish the patterns and get the photos. If the wind isn't crazy tomorrow I will be able to get photos of the last 2 quilts and get them posted. I think #13 maybe my favorite one. :)
I think this series is so easy for me because I really love color. I love statements. I love bold and modern. I feel like this series has been inside me all along waiting to come to life.
I hope you all have a wonderful day!
Charisma