Quilt Block Mania…Month 1 …Welcome!
Hi Everybody! I joined a group of designers and each month we have a scheduled hop with a slew of free blocks! YAHOO!

We have a theme and color way set for each month. My block is called "Shades of the Sun"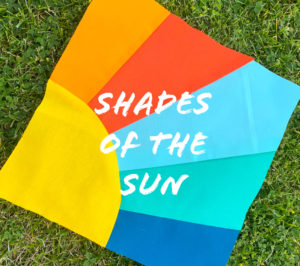 You can download the PDF here. Shades of the sun july block
This includes the directions and the foundations. You will have to tape the foundations together before sewing. There are several great designers and fun blocks! So join in on the fun!
There is also a FB group to share your blocks: https://www.facebook.com/groups/556520081896344/
Here are links to all the blocks in the Quilt Block Mania Summer Series:
Camping Tent by Carolina Moore
Beach Umbrella by Jennifer Fulton
Flip Flops by Becca Fenstermaker
Summer Cocktail by Marian Pena
Beach Ball by Laura Piland
Popsicle by Sherry Shish
Curvy fish by Velda Roy
Angelfish by Lisa Amundson
Bucket and Shovel by Heidi Pridemore
Wonky Beach Umbrella by Jamie Siel
Starfish by Leanne Parsons
Sailboat at Sunset by Glenda Wilder
Yacht by Sue Griffiths
Food/Ice Cream Truck by Laura Strickland
Crab by Afton Warrick
Sleeping bag and star by Sarah Vanderburgh
Funky Flower by Kathryn LeBlanc
IceCream Cond by Sarah Marcina
Sunglasses by Celine Perkins
Sun by Charisma Horton
Hello Summer by Amarar Creacions
Tall Ships by Kris Driessen
Life Saver Preserver by Sandy Fitzpatrick
Dragon Fly by Julie Luoma
Up in The Air by Judit Hajdu
Surfboard by Susan Arnold
Beach Treasures by Linda Bratten
Two Scoops by Shari Butler
Free to Fly by Marcea Owen
I hope you have a great hop!
Charisma