Hi Stitchers!
I am so excited to share a *new* book with you! I feel like this has been a long time coming….because it has! My friend, Pamela has had some twists and turns to get this book published. I think it's been worth the wait. It's beautiful and full of amazingly Purr-fect projects & photos for all of us crazy cat lovers!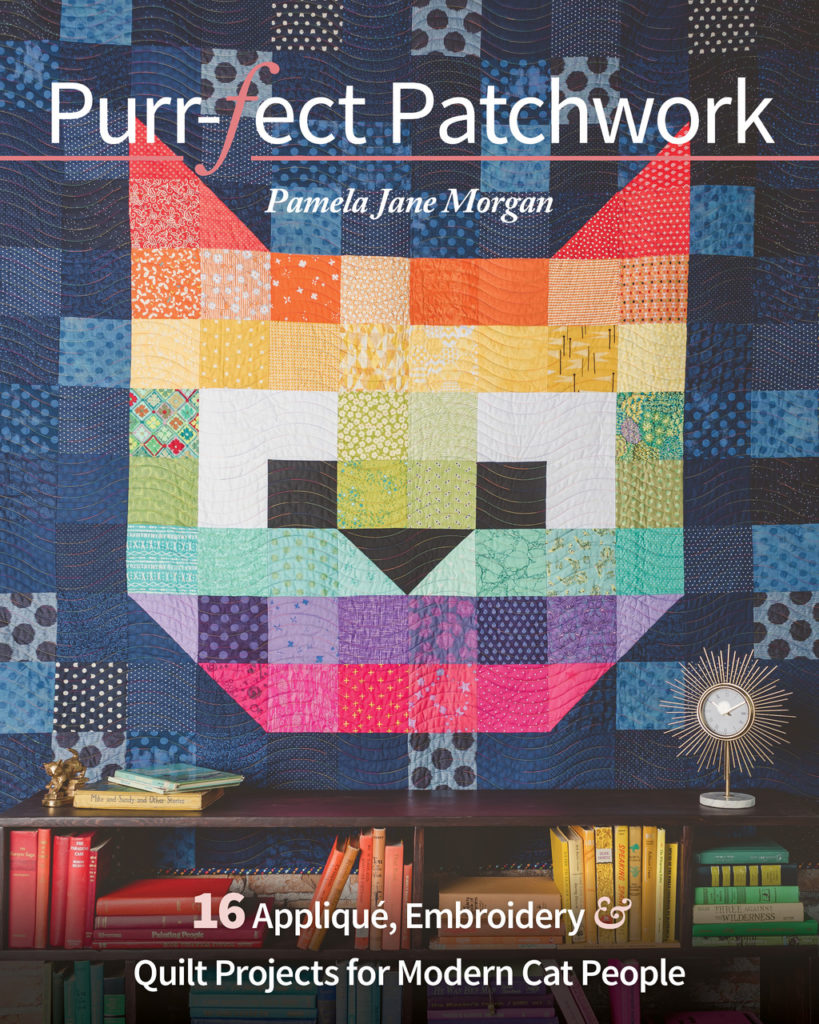 you can purchase the book HERE. 
I met Pam several years ago when she designed a quilt for Moda Bake Shop and I joined the QAL. We connected and met in person to share ideas and skills. Ever since we have worked on a few projects together. I helped her piece a few of the projects in this book and Rob (my husband) even quilted the cover quilt. :) I quilted a few projects. :)
It's amazing how quilting connects you with people all over the world and creates friends.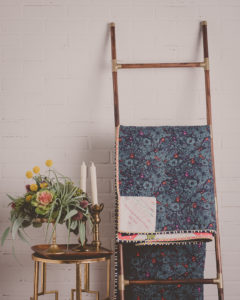 I didn't realize until writing this post that Pamela also thanked me in her dedication of the book. My heart *swells* ….So sweet! ( in my defense I don't have my copy yet…I just have a digital copy and I am terrible about reading digital books…I am so old school.)
Pam has not only designed all of the projects in this book but she also did all of the photography.
There are may projects for all skill levels and it's also full of funny cat puns…which will bring a smile.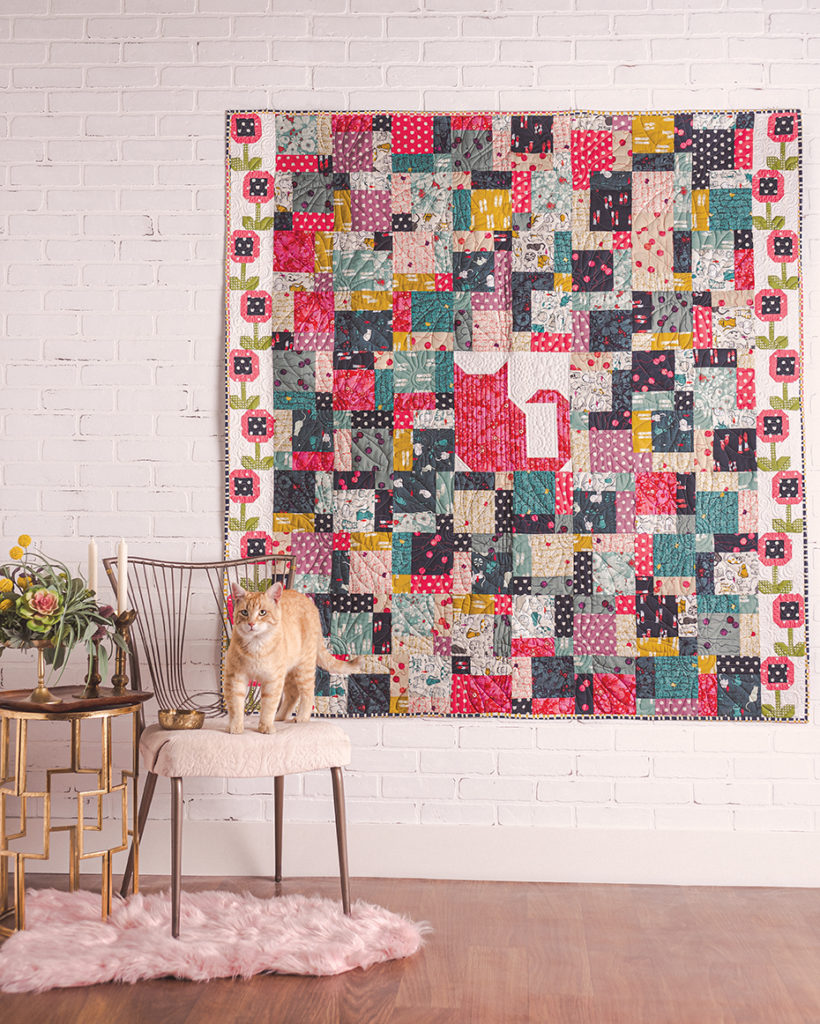 I am sharing the Feline Floral Quilt. Pamela came over and we pieced this quilt together and then she left it for me to quilt. I was nervous. I knew it was one of her favorites and I was unsure if I should take some risk…..but I decided to go with my gut and quilt my idea. It just worked out so purrfectly. I wanted to quilt those big flowers. It worked out so that I could fill 4 blocks with 1 flower and have 4 flowers all the way across. I just couldn't resist that.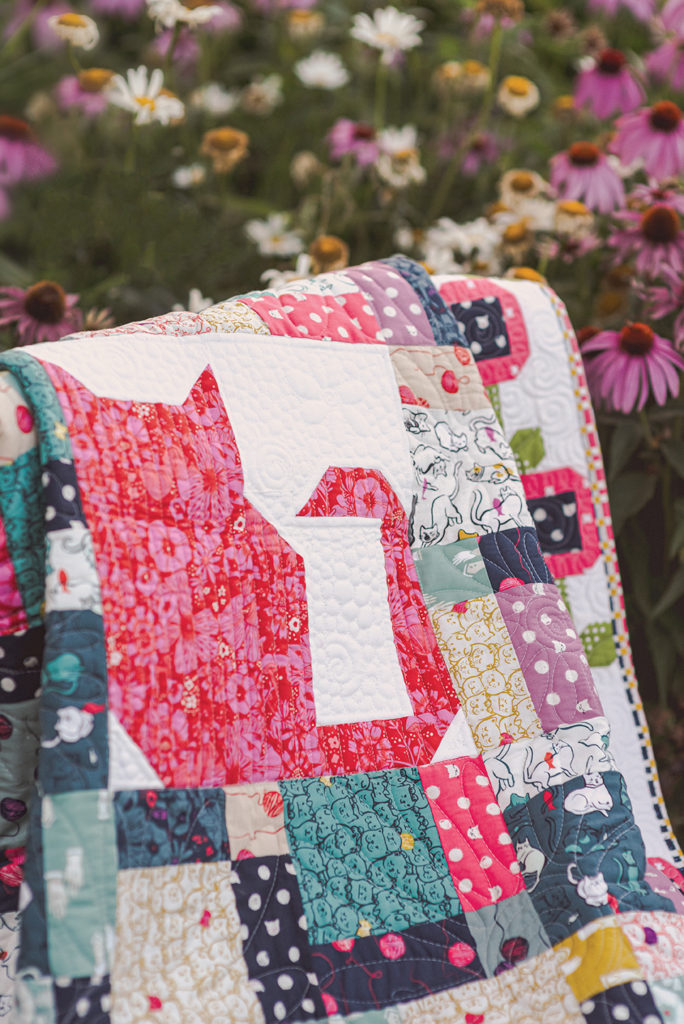 I pebbled in the white background behind the cat and had to add a flower…I mean it is all about a "Feline Floral" quilt. I quilted straight lines in the cat to create a different texture so it would stand out.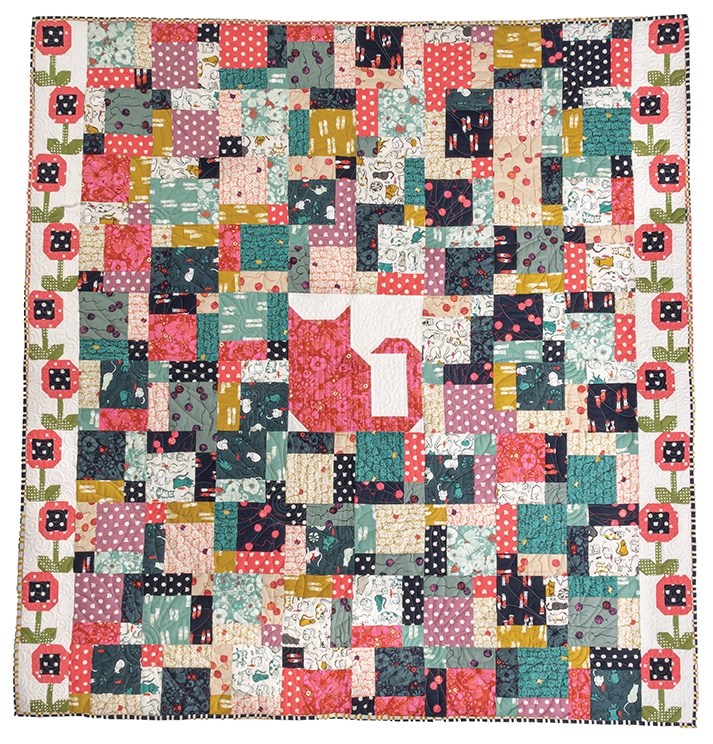 I am super excited to see my friend's dream come to fruition. She's in print. All of her hard work has finally been released into the world.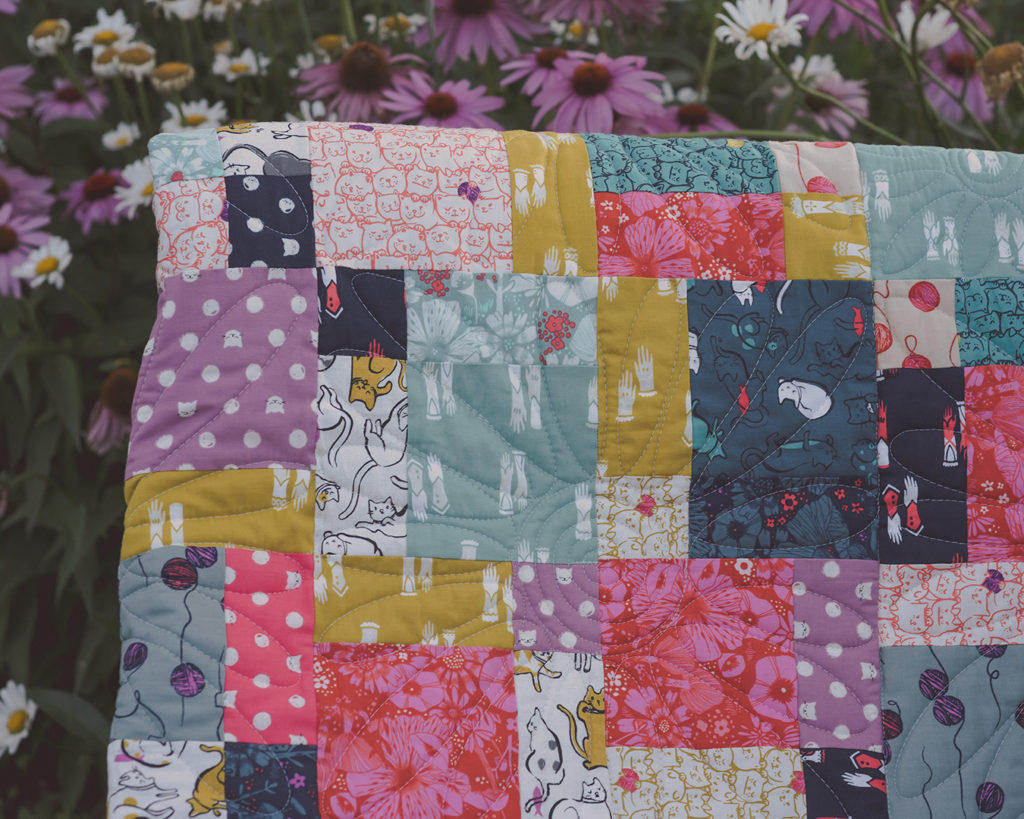 It's exciting to be a part of it all. I hope you all feel inspired.
I am giving away a Digital Copy of Purr-Fect Patchwork! (International quilters eligible!)
2 WAYS TO WIN
To win an e-copy of Purr-Fect Patchwork, please leave a comment telling me the name of a famous cat. Winners will be announced and contacted after the end of the Blog Tour, by August 30th.
For a chance to win a grand prize bundle from Pamela Morgan you must visit each of the blog tour stops and comment. Pam has a grand prize bundle of goodies for one lucky winner! Including her book and a bunch of sponsor goodies you won't want to miss!
Want to buy your own copy of Purr-Fect Patchwork? Shop Here!
Follow Along! 
Purr-fect Patchwork Virtual Tour Schedule
Fri. August 20:
C&T Publishing | http://www.ctpub.com/blog/ | IG: @ctpublishing
Pamela Jane Morgan | pammiejane.com/blog | IG: @pammiejane
Sat. August 21:
Sherri Noel | https://www.rebeccamaedesigns.com/ | IG: @rebeccamaedesigns (Chasing Dreams Quilt)
Shannon Fraser | https://shannonfraserdesigns.com/ | IG: @shannonfraserdesigns (Stabby Tabby Pincushion)
Sun. August 22:
Lorna McMahon | https://sewfreshquilts.com/blog | IG: @sewfreshquilts (Get Your Paws Off the Tablerunner)
Tracy Brittain Loyek | https://www.purplekatzquilting.com/blogs/news | IG: @purplekatzquilting (Purr-fect Pocket Tote)
Mon. August 23:
Natalie Santini | https://sewhungryhippie.com/blogs/tutorials | IG: @sewhungryhippie (Hiss and Make Up Bag)
Kaitlyn Howell | https://knotandthreaddesign.com/blog/ | IG: @knotandthread (Ziggy Kitty Quilt)
Tue. August 24:
Audrey Mann | https://www.theclothparcel.com/blog/ | IG: @theclothparcel (Just Kitten Around Pillow)
Charisma Horton | https://charismascorner.com/ | IG: @charismahorton (Feline Floral Quilt)
Wed. August 25:
Mollie Johanson | http://blog.molliejohanson.com/ | IG: @molliejohanson (Tale of Two Kitties Needle Book)
Corinne Sovey | https://www.corinnesovey.com/home/blog/ | IG: @corinne.sovey (Tuxedo Cat Wristlet)
Thu. August 26:
Melissa Averinos | https://yummygoods.com/blogs/yummy-goods-blog | IG: @melissaaverinos (Blooming Curiosity Quilt)
Jeni Gaston | https://woolenwillowdesigns.com/blogs/jeni-s-blog-at-woolen-willow-designs| IG: @jenifergaston (Whisker Away Quilt)
Fri. August 27:
Tonya Alexander | http://stashlabquilts.com | IG: @stashlabquilts (Cat Nap Pillow #1)
Nichole Vogelsinger | https://wildboho.com/ | IG: @wildboho (Cat Nap Pillow #2)
Sat. August 28:
Stacey Day | http://www.staceyinstitches.com | IG: @staceyinstitches (Laser Cat Quilt)
Amanda Niederhauser |http://www.jedicraftgirl.com | IG: @jedicraftgirl (Self Pawtrait Softie)
Be Blessed!
Charisma