My First Booth at a Quilt Show
Hi friends,
I thought I would share about my first time having a booth at a quilt show selling my patterns & kits.
I was at the North Central Washington Quilt & Fiber Art Festival in Wenatchee, WA.
First of all I drove with a trailer and I had to back it up :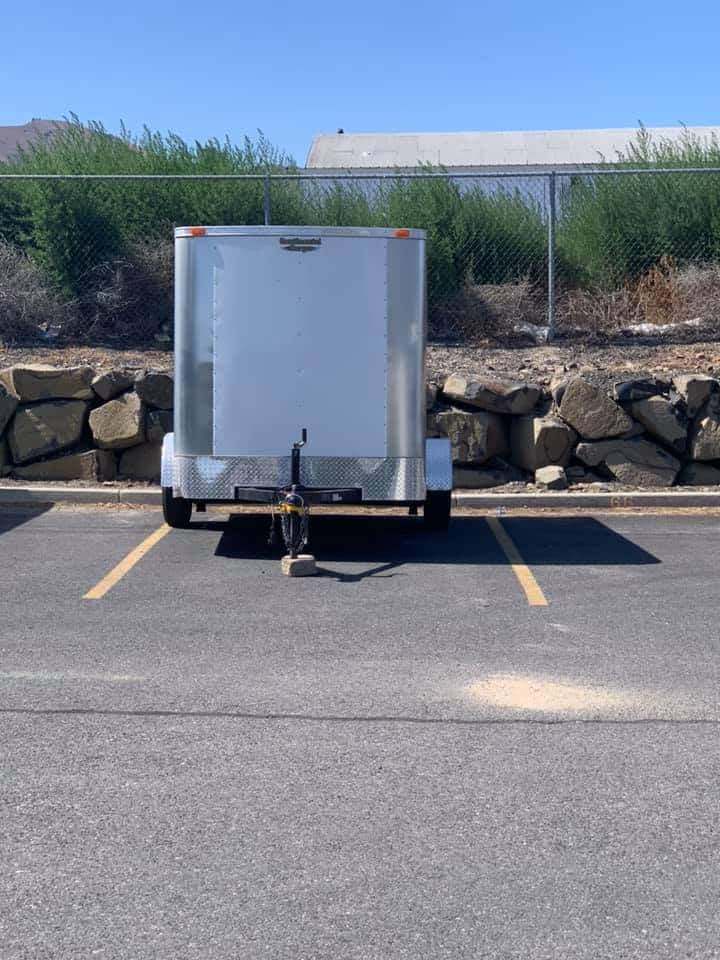 It took me 3 times to do this in a fairly empty parking lot. *yikes* and I practiced with the bigger trailer. ( I Know) …..also my husband thought that putting a wheel on the bottom of the hitch thingy would be a great idea….in theory it is. But it was dragging on the bottom as I was driving. So I got off to a bad start. I had to drive through town to get to the local mechanic shop and ask them to help me get it off because It was so loud and dragging. So embarrassing. Rob always does this type of thing to me. He never checks anything and it fails on me. Most times. And of course he wasn't available to fix it. *sigh*
I picked up my friend, Sabrina to head out of town and we met Sally at the center for the show. Immediately we realize the quilt hangers that I bought aren't for quilts…and we need a different option. Sally was out shopping for everything and picking up lunch. She became our go-to girl.
I had bought a few displays and one of them is amazing and worked perfectly. The other one kept breaking and falling apart. I kept re-configuring and re making….it completely crashed and fell apart into the booth behind me and that was the end for me. One of my helpers then tried….a swear word spilled out and now we all have flashes of stress when we see any component of this display. Never again. LOL. So we got as far as we could in our time constraints. I was at Walmart late at night buying tables to just set everything on tables. That was as good as it was going to get because I ran out of time, energy and patience at that point.
I have quickly realized that I need a double booth. In 6 months I have released 50 patterns on my own…and I have 20+ in magazines that will be making their way to my booth when my contracts are fulfilled…..not to mention the other 200+ I have designed waiting to be made.
So there is just no way to get all of this to fit in. I also have 2 very different styles happening and I think I need to be able to separate them a little. Showcase them differently.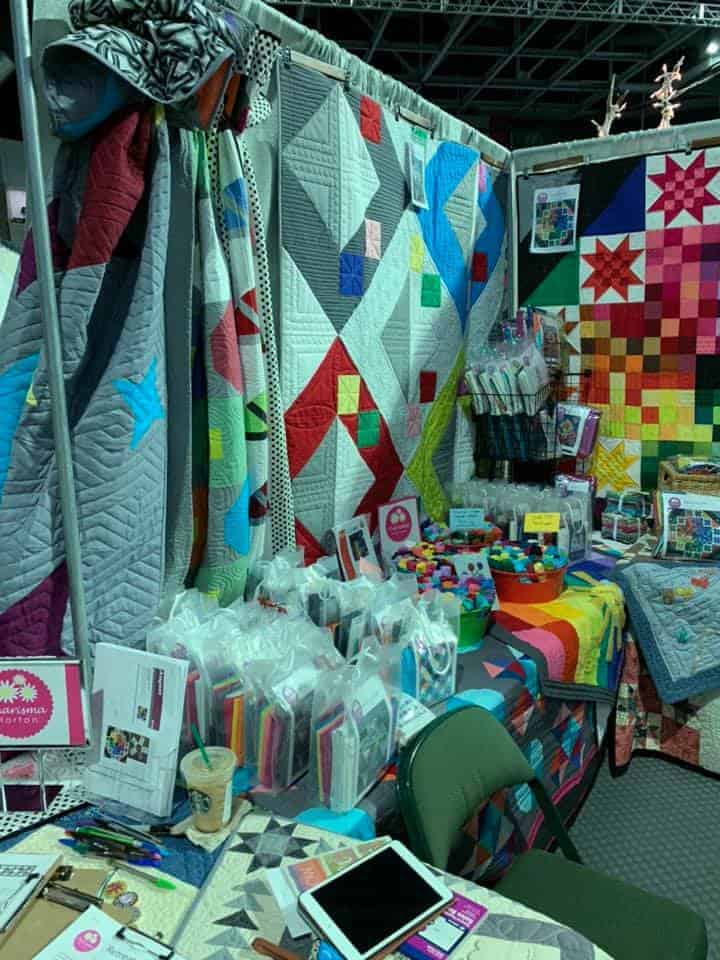 I think for my first time it worked out fine. I learned so much in the last week. Seriously. Also I didn't sleep well….and I didn't get much sleep when I tried. I was so stressed.
This last one is the side of my booth: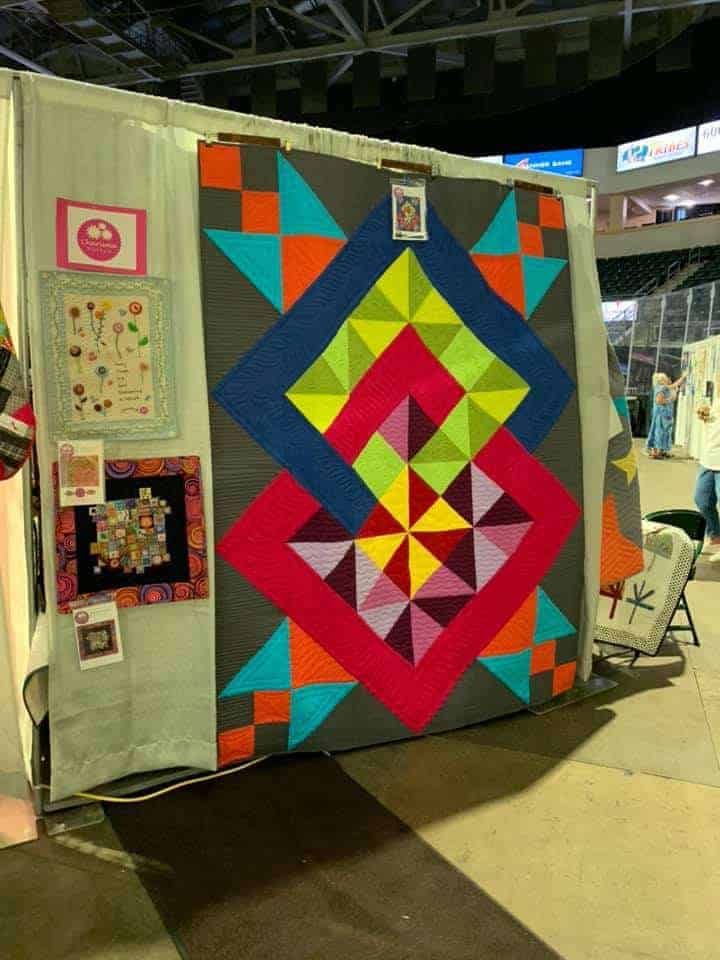 Entwine was quite the "eye catcher" and brought people in …so I was glad to have that spot.
This is Lenora. She is sideways….I am not sure why it shows up sideways when the photo was imported normally. GRrrr! anyway…she was my first customer and supporter. She is always so sweet and kind!
So clearly this show is going to be completely different than any other show because I know so many of these people. I quilt for several of them & many of them are friends. I wanted my first show to be special like that because a good experience will make me feel better about the whole thing. It's not a HUGE show …like we see on Social medias and what not…but who wants to learn all the kinks and what not in such a big arena? Certainly not me. If I fall flat on my face I want a soft place to fall. This was a great start.
However, I am not sure if the show life is for me. I will probably test out a few more. But I realized just how much work all of this takes and I will need help. I can't do it on my own. There is no possible way. It's a TON of work. It's all a gamble. It costs a lot of money and you just never know if you are going to make a profit. I am not a good gambler. So I guess, if I need a ton of tax write offs and I feel like killing my back…this might be a good venture. LOL. But I am not sure I would want to do this very regularly. I am also not a person who likes road trips. I actually hate driving. So to drive somewhere, do all of the physical labor and take a gamble for profit? I am not sure that is really a smart way for me to work? I am going to have to think about it. I strive and do my best work in a routine. This is not routine.
Setting all of that aside I did do some networking and scheduled an embroidery work shop in Odessa, WA. They are going to carry some patterns and kits…and I will be there in November. Adding that to my calendar. I also made connections with an online shop that sells kits. I also learned that there is a quilt shop in Cle Elum, WA that is interested in carrying a few of my patterns. So the networking is what really worked out well. That is something to consider in this venture.
Sunday I was pretty worthless. I was so tired. I couldn't make myself do anything. LOL. I am not used to that….So overall, I am happy with my first experience. I just have to weigh my options. I have to figure out what is really the best way for me to go and if this is truly the avenue that is good for me.
Thank you all so much for the encouragement and kindness. It was truly appreciated. I was a ball of mess Friday morning thinking I shouldn't be doing this and feeling very insecure…..my friends came together and pulled me up. God has a way of making that happen for me. It's an amazing thing.
Many Blessings to all of you!
Charisma