Jesse Tree Quilt ~ Adam and Eve
Hi Everybody,
I am so excited! I shared with you a few weeks ago that my friend Jen over at Faith & Fabric is doing a Sew-a-Long for her Jesse Tree Quilt.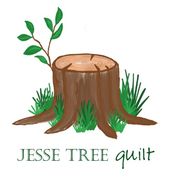 The blocks are 8 inches and they are all paper pieced blocks. I am using scraps to complete my blocks. Here is the schedule and a few details:
OUR SHARED JOURNEY
What makes this so much more than just a quilt-along is what follows once the quilt is done. That's because the journey doesn't end on November 28th when we finish the last block. Instead, we shift our focus from a time of work to a time of waiting; the word Advent means "coming", and is derived from the Latin word adventus. As we wait for the coming of Jesus' birth on December 25th, we'll spend each day of Advent taking the time to prepare our hearts and minds. Each day, from November 29 to December 25, you'll receive a short devotion, reflection, and prayer. We'll be looking in a new way at the blocks we created, focusing this time on the salvations story behind each and finding Christ each and every step of the way. Like dates? I do, too. Here's the quilt along schedule…with devotions beginning on November 29th as we begin the advent season.
October 26: The Journey Begins as we sew blocks 1-5
November 1: We celebrate All Saints Day as we sew blocks 6-10
November 8: We cross the half-way mark as we sew blocks 11-15
November 15: We move into the New Testament as we sew blocks 16-20
November 22: We finish the sewing part of the journey as we sew blocks 21-25
November 29: We begin the season of Advent as our daily Devotions and Reflections begin, arriving each morning in your inbox from November 29th through December 25th
You can buy the pattern HERE. 
I wanted to make this quilt because I love the message. I wanted a heartful project to work on in my own time. I just finished my Abide quilt and I was missing that project. I was feeling like I needed another project with a positive, uplifting message. This was the one.
So I volunteered to be a few stops on the blog hop. Today is my day!! YAHOO!!
I have the Adam & Eve block. Which is the apple.
So here is my Adam & Eve block…and the devotion that she shares in the pattern is Genesis chapter 2-3:24.
I am so excited to work on these I hope you all will join along in the journey!
Many Blessings
Charisma