House Hunting – Episode 335
LOL! It feels that way.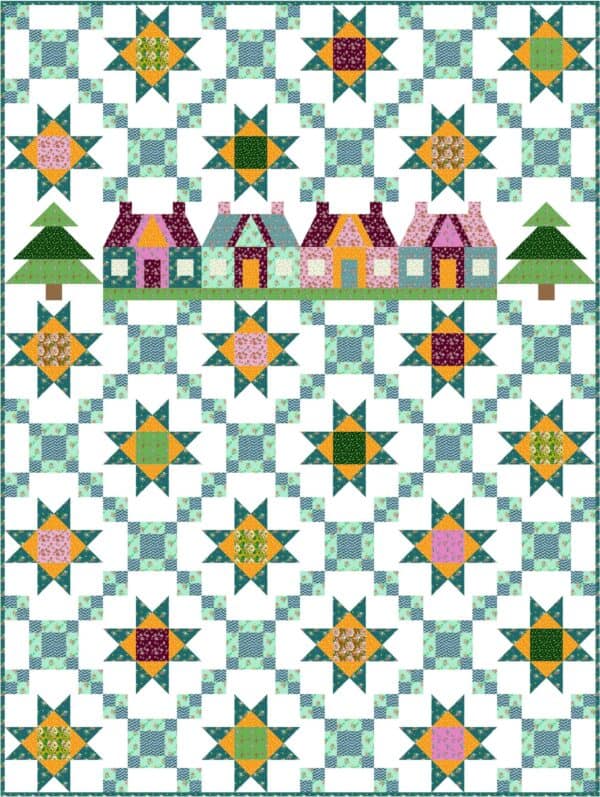 This is my cottage lane quilt. Just a picture with houses for interest. I kind of wish I could live on cottage lane.
HAHA!
Anyway, I wanted to give you all an update on this process and record it for myself. I need to remember this pain later if I ever decide to do this again.
We heard that the investment agency wouldn't accept our terms. I mean I would have been shocked if they did…they clearly know they are scammers. I even went so far as to google this agency and saw many scam stories. The injustice of it all makes me want to go public in some way because they are really stealing from people and conning people in a vulnerable situation. On both sides and it's really frustrating. I feel relief that I am out of that deal and that I only lost the fees for the inspection. I am sure their plan is to wait for a cash buyer that is waving the inspection and I wish I could go and paste my inspection all over that place to save someone the hassle. But I have to let that go. I am also 100% sure were weren't bidding against anyone else. They just wanted our highest bid. So that agent also should be reported. It's pretty convenient that she doesn't list her name on anything.
So moving on.
Rob went and looked a few houses today. One was sold before he got there. The other one was having an open house and there were dozens of cars and a full house. We can't compete against any bidders because we don't have a cash offer.
I wasn't in love with the house. But I love the small town area, the shop would have been perfect for my business, the yard was really nice and fenced in for the dogs. I would have updated the house and made it work.
Here we are. This is not great.
I am needing to focus on what is ahead next week as I will be at MSQC and I can't be worried about what is happening at home. Of the fact that in a few weeks I won't have a home. LOL!
Renting really isn't an option for me. I know that has been suggested. That might work for an everyday situation. But I have 3 long arms. I could take it down to 2 for a time. But I have to set up a studio. I also have 3 dogs. One of my dogs is 165 pounds. Landlords typically don't want you running a business out of their house. They don't like dogs in general …much less huge ones.  Finding a house to buy that will accommodate my business is difficult enough …renting one would be a unicorn. Not to mention the price of rent? I would be paying double a house payment which in that area is going to be around 3-4000$ a month for a house the size I need for the longarms. They most likely will want a year lease. That is 30-40K in rent fees that would come from the sale of my home because I can't afford that kind of house payment in the first place. So then I am only making it harder on myself to buy a house by dipping into my house fund. IN this case we either have to find something or cancel the sale of our house and Rob needs to find a new job. It's that simple. He finally has a job he likes and I feel bad for him. But the market is terrible and I am not going to be homeless. I also can't continue this roller coaster of insanity. My pain tolerance is low in this situation. This process is beyond my control.
I hope the next episode of this saga is a better one.
Charisma