Hot Cocoa in Quick & Easy Quilt Magazine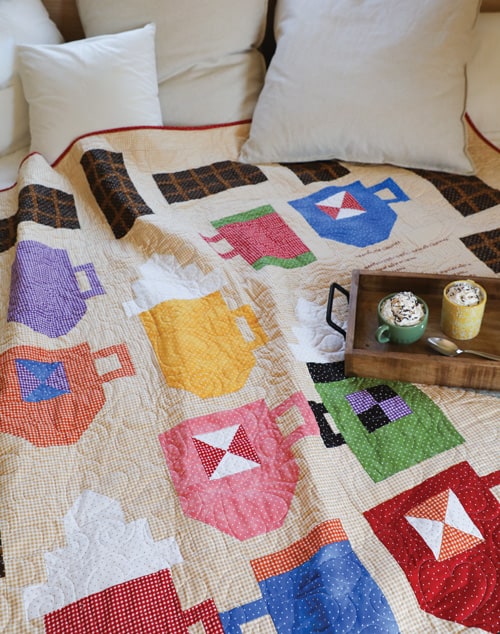 Hi Everybody!
I have been published again…YAY!
What I love about McCall's Quick and Easy quilt magazine is that they want quilts with stories. They need to be approachable patterns and they prefer to have some background to go with them.
It's a new publication…this is the third issue, I believe. I had one accepted for every issue but one got booted to another magazine because it became a little too extra. LOL Kind of like me? just kidding
Here is what the cover of this issue looks like:
I am really excited to share this quilt because it does indeed have a story.
My grandmother is from Iceland and I have spent many times talking to her listening to her stories. What I love about my grandma is that she was always willing to share with me. The good, the bad and the ugly. She always missed "home" …her country. But she loved her kids more and her kids were American. She loves America but there is always a piece of her on the Island.
On Christmas morning her father would make hot chocolate and serve it to his girls in bed before leaving for church. The chocolate was made from these Icelandic Chocolate bars and cream.
This is a chocolate bar. I have had this in my freezer. In our fancy web world now we can buy these online. The recipe is written on the package. I asked my grandma if she knew the recipe ( she lives in assisted living in Florida). She said she can't remember anymore. She usually reads it off of the bar. She told me to read it to her and she would translate for me. LOL UMMMMM I kind of can't. My tongue doesn't work like that. So my husband put it in a translator app. We got a certain amount of the way. Then an Icelandic cousin through FB was able to help us figure out the rest.
I and embroidered the recipe on one of the squares to keep as a momento. It would be a great place to put your own family recipe, you can piece another mug to fill that space, put a family photo….there are so many ways to personalize it. So many fun fabrics, you can add monograms to te mugs for different family members ect
The recipe is also included in the magazine.
So I created all of these chocolate bars to surround my cups and I also bought some Icelandic salted flakes to sprinkle on the top of my cream because the recipe is so rich.
I love that quilts aren't just about patchwork. They can be used to comfort, heal, warmth, be beautiful, fun and they can share a story. They can help carry on traditions.
Thank you so much for coming along on the journey.
xoxox
Charisma