Good Morning! It's Monday
Good Morning! Mondays are sometimes difficult aren't they? Even working from home I always know it's Monday. Rob is back to work, Roo is back in school and it's laundry day. hehe
So things are back into routine. Routine for me is life. I don't like when I get out of routine. I am like a child in the way of "sticking to a routine" I think it is because I raised so many children and somethings just stick, right?
Well I have made a list of everything I need to accomplish this week. My goals and things I want to avoid.
I use this space as a way to document so many things. This blog & website has been a way to document so many things in our life….I have had it for years. It has seen all of the graduations, the kids leaving the nests, the changes, the hurts, the growths…everything.
So one thing I will share is that last week we lost a fur-baby. Princess was with us for 16 years. She rescued us. My oldest daughter wanted a cat of her own and brought her home in elementary school. Princess was already preowned and needed a home. So that began our life with Princess. We all have so many stories because she had a BIG personality. She was very vocal and sometimes crazy. But in the last few years she settled down. She became the door greeter for quilters and friends. She liked to rest in the flower pots during the warmer days….and we shared lunch together most days.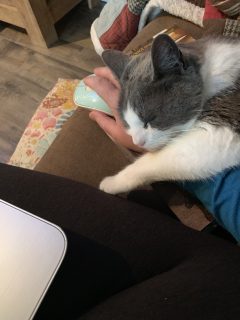 She loved clam chowder and chicken noodle soup. She demanded attention regularly. As you can see the photo above. We will and are missing her already. Quilters that stop by to visit ask where she is….because she has been a part of our family….and the one who is the first to say Hello when someone approaches. So until we meet again….RIP Princess.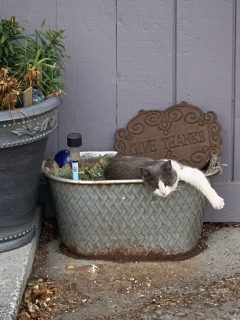 On To happier things….I have released several more patterns. I started a new series called Scandinavian Garden.
As most of you know I am Scandinavian. I am also English and a little Irish. but most of my make up is Scandinavian. I knew my maternal grandmother was Scandinavian she came here from Iceland. She boasts proudly of that and she was always willing to share her heritage and the gross foods that her family would send us from her country. LOL They weren't all terrible…but I will say Icelandics know nothing of good candy! They know how to smoke a fish and make hot cocoa. My family didn't care so much for the smoked lamb that is served at holidays either…..but it wasn't the worst thing that I have tried. When I turned in my Ancestry kit I learned that I also have Scandinavian roots on my father's side of the family. They are Swedish. So most of my make up is Scandinavian.
So I have been fascinated with learning about my heritage and all there is to learn about these different countries. I have been reading books and looking at the art, ect. A lot of the art is simple, modern and with lots of colors. I really like it.
Anyway I created a Scandinavian Garden in honor of my Grandma. When she had her own home and she was healthy she loved working in her yard. She always had a variety of flowers. She loved going and buying new annuals every year. She loved the variety of colors and planters. She had a massive yard and it was all landscaped and decorated. I can't say that I had the passion for it myself. I will have it for a bit and then lose it to other things. haha! But I do appreciate the art of gardening. I know that working in the soil and producing beauty and food is so good for the soul.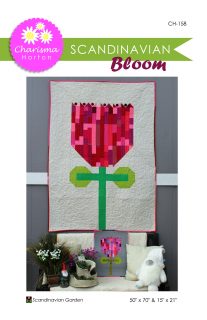 All of the flowers in my garden simple designs, bright colors and they are simple because there is no weeding involved. hehe. In each of these patterns there is a lap quilt size and a mini size. I have turned some of my mini's into pillows…and there are simple instructions for that included as well.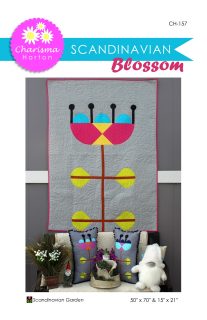 When naming and designing all of these flowers I didn't want to assign a name like "Tulip" or make them look like actual flowers….I mean I want them to look like flowers ….but I wanted them to be their own style and not mimic a real flower. So they have generic names and mis matched stems ect.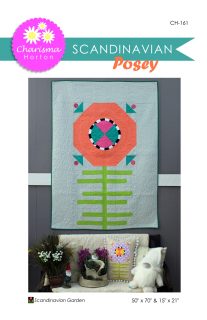 In Most of them I added a little wool applique….just to add a little texture. But you can add regular applique, leave them off …create your own.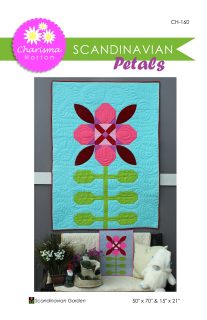 In my samples I used a different colored Essex Linen for all of my backgrounds. Any cotton can be used as well. But I had it and I love the feel of linen and how it shows all of the quilting so nicely. I used American Made Brand Solids for my colors. But I would love to see these made with textures and prints.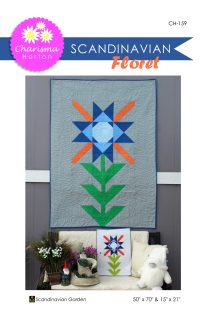 So there is my Scandinavian Garden. I hope you all like them.:)
They were fun to create. I am also hosting a Block of the Month (BOM) in 2020. It's 15$ and I have a FB group created for people to join. It's a BOM for American Country:
I already have everything finished and set up for the monthly assignments. I have testers working on it now…so we can get all of the kinks worked out.
There is a good amount of paper piecing. But it's a great way to use scraps. This is a great quilt for QOV or just an every day lap quilt that you can use for your home. I love trees, America and cozy little houses…..so it seemed like a good fit for me.
If you are interested in joining please sign up here:
I am thinking that I will try to make another version as we go along in the new year so I can work along with everyone else. It's such a nice quilt to give as a gift for anyone special.
I hope you all have a wonderful day! I know this post is long enough already with lots of different subjects….but isn't that how life is? We go along and everything is entwined and woven together.
xoxox
Charisma