Hi Everyone,
This is a personal post. If you don't like those …this is the point in which you can delete the email, notification or post.
I post personal posts every now and again because this has blog has documented my journey in many ways. Personal, Business and Spiritual.
A few months ago I shared that I have a *new* brother.
My father is an unregulated schizophrenic ( or what they now call schizo-effective). This is a source of pain for me. On many levels. I have shared this struggle before. But my father was diagnosed after my mother got knocked up with me. Needless to say between the two of them their marriage was a wreck and lasted a few months. I have a brother that was born 14 months after me and he has a different father.
Several years ago a locator contacted me looking for my father. Turns out I have a brother, Aaron. Aaron and I are like twins in the way that we are so much alike. We immediately connected, bonded and something within us changed.
I will say that before I met Aaron, I was always trying to find the missing piece of me. I was trying to find out who I was. I felt like an orphan and that I didn't belong to anyone. I was different than the family that I grew up in. I honestly thought I was adopted and nobody told me. I couldn't believe that I could have been born to my mother.  I was supposed to belong to them…I was supposed to be one of them. But I wasn't. I didn't eat the foods they ate, I was more nurturing, I viewed the world differently, I like animals, I voted differently, I am a Christian…I could go on and on about a whole lot of things that made me a reject in the family that I grew up in. I have grown up knowing my father from a distance. Even when we lived in the same town. We would go to dinners, lunch dates and holidays or visits. But they never lasted long and everything was very superficial. When you have a mentally ill parent, particularly one that talks to make believe people and only has moments of clarity from time to time. It is hard to relate to that person. It's difficult to know who they really are inside. I have nothing to compare it to. I didn't know him before the diagnosis.
So I say all of that to explain that when I met Aaron and we could immediately finish each other's thoughts, we could order off a menu and pick the same exact things, we laugh the same, we love spicy things ( we are both even starting to struggle with the spicy things physically lol), We can spend the whole day together without an awkward moment. We can just be together and know that we belong.  That missing piece that I was trying to find was suddenly there. Aaron has told me that he feels the same way. He didn't even know he was adopted until he was in his 30's. I wasn't adopted but we both had that empty feeling. I think that is so telling.
Fast forward to July of this year and I get a message from another half brother, Jake. We were matched up on 23 and me.
Of course, impulse control is not a strong suit for any of us…..immediately we are talking, sharing and it took a few days before we were all 3 on a video chat. Within a week we had all decided we had to meet in person. As soon as the video call ended Aaron and I were still on the line and immediately Aaron said "he has our laugh" LOL.
Last week was that week. The week we finally met in person.  We were supposed to get photos. We only got one (we were too wrapped up in talking) on the very first dinner that we all went to at a local restaurant: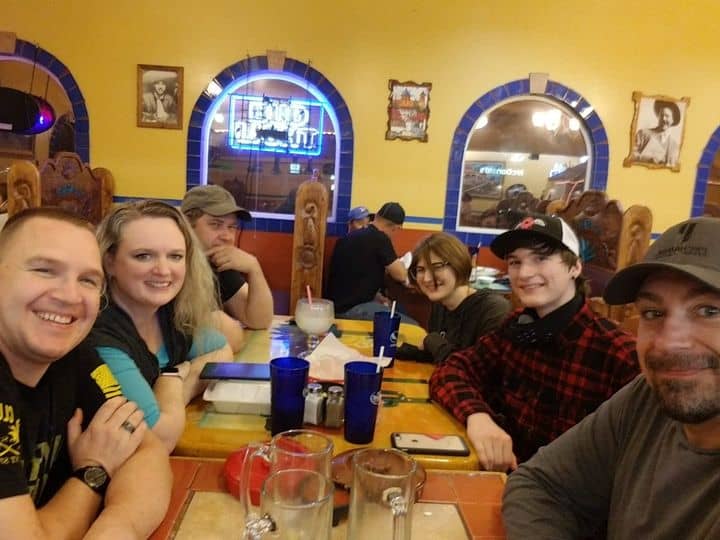 I am in the middle, Jake is in front of me and Aaron is across from him.
This was a great day. I can't really say how my brother's felt. I haven't asked. But I will say for me. I felt comfortable. There wasn't anything uneasy. We all laughed, shared, ate, and enjoyed our time together on that first day.
Aaron had come a few days before Jake so we had extra time together. I honestly wish we had more time. I really wish we all lived near each other.
On Saturday we went on a road trip to Spokane to have brunch with our father. It was a wreck. Aaron and I have tried explaining how ill our dad is to Jake. But he got a full display. Dad hasn't been taking his medication for 3 weeks. Like most people with his illness they go through times when they think they don't need it.
I will say that my father is very ill. Even when he is on his meds he isn't what someone would describe as functional. Without meds….it's unbelievable. Covid has not been kind to our mentally ill population. Before covid restrictions my father met with his social worker monthly at the same time, the same place with the same person ..like clockwork. He does well with his routines. He always made those meetings. She would know if he is too far off his rocker, Help him get med adjustments, fill his prescriptions, help him with paperwork that he needs ect. Well now for 6-7 months since things have been shut down. They mail his meds. You can't mail meds to a schizophrenic. They just took him out of his routine. He doesn't have anyone telling him he needs them, looking at him and knowing just what to say. On top of that they furloughed his worker and they assigned him another one who makes a monthly call. She doesn't actually see him. How does that help? I can't even imagine who thinks this is a great substitution for care? Who came up with this plan? Clearly, some idiot behind a desk that doesn't understand what these people actually need.
So all of that to say….the visit was a wreck. My father has targeted me and all he could do was spout hate towards me and barely say hi to a son that he has never met. I left the visit and bawled my eyes out. My poor daughter ( she's 17 ) was in the car doing her best to comfort me….LOL. But I don't even understand. How was she going to understand? She was doing her best while being at a loss for words. I don't even know why? I am weeping now as I write this because I just don't even know what box to put this in? Except to say that I don't even know if I will ever see my father again. I don't feel safe with him when he is like this….one false move and I don't think I should risk it. I also don't know if he will survive in this current state because he is such a wreck. He is going to get hurt or someone is going to hurt him because he can't function properly. I don't even know how he can walk down the road without getting hit by a car.
There are so many layers of this …it's difficult for me to process. But honestly I was truly hoping that Jake would at least get one glimpse of the man underneath the illness who is kind, charming, funny, and giving. We didn't see any of those things.
I guess that leaves Aaron and I to represent.
In the end it doesn't really matter that our father is a wreck. Everything in dealing with him is a chore. We can't ever have a real relationship that any of us desire with him. Everything is very superficial. There is no digging deep with someone who isn't all there. It's just sad. makes me feel deflated and a little hopeless. You know that is pretty bad because my middle name is literally, Hope…I am never without hope. haha!
I also went with Jake to meet his older brother and mother. He took me to a few houses that he grew up in. I showed him where our grandma/Dad  lived and where our great grandparents lived. It's so funny how all 3 of us lived in the same area. We all went to the same high school. We crossed paths so many times and we had no idea. Jake had no idea that one of his best friends in high school and the best man in his first wedding was actually his cousin. LOL! That cracks me up. When I told him ….there was some disbelief. I think it just goes to show you how strong some of those family connections really are.
Jake's mom apologized to all of us. She feels like she robbed us all of a relationship. I have never for one nano second thought that. For one thing my family is so screwed up. Nothing shocks me anymore. Sad to say. But the other reason is that I believe in God's timing. He has been orchestrating all of this from the beginning. I told both of my brothers its a good thing because I probably wouldn't have liked them in our younger years….and I would have just stayed away from them. They were wild in their younger days. I have never been wild. My grandma described me as a 30 year old lady when I was 2. I have always been an old lady inside and I will remain that way. LOL I am just an old soul. No shame in my game.
All we can really do is decide if we want to have a relationship with each other and build from there. I think we are all open to see what unfolds. I am excited for that. I think we all have our quirks and similarities. The 2 brothers have some similarities because they are "dudes" and I happen to be in the middle of them, birth order wise. I am the straight arrow that they both kind of like to bend a little and make react to their stupid humor or philosophies. We are in a group chat and we touch base almost daily. It seems comfortable. I can already tell which brother I go to with certain issues. One is more emotional and I can confide in with my feelings and they will be validated and heard. The other one will be good for a laugh, will avenge my enemies and he is good for asking about a scientific theory. So I think I am pretty lucky. They both get a lethal dose of judgement and eye rolls from me…seems pretty fair. LOL!
But even if the extent of the relationship is only that group chat and a few phone calls here and there….I am happy with that. It's better than feeling empty. It's better than walking the earth feeling like you don't know where you came from. Now I know.
To feel that way in my 40's? It's amazing. I praise God for that. There is always something to be thankful for even under weird circumstances.
This year has been difficult. For all of us. But now I will have another significant reminder of how good things happen during bad times.
2020 brought me another brother.
I hope when you are reminded of 2020 in the future you can think of some positive defining moment that will make you smile.
xoxo
Charisma