Hi Everybody! I am so excited! I have so many fun things to share…it's hard to know where to begin. Let's start with the Designer Tips & Techniques Virtual Show It starts tomorrow July 7th and goes through the 9th.
Join us on FB from 12-8 EST each day and every hour on the hour a designer will sign in for 15 minutes and give you some tips & techniques. Here is the line up for tomorrow:
12:00 Teresa Weaver https://www.facebook.com/yoursewingfriend
1:00
2:00   Cherry Guidry    https://www.facebook.com/CherryBlossomsQuiltingStudio/?ref=bookmarks
3:00   Nancy Scott https://www.facebook.com/MasterpieceQ
4:00   Charisma Horton  https://www.facebook.com/charismah
5:00   Marlene Oddie            http://www.facebook.com/kissedquilts
6:00  Sue Griffiths https://www.facebook.com/duckcreekmountainquilting/
7:00   Jennifer Fulton  http://facebook.com/inquiringquilter
8:00   Ebony Love      https://facebook.com/lovebugstudios
I will share the schedule each day on my Social Media sites. You can also join the group called Virtual Designer Group on FB to see any presentations that you may miss. We share them there for everybody. But it's a great group of of designers in the industry….so there are lots of great presentations.
Tomorrow is also the BIG DAY for my very first SEW ALONG!!
WE will be working on the first row of Stand Out….of course everyone can work at whatever pace they would like…but I will be sharing one row a week….and sharing pictures ect. I will be your biggest cheer leader!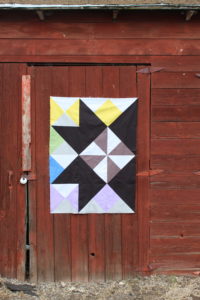 I used Pin Drop Basics by Riley Blake Designs…and they have offered a giveaway!! Yahoo! More details to come!
But also if you have Electric Quilt ( EQ8) you should go check out the blog, here. 
They have a great blog with lots of tips. But you can download the swatches for Pin Drop Basics and create your own designs. There is also a contest to enter for another chance to win a bundle of yumminess!  So check it out!
I also teamed up with a group of designers for a blog hop of FREE blocks. We all designed a free block to give away. There's an assigned color way and theme…and we take you on a little journey to collect the blocks. I have never been a part of any of these types of things. I decided now is a good time to do that….and they all kind of happened at once. So much to share at once….but it's all fun….and free.:)
You will be hearing so much from me….in the next few days. I hope you are as excited as I am!
xoxox
Charisma