Benartex Christmas in July Project Hop 2020
Merry Christmas!!
I am so excited to share this project with you.
I think many of you all know how I love Christmas projects. I have always been a big fan of Christmas quilts. I have a whole section of my stash dedicated to Christmas Fabrics. fun!
I really love working with Benartex. Great company with so many beautiful lines by designers we all know and love.
I chose to use a line called Deer Festival, you can find that here. 
I love-love this line because of the metallic gold and the elegant designs. Reindeer are just magical, right?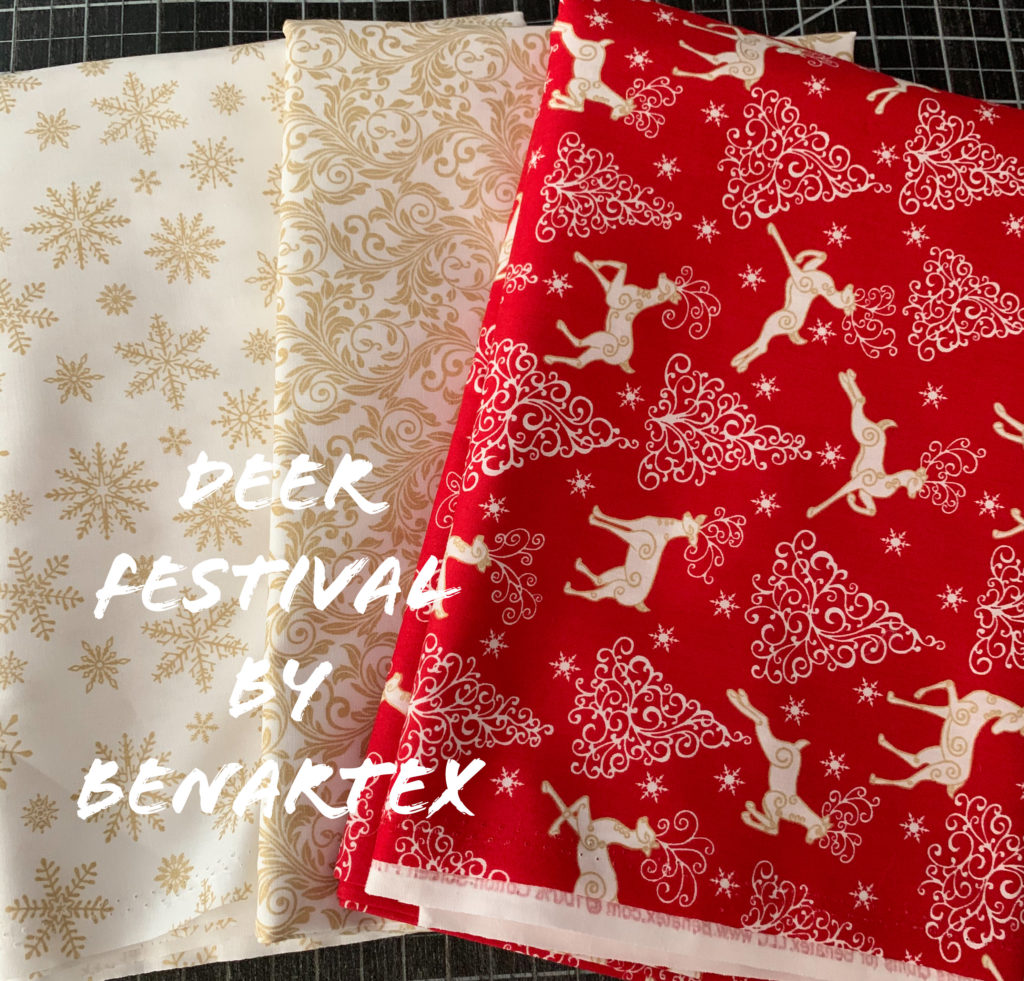 These are the 3 fabrics that I used along with solid white.
I decided to use it with my pattern called FarmHouse Star:
It's a simple pattern. But I had to put it out into the world myself because as a longarm quilter my heart loves simple quilts. When you quilt a simple quilt that contains quiet colors you can make it shine. You only need 4 fabrics for this quilt. For some of you who have made a few of my quilts ….you will know that is a strange concept for me. A few of my patterns require 20 fabrics. LOL  You can this pattern in my Etsy shop, here. 
With my original I quilted a design on the computer ( because of lack of time) with the crazy detailed design and I love it!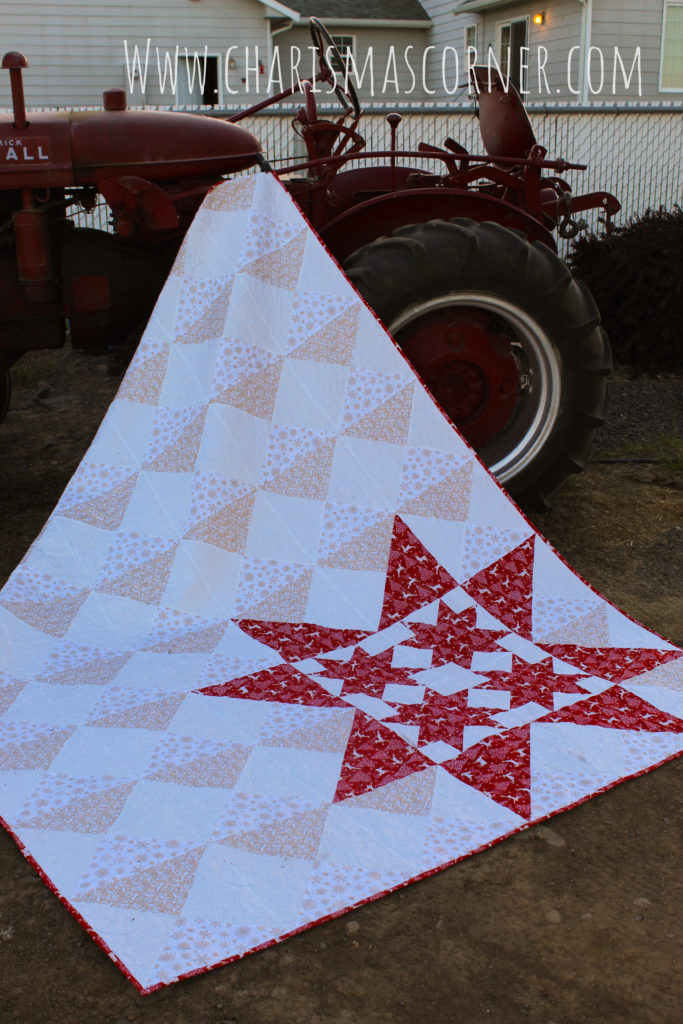 Christmas in July and a line with deer..kind of requires a tractor, Don't ya think?
Here is a full picture: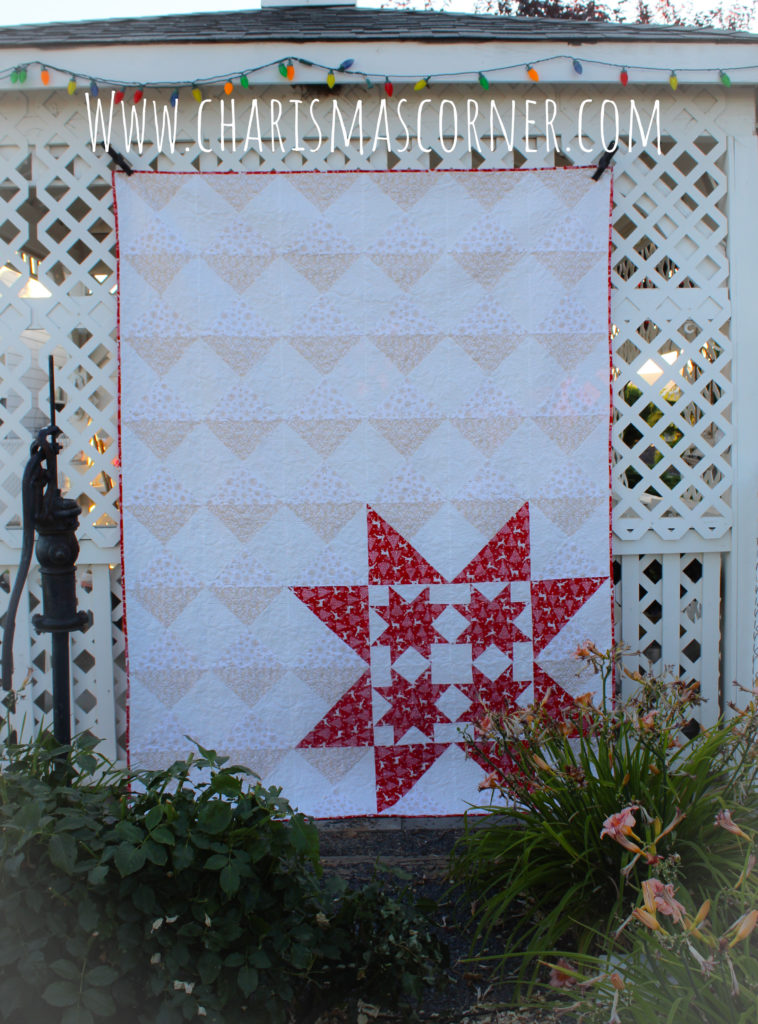 It's such a lovely quilt. Pictures don't do it justice because of the gold metallic print.
Here is a list of all the projects on this hop. Please go and check them out. We are all so excited to share these great projects with you and bring some JOY to this season of uncertainty.
Monday July 20th – Nancy Scott, Winterberry http://masterpiecequilting.blogspot.com/
Tuesday July 21st – Heidi Pridemore, Rejoice https://www.thewhimsicalworkshop.com/
Wednesday July 22nd – Laura Piland, First Frost http://www.sliceofpiquilts.com/
Thursday July 23rd – Lisa Ruble, Camp Joy https://lovetocolormyworld.blogspot.com/
Friday July 24th – Debby Kratovil, Festive Chickadees https://debbykratovilquilts.blogspot.com/
Saturday July 25th – Wendy Sheppard, Ode to Joy https://ivoryspring.wordpress.com/
Sunday July 26th – Debby Brown, River's End https://www.debbybrownquilts.com/
Monday July 27th – Charisma Horton, Deer Festival https://charismascorner.com/
Tuesday July 28th – Sandra Walker, Better Not Pout https://www.mmmquilts.com/
Wednesday July 29th – Kate Colleran, Joy https://seamslikeadream.com/
Thursday July 30th – Tammy Silvers, Snow Village & Rustic Village Christmas https://www.tamarinis.com/
Here is another sweet photo of FarmHouse star in Featuring Deer Festival: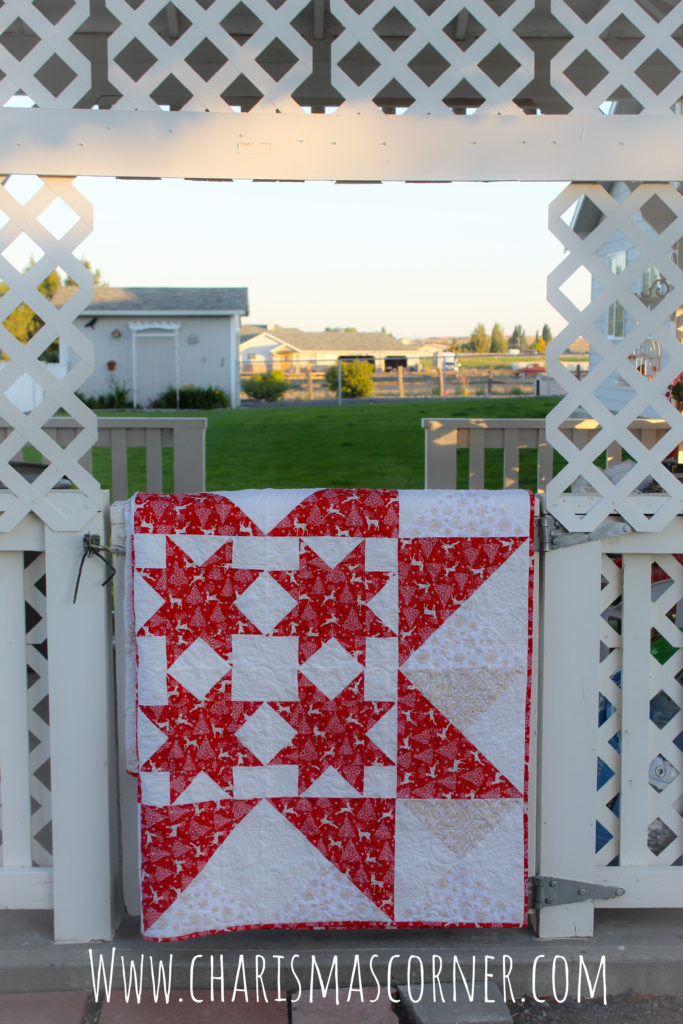 PS: If you are interested in purchasing my original Farmhouse Star quilt using the solids ( its on the cover of my pattern), I will sell it for 325$ free shipping to USA. Paypal or check. I will attach a label if requested. Will most likely need to be washed because I take them outside for photos and show them ect. just email me. :)
I hope you have a joy filled season!
Charisma