Be seen is one of my new quilt patterns. Be Seen is a favorite.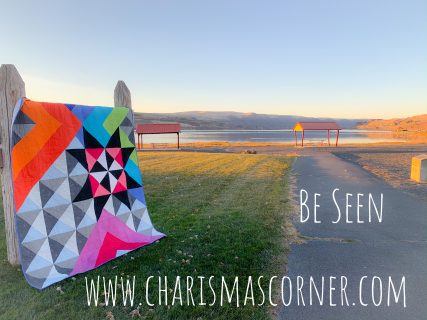 What is funny about this quilt is that I had wondered if anyone would like it. Should I have centered the star more, would it make sense that the colored stripes are overlapping ect. But I really just liked it the way I designed it and decided to just go with it and see what would happen. It's been received well.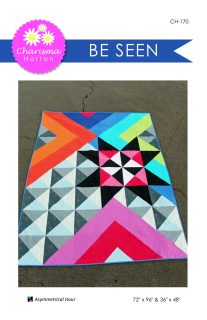 Be Seen is listed in my Etsy Shop: Here
This is an easy pattern to construct. the pattern offers 2 sizes. In my sample I used American Made Brand Solids. I love to support an American Company.
Speaking of pattern design….I have been asked why I use solids. I have to admit that before I started designing patterns I really didn't use many solid fabrics. There are a few reasons for the change. One reason is that I don't want to have to re-make my sample quilts. So it's best to use something that is readily available. Fabric lines outdate pretty quickly. Another reason is that when I am designing and I put in my colors -I like to see it the way that I designed it. I tend to use a lot of solid colors when I design simply because it's easy. I have now come to appreciate solids. But if I have time I will make some of my quilts with some of my favorite designer fabrics….for my own personal use ect. I really want to see them done in patterns and textures. I just don't have time, right now. I have 3 more designs coming out in this line. I am REALLY excited about them. There could be more. I have tons in my files. But I have 3 in various stages of progress.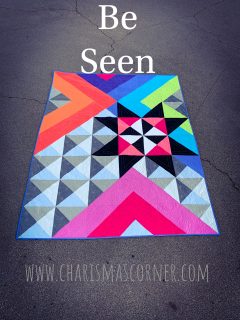 Well I have a few more to post in this series before the new ones come out…..But I just want to share a few things:
I will be giving a presentation in Wenatchee tonight at The North Central WA Guild.
If you all could please re-subscribe to my blog ( if you haven't already) I had to do some clean up.
I also have an Instagram and FB page if you would like to see regular updates.
I also have a YouTube Channel: CharismasCorner
I am still longarm Quilting. I have heard some people say that I am not. I am. Longarming is my primary business and I prioritize that work. Please continue thinking of me as a longarm quilter. :) That is my primary source of income. So I need the work. :)
Thanks so much for following along!
Charisma