Affection Sew-A-Long!! YAY!!!
I am so excited to finally be here on this day! Another Sew-A-Long (SAL). I chose my Affection pattern because I thought it would be a great way to use scraps. Not to mention with the way the world is going right now…..I think we could all use a little love and affection. xoxoxo
I will share a few things to get business out of the way and then I want to share some other good stuff!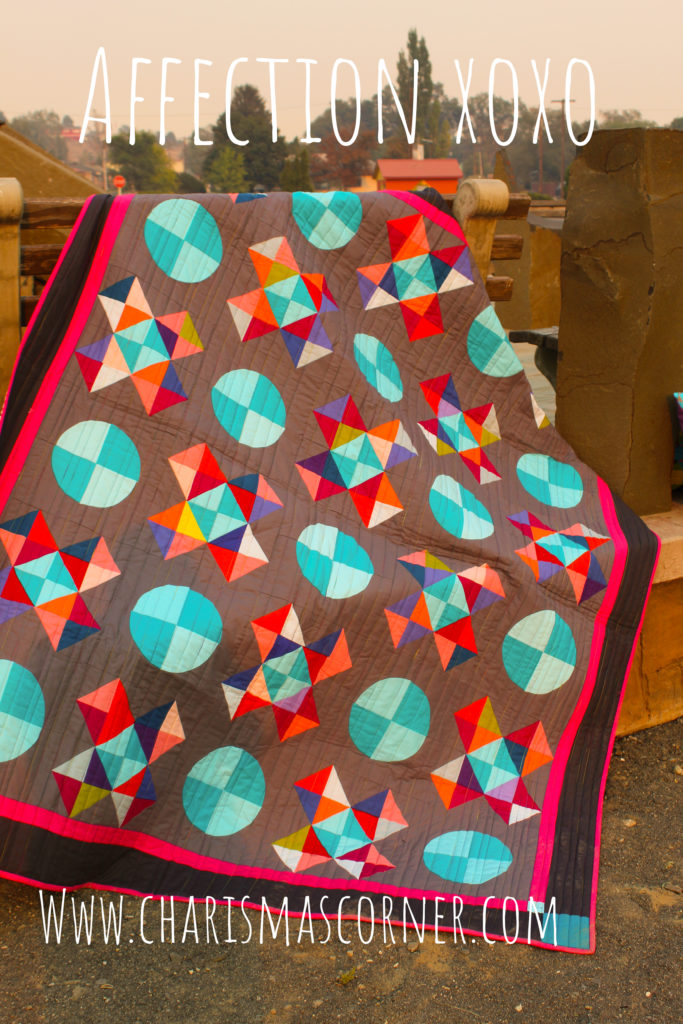 I have a few kits available in my shop as well if you'd like a planned version.
If you'd like to join the FB group to share progress photos and be a part of the community you can join that here. 
I will be posting twice a week. Tuesdays and Fridays. We will be making 1 row ( 5 blocks a week) and then we will have a week for borders and finishing.
At the end of the SAL for the people with completed quilt tops I will do a drawing for a winner to get their quilt quilted with an Edge to Edge design on my computer. Or I will give a 75$ credit in my shop. Which ever you prefer. I may offer up random little prizes in the group as we go along as well.
You can also share your progress on Instagram #charismascorner #affectionquilt
Have fun!!
I will be using scraps to make my quilt top and I am going to share a few blocks here: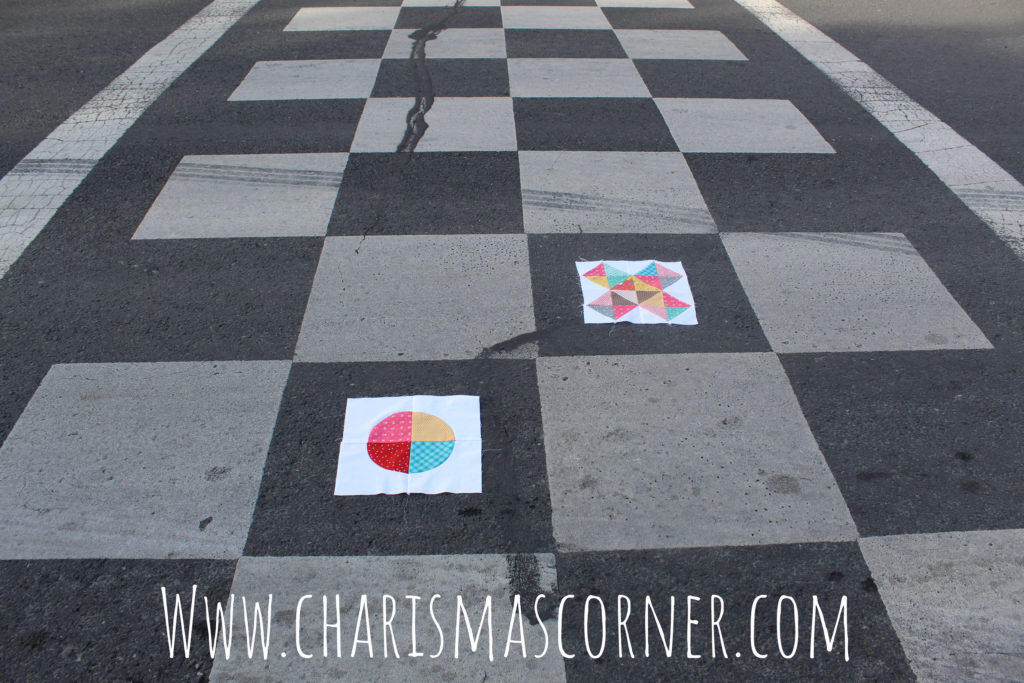 I took some blocks out to try and find fabulous places to get interesting photos. I found this crosswalk in a small town next to us. I had to wait for the traffic to go away and play in the middle of the street. LOL! Thankfully, it was a Sunday and not real busy.
But isn't it a perfect place to take pics of quilt blocks? I was so happy! haha! It's all about the little things.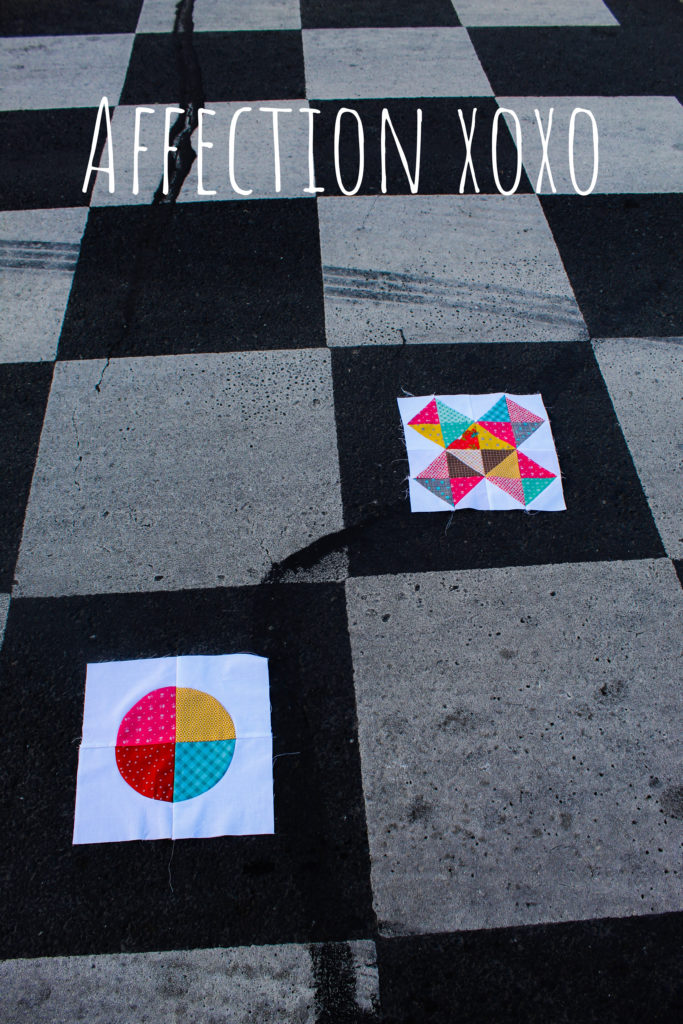 So I am going to talk a little about my scraps. *sigh*
I have lost my touch.
It's a sad story…but true.
I have always been a scrap quilter. From the time I learned how to quilt —>scraps were my jam. What I love about scrappy quilts is that "Anything goes" they are freeing and I don't have to worry about anything matching.
Well fast forward to this quilt…I have been wanting to make a scrappy version of this since I made the original. When I pulled out scraps to make this quilt I pulled out 3 bags of scraps: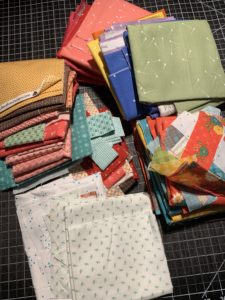 All of these are from Riley Blake projects that I have worked on in the past…but I ended up just using 2 of the bags…and it looks like a planned project. I kind of wish I had used some low volume prints in the backgrounds but I used a bunch of different white solids that I had in a pile on my table.
I am just gonna wait it out and see…but I think I might want to make a third version. HAHA!
But I did mock up a colorful version with the same type of color pallet from the original:
I also wanted to share a quote about Affection. For those of you that are new here I love quotes. I collect them. I stitch them. I have a whole quilt stitched with quotes. I have lots of small quilts with quotes added. I add them to labels ect. I like to share them to inspire us and give us a little bit of food thought.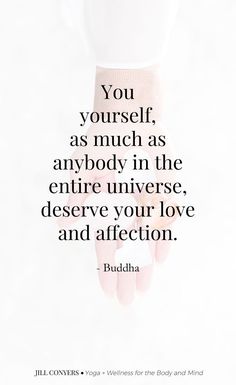 I am mainly posting this for myself. But I think many of you can probably relate. I will love on anyone else in my life in a forgiving, all-in type of way…but I don't treat myself the same way. I need to do that more. We deserve to love ourselves and to accept it from those around us.
So gather your fabrics, join the Facebook group, share your progress and pictures, and let's get another quilt done before the holiday season.
xoxoxo
I can't wait to see!
Charisma