Hi Everybody,
I wanted to share a new pattern. This one is a little different that the other ones that I have been sharing.
I hesitated to make a "Covid-quilt". This hasn't been a great time for us. We have struggled like everyone else. On many levels. We have had the roller coaster rides of everything involved with this year. We were hit with financial issues (but still have our jobs Thank God!) and we haven't gone hungry, have our health and our house. Those are blessings, I know. Members of our extended family contracted C-19. A family member and a dear friend have cancer. Many of my friends and clients were evacuated from their homes for the fires, storms, and hurricanes. It's been trying times. I have been blessed with my minor issues. I try not to complain….*try*
All of that to say that I didn't want a momento of this time. I was hoping, I could just forge through and forget it all happened. But something changed. Organically, naturally all on it's own.
I was making a different quilt and long story short, I made a mistake. I wanted to do something with the leftover pieces …So I mocked up another design. I decided to merge my love of hand embroidery, with bright solids and traditional blocks. I kind of wanted to merge my styles and see what I could come up with…..that is Abide.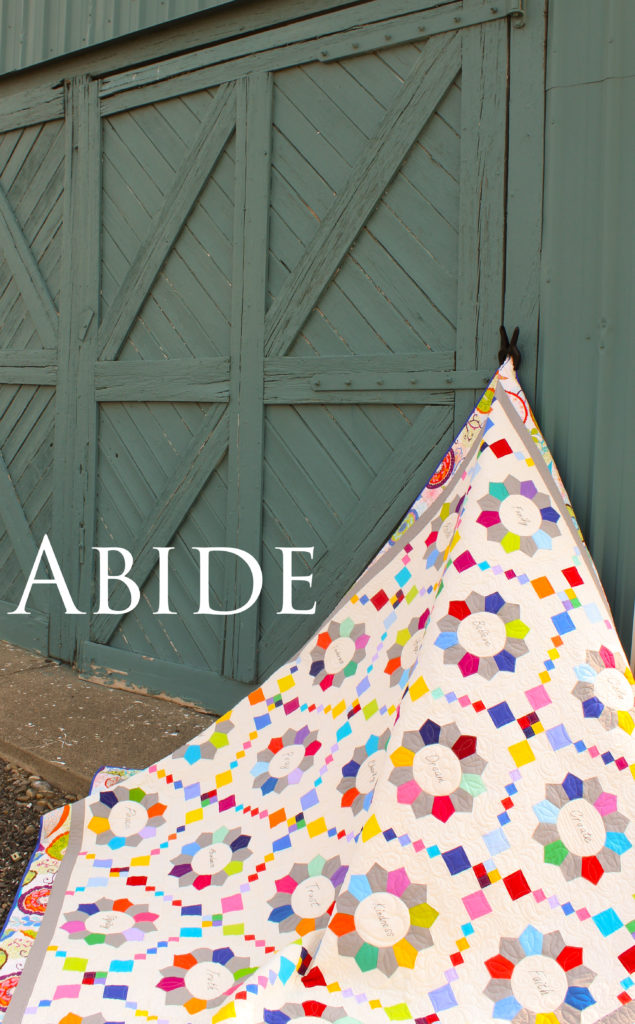 When I look back at the last 10 years, I think about quilting. I will honestly say that without quilting my life would be dramatically different. Quilting is a part of my story. It's a part of my soul. It's woven into me. God has shown me so much about life through quilting. Quilting has provided for my family, connected me with friends, and it has not only fed my soul but soothed it. I have had to be patient. I learn new things all of the time.   A few years ago I made a queen sized quilt that was made of nothing but embroidered quotes that I had collected. I stitched most of those at the side of my grandma's hospital bed. Every single one of those stitches soothed me. They kept me focused, busy and they kept the bad thoughts away. When I see that quilt, I get emotional thinking of that time. I am thankful for it in many ways. It was painful, but that's life.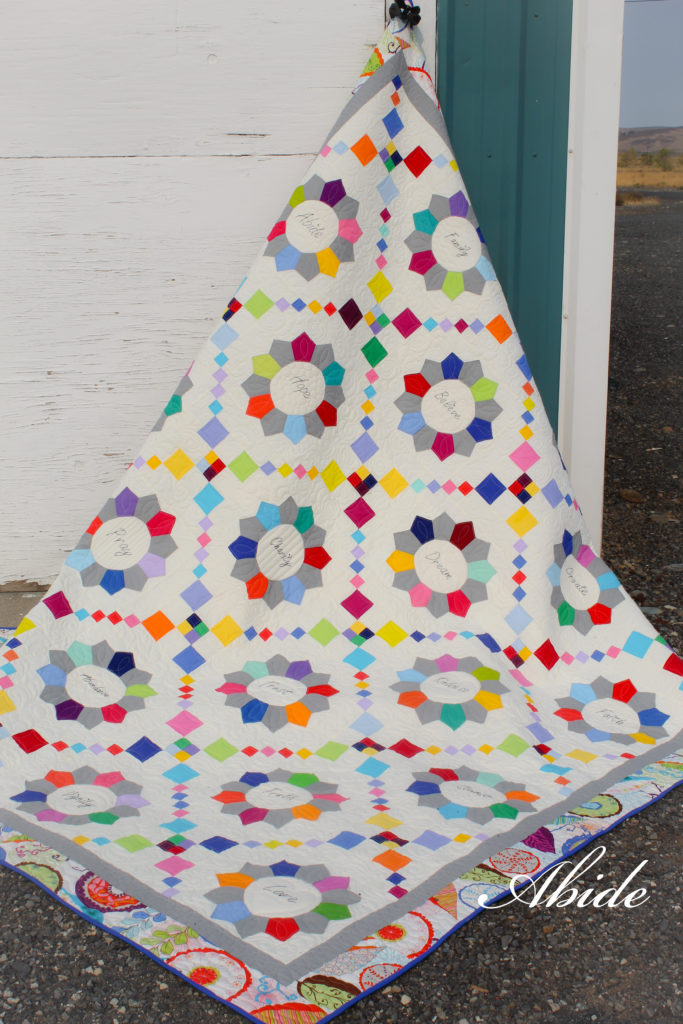 Once again stitching has done that for me during this time. I can't imagine the people that don't have an outlet during this time. I do and I still have waves of uncertainty and insecurity. But I can always go back to stitching. I decided to add a word to focus on in each Dresden block. These are words that make me happy. They remind me to focus on the good. They are meaningful to me.
I kept the colors happy but I did decide to add gray for every other color. That was purposeful. There are rainbows mixed in with the gray days. Part of life is accepting the good with the bad. Not everyday is going to be colorful and happy…but there is still good. There is still something to remind us that it will not last forever. Keep going. The gray fades and the colorful days steal the show. As they should.
This pattern is listed in my Etsy Shop. 
I used scraps of my solid fabrics, I used black perle cotton for the embroidered words and I kept it simple. I had several thoughts on how to embellish this. Add full quotes. ect. But I didn't. I just wrote down words that I needed or wanted to focus on…. a few of those are:
Kindness, tenderness, hope, faith, family, calm, truth, trust & honor.
If this is a project that appeals to you I included all of the words that I used in the pattern, of course. But I would also suggest using words that appeal to you, personalize it and make it meaningful to you. Add some scriptures, quotes, names, monograms ect. Any thing goes.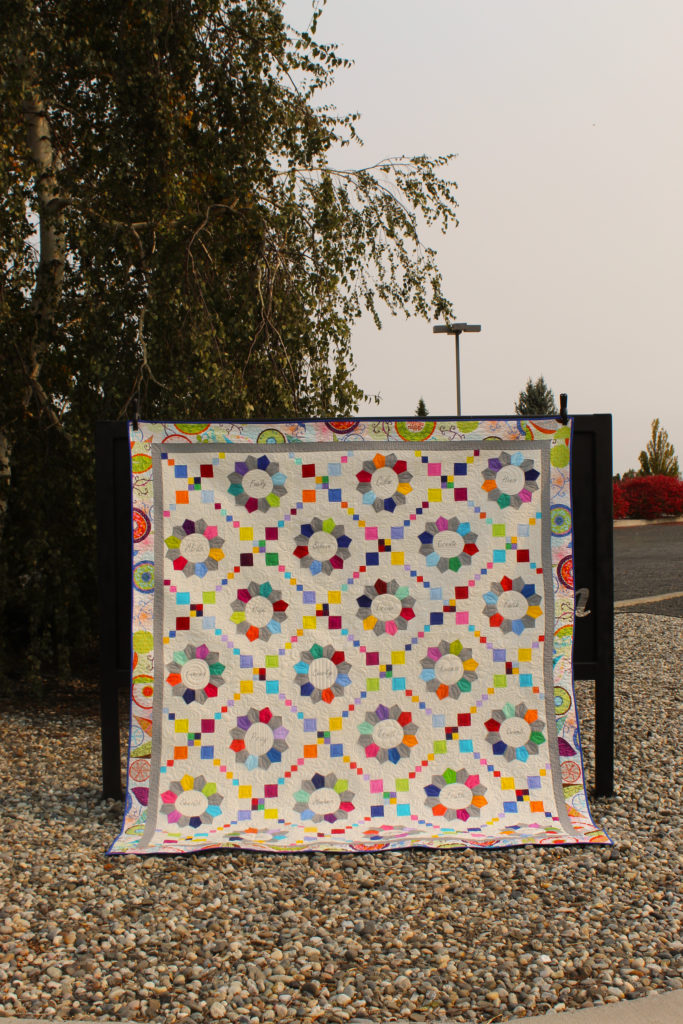 I also kind of broke a rule of mine. I used an old fabric that I have been hoarding in my stash for the border. I typically try not to do that for cover quilts ( let me apologize now, I am so sorry) but it was perfect and I have been hoarding…er saving this fabric for a special quilt that was "worthy" of one of my favorite cuts of fabric. This was that project. I will be keeping this quilt as one of my "special" collection because it's meaningful for me.
I guess despite my initial thoughts of avoiding the 2020 momento….I have one anyway. Life has a funny way of bringing us things we need despite our resistance.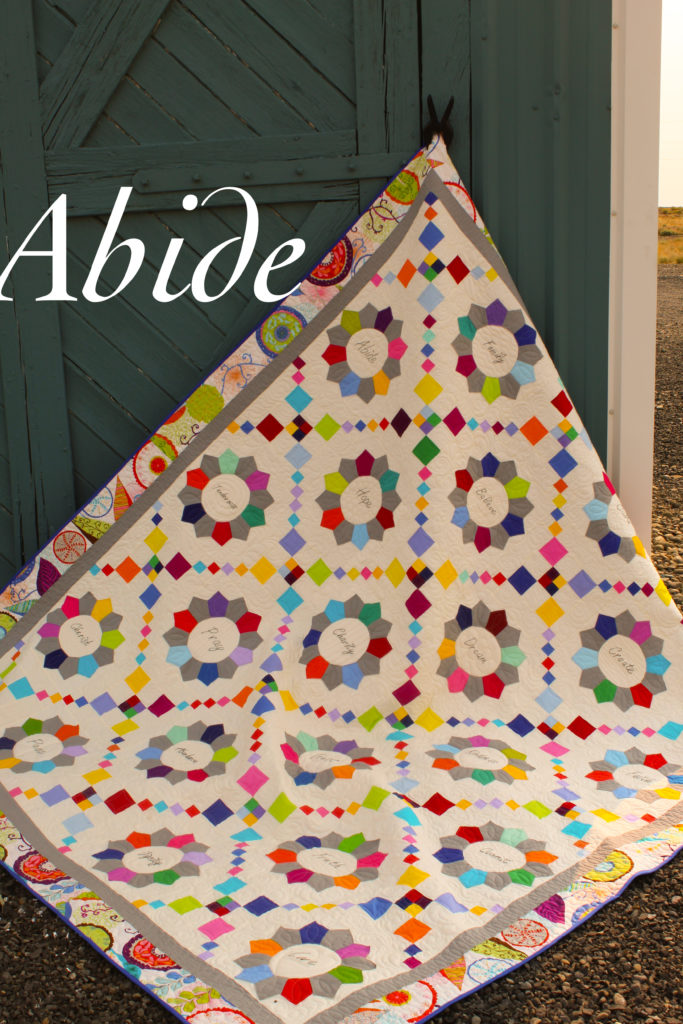 Today as you go through the day think of some meaningful words you'd like to focus on…it will help. Remember with the gray— there comes the rainbow …
I hope you have a blessed day.
Charisma