Hi Everybody! I wanted to share a project that I designed. As many of you know I come from a long line of military men and I married a man who served our country as well.  I regularly design patriotic quilts and contribute to Quilts of Valor (QOV).
My sample was made with American Made Brand Solids. the batting is a layer of Fairfield World's Toasty cotton batting and also a layer of Fairfield World's poly batting.
This is also featured over at Fairfield World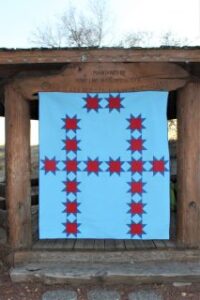 I love that this is a little bit traditional with the Star blocks and the colors…but it's set in a more modern type setting. There's negative space that you can take advatage of with the quilting. I used a wavy line design to mimic a waving flag.
This is a quick project that can be made in a weekend. It woudl be a great quilt for traditional fabrics, scraps or civil war prints. This would also be a great gift for someone with a monogram of "A" personalized with their favorite colors.
You can download the pattern here: a-for-America
If you have any questions please ask. If you make this please share #charismascorner or #fairfieldworld I would love to see them!
Blessings
Charisma