Hi Everybody! If you've been following along on social media you will see that recently I was in Morro Bay, CA.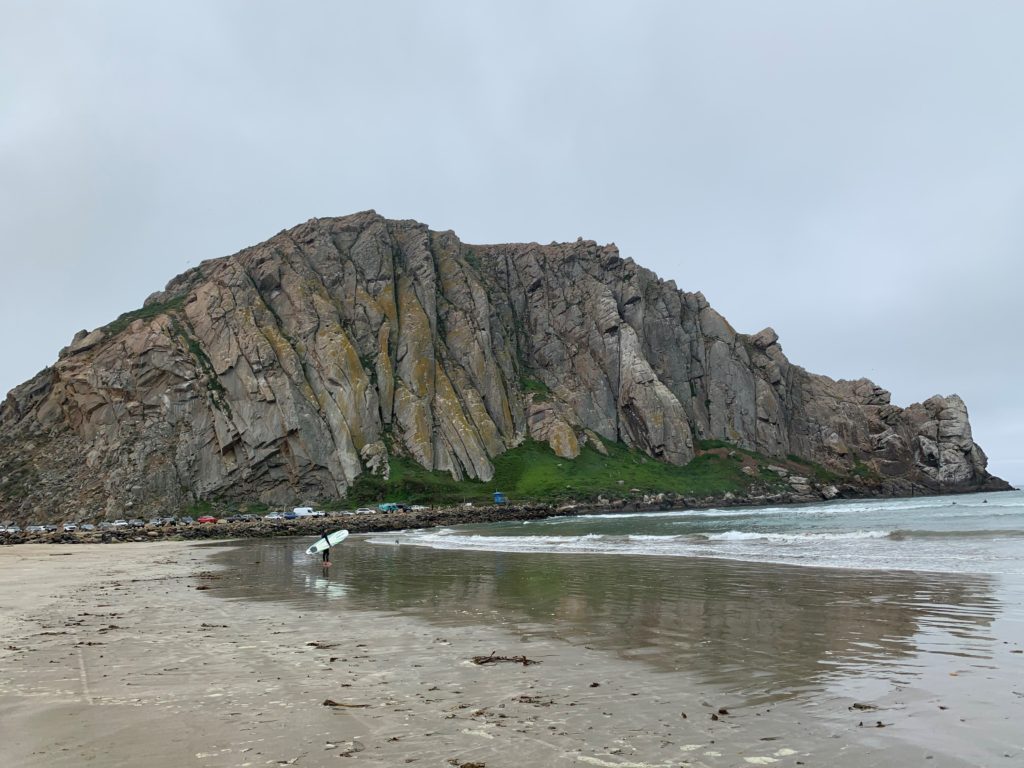 Such a beautiful place. I am a PNW girl through and through. IN fact I just assumed that every place in CA was hot. LOL! So I had assumed (and you know what happens when you assume, right?) that I would be visiting CA in May, it would be scorching and I would want to die a little inside. But I wasn't (thank God) and I was comfortable the whole time. I grew up in AK when it gets to be about 75 ..panic starts setting in that heat is coming. LOL
While I was there I soaked in the scenery. It's so much different than ours. The succulents were HUGE! they almost looked fake. There were so many colors. I thought the ice plant was so pretty and apparently it's a weed. LOL! I always find beauty in the weeds. It's how I am wired. They grow avacados in their yard. CRAZY! I spend so much on avacados every week and they can pick them in their yard. I also saw an artichoke plant. I have never seen one of those. I just assumed they grew like broccoli or something close to the ground ( see what happens when you assume?) These stems were as tall as me.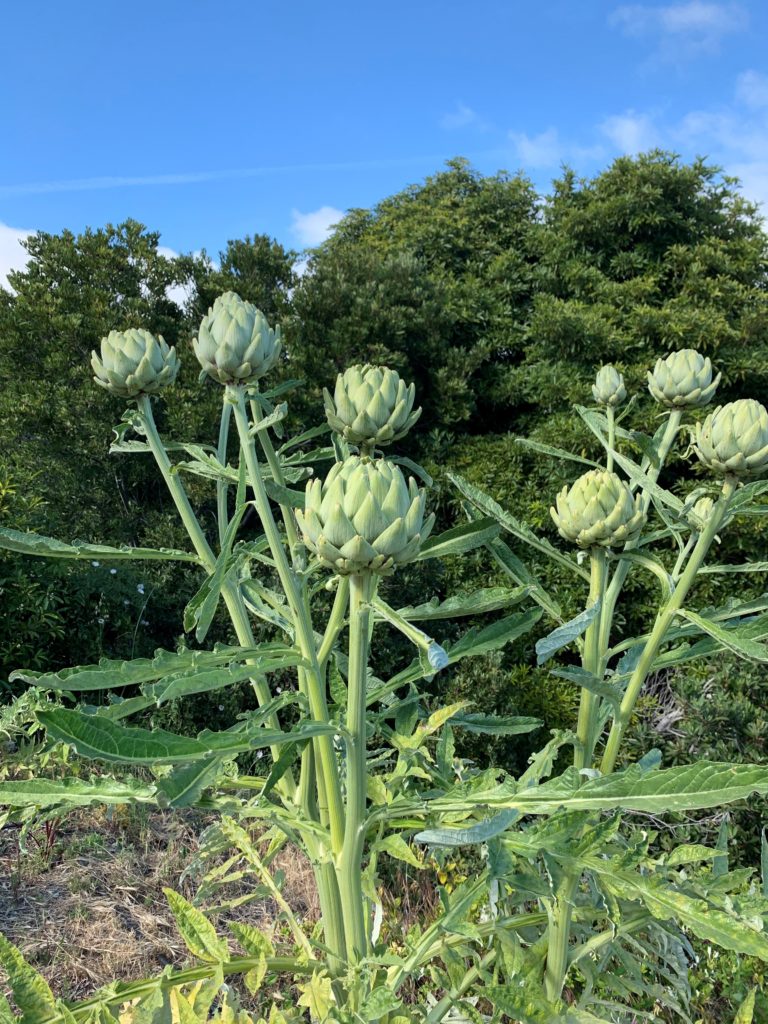 But I was there for a reason. Not just to see the landmark rock.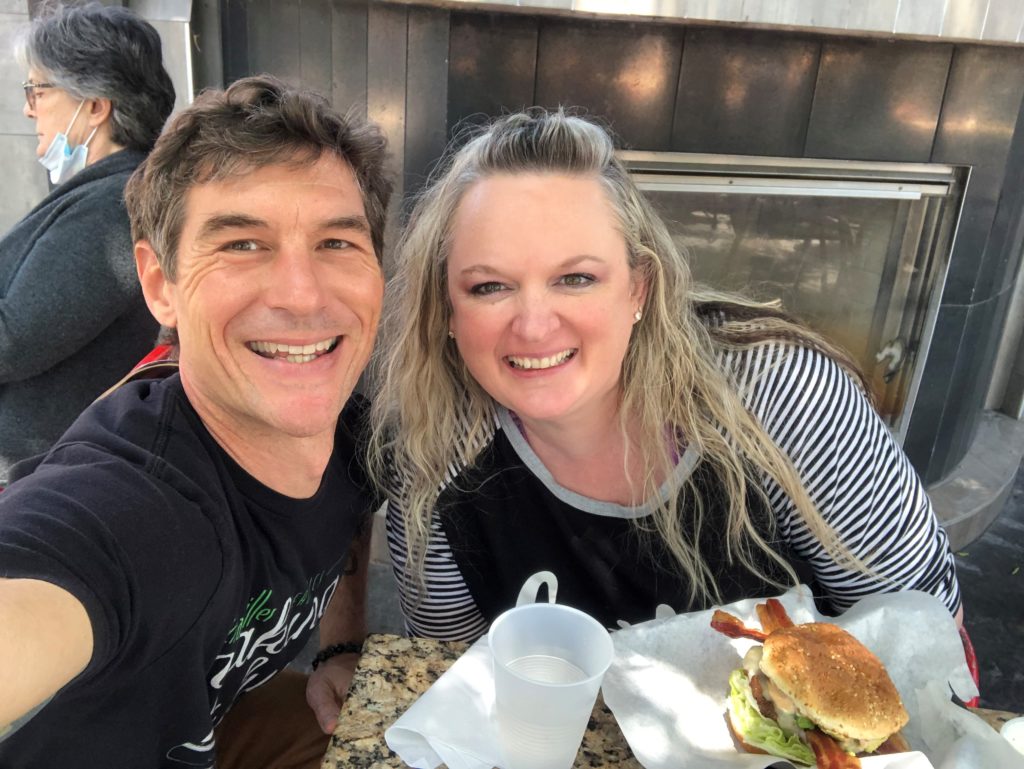 I was there to work on a special project with this guy! This is Rob Appell. Many quilters know who he is. He has been around for several years and he has a channel: HERE.
This was right after he picked me up at the airport. I had been up since 3 Am. I was operating on 2.5-3 hours of sleep ..so my face is looking a bit droopy. LOL! But I was so excited to arrive and start this process.
I can't share what the project is yet. It's a special project that we are working on for Michael Miller Fabrics. Many of you know that I was an ambassador for Michael Miller fabrics last year. They told us that once we are "in" we are family and they were right. They are still so awesome to work with and help me on my journey of being a pattern designer. They have afforded me so many opportunities and I am ever so thankful.
This is one of those projects.
After Rob picked me up from the airport he took me to the studio.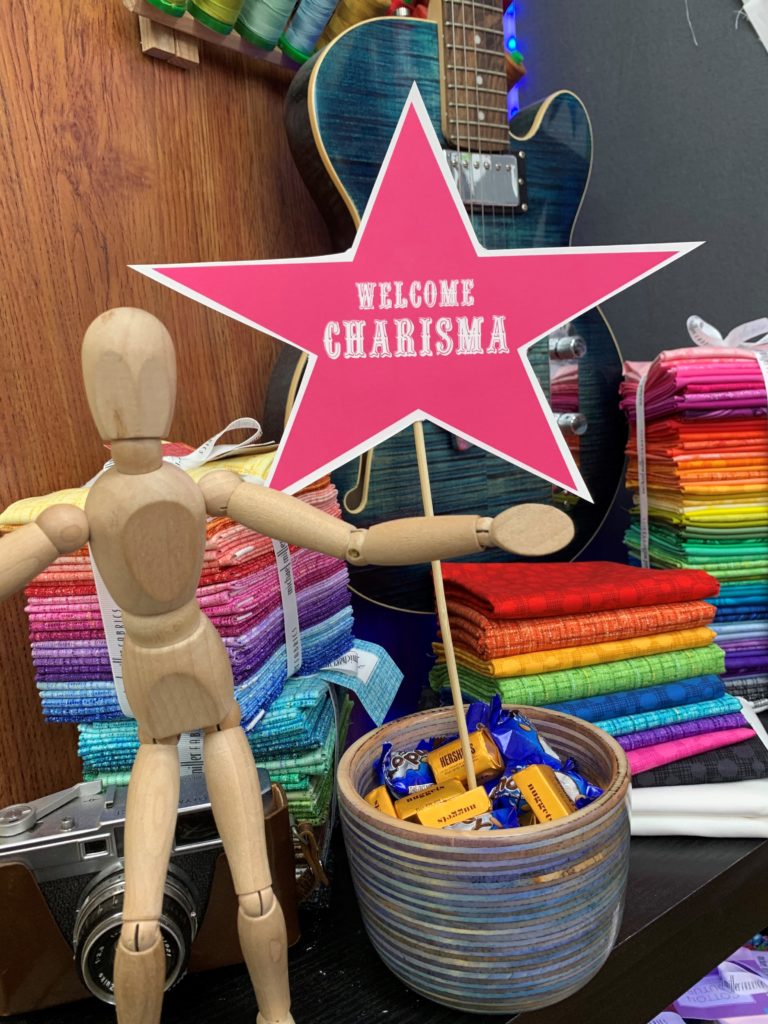 I was kind of a bit overwhelmed. I didn't catch on to everything as quick as I should have, LOL! But I was lacking sleep….and a little excited. This was there to welcome me. Isn't that the sweetest? Rob also had a quilt hanging in the studio that he made of one of my patterns. SO COOL!!
Rob had done all of these little details to make everything so special. He tried to think everything through to make our time together as easy and enjoyable as possible.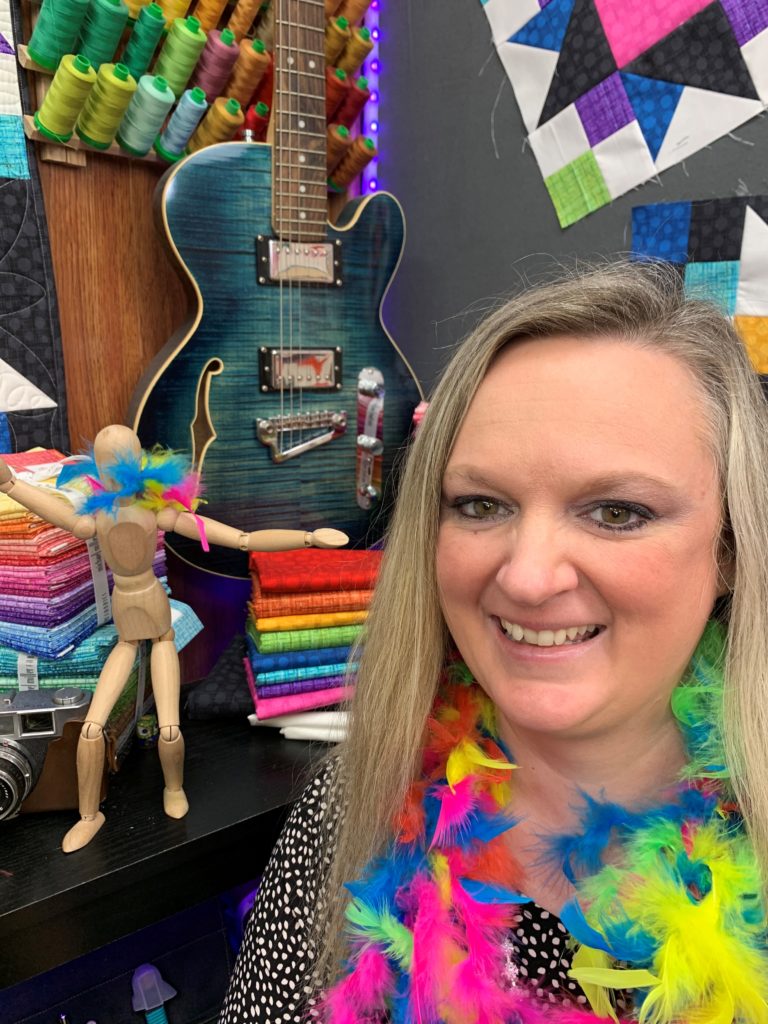 What he didn't realize is that it would be a lot to get me up to par. LOL! I struggled a bit. I am not a natural on camera. I seriously struggle. I pitched this project knowing that I would be working out of my comfort zone. I am always telling myself, my children, & my friends that there is no risk -no reward. You have to take yourself out of your comfort zone to grow. So I was trying to do that. I will say that Rob was very gracious, patient and a positive coach. He never once showed his frustration even though I know he was. I know he could have gotten all of these videos done in a fraction of the time without me there. But he was doing everything to be supportive of me.
It's not everyday that you find teachers like that. He is actually a natural teacher. He will teach you anything that he knows. On top of that he welcomed me into his home, fed me and let me be a part of his family for a few days. It was very comfortable for me. It's really inspiring to meet a *sew-lebrity* that is as nice as they seem. That is not always the case. Now that this project is behind us, I think I can call him my friend.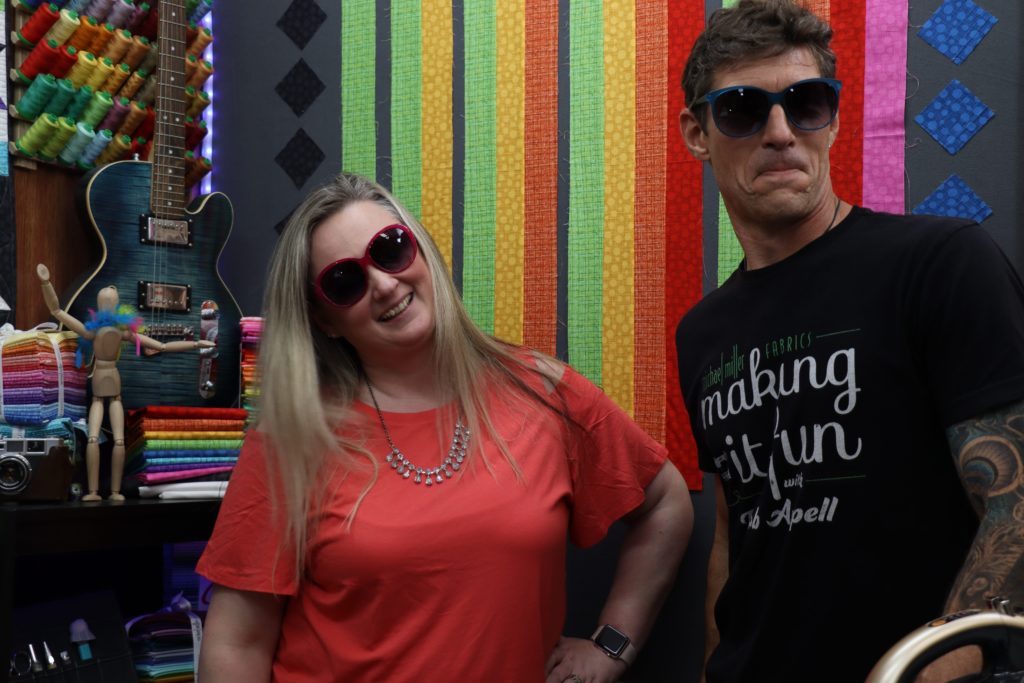 What was really *FABULOUS** is that once I kind of found my groove and got a little more confident, I was able to start adding my creative input and add some ideas that we were able to use. I was so proud of myself. I am the bug that gets squashed because I freeze in stressful situations. But once I kind of caught my breath and realized this was not going to be the worse thing in the world…LOL! I was able to ease up and not be so frozen. I am a creative by nature so I just needed to be comfortable. We did so much and I know that regardless of what I look like in the finished videos….I did my best. I learned a lot and I can only improv, right? I am hoping that video 2 will be better than video 1 and as the videos progress I will have gotten better and better.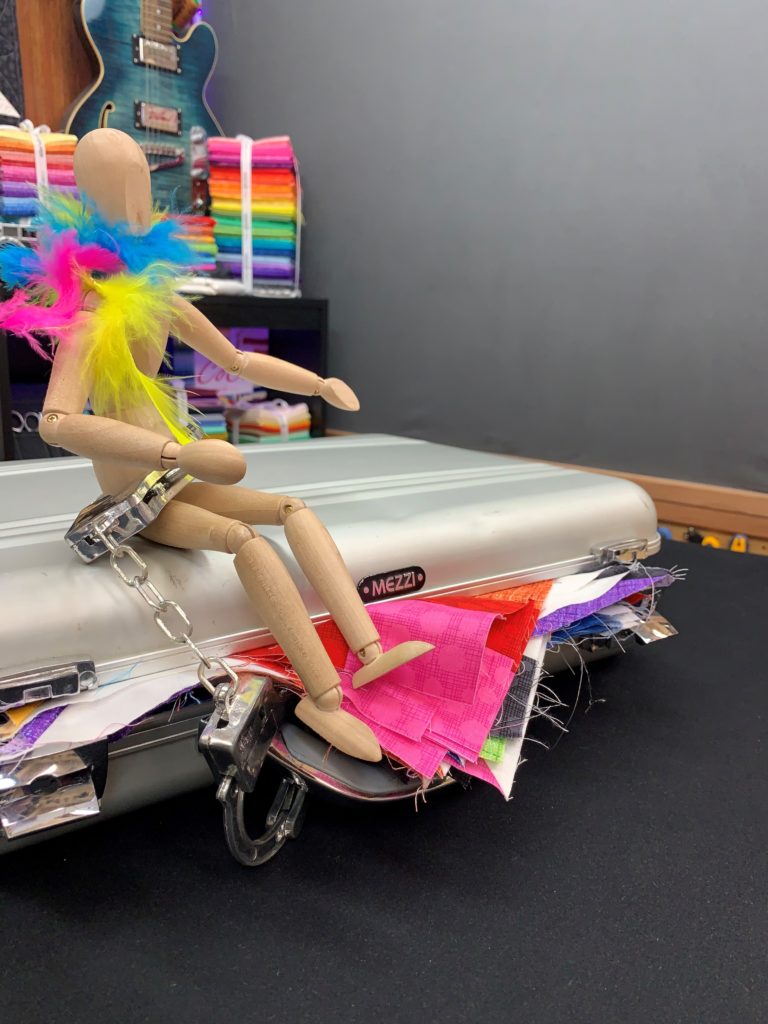 Mike is running security on this project until it's time to release it. I think that is one of the most difficult things about this… is the waiting…..Rob and I have poured so much into this and now we have to wait to show all of you. I will say that I am super proud. I am proud of both of us. I had to step out of my comfort zone. He has so much invested in something that he didn't have to take on…and I feel like his belief in the project and willingness just means the world to me.
He gave it 110%. I am not sure anyone else would have given me this kind of energy, belief or time. I pray that it goes well. It's already been a blessing for me. While I was there I kind of roped us into another project. LOL! I am waiting to get everything in order to share. But it is an inspiring project that I would be so proud to be a part of…I hope everything falls into place,
I wanted to share all of this because I feel like sometimes these little moments can get lost in the big reveal. These little moments are almost more important to me than the big ones. Without the little things -the big things can't happen….I wake up everyday knowing that my life is a miracle and I want to appreciate and remember all of them. Big or small. I will take nothing for granted. I think more than ever, last year taught us all that one moment can change everything.
This year has had a terrible start for me. I lost my father, my beloved grandmother and illness in our family but woven through all of those things are the blessings like these….Life. Beauty from ashes.
I hope you all have a wonderfully blessed day….count them.
Charisma