It's A Garden Party Row Along 2020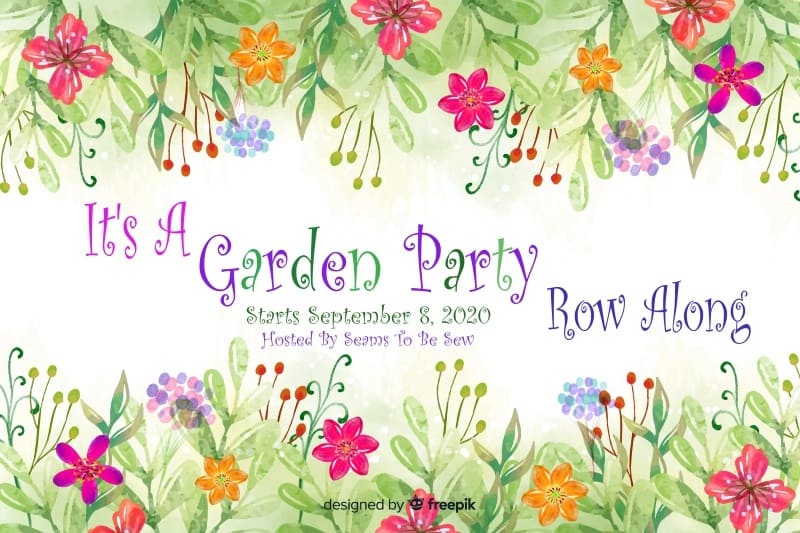 Hi Everybody! I wanted to share some great info about a row along! I have joined this row along and I am super excited for all of you because all of these designers have been working on these designs for several months and they are all really fabulous designs! I am excited for you all to see.
I wanted to post the schedule since it starts today. My Row will be released on the 24th but there are many ahead of me…and there are tons of prizes! You can find out more about those here. 
Here is a schedule with links to the blogs …I hope you all have a great time! Collect all of the patterns.
Tuesday, September 8, 2020
Blue Heron Quilting
Carolyn Butterfield
Made By Marney
Pumpkin Patch BC
The Devoted Quilter
Thursday, September 10, 2020
Bobbin In Quilts Blog
Kissed Quilts
Patchwork Breeze
Songbird Designs/Brenda's Blog
Stitchin' at Home
Tuesday, September 15, 2020
Daughters of Dorinda
Elizabeth Coughlin Designs
Just Let Me Quilt
Lovingly Lissa
The Quilt Rambler
Thursday, September 17, 2020
Fabric Bash/Carpe Blogum
For the Love of Geese
Kathleen McMusing
Ms P Designs USA
QuilterChic
Tuesday, September 22, 2020
Heleen Pinkster Quilt Design
Patti's Patchwork
Quilt Schmilt
Scrapdash
Your Sewing Friend
Thursday, September 24, 2020
Charisma's Corner
Clever Chameleon
Dragonfly's Quilting Design Studio
Kathy's Kwilts and More
Mountain Meadow Designs
Tuesday, September 29, 2020
Cynthia's Creating Ark
Miss Loreen's Schoolhouse
Moose Stash Quilting
Tuning My Heart Quilts
Cheryl LaPlante